NASPi Gemini
Jump to navigation
Jump to search
Foreword
At the early 2017, we made a NAS storage solution for Raspberry Pi. Accroding to customers' feedback, we made a series of improvements, like X800, X820, X825 V1.5, X825 V2.0, X828, X829, X822, X880, X883, NASPi Lite, NASPi, etc. From only supporting single hard disk to support dual hard disks, from complicated installation to simple installation, now a new raspberry pi storage kit - NASPi Gemini is released. Hope you will like it!
Overview
Geekworm NASPi Gemini is an ultra-compact dual 2.5 inch SATA HDD/SSD NAS storage kit with safe shutdown and auto power on function that specially designed for Raspberry Pi 4 Model B computer, it allows two pcs 2.5" HDD/SSD to working at the same time with your Raspberry Pi 4. Also support use with one single 2.5" SATA HDD/SSD.
The SuperSpeed USB 3.0 port delivers a blistering data transfer rate of up to 5Gbps, letting you transfer a large amount of data in seconds.
NASPi Gemini is composed of three parts: X882 dual 2.5" SATA HDD/SSD shield, NASPi Gemini metal case and heat dissipation system(3Pin 4010 PWM fan with metal bracket). To get better heat dissipation of NASPi Gemini, it also support install Max 7mm thickness heatsink above Pi4, as we use the M2.5*11+6mm spacers to fix the PWM fan with metal bracket. There is space for extra heatsink installation on Pi4.
Note:
Power NASPi Gemini via USB-C or DC jack of X882 shield, DO NOT power via USB-C of Raspberry Pi 4, or you can't use the AUTO ON & Safe shutdown function

Because the shielding of the metal casing will cause the

loss of 2.4G wifi signal

, we only recommend you to use Ethernet or 5G WiFi.
Support Max 7mm thickness heatsinks on Raspberry Pi 4 as we use 11mm height spacers for the fan with bracket installation on Pi4.
Support Max 16mm thickness 2.5" SATA HDD/SSD installation.
Insert the SD card into Raspberry Pi 4 first before NASPi Gemini installation start.
The Raspberry Pi 4 board, 2.5" SATA SSDs/HDDs, power adapter are all not included in the packing list.
Important!!
For better system compatibility & performance, Please format your HDD/SSD to Ext4 file system.

We found that some newbies always ask strange questions about RAID;
Please note: NASPi-Gemini is a hardware RAID. It supports RAID at the hardware level and does not require any software configuration. This has nothing to do with software, even if OMV does not support RAID settings;
Features
Ultra-compact NAS storage solution for Raspberry Pi 4 with Dual 2.5" SATA HDD/SSD
For use with Raspberry Pi 4 Model B only
Supports

Dual Max 16mm thickness

2.5 SATA HDDs/SSDs working at the same time
Support

Auto Power On

function by jumper setting (Automatically turn on when there is a power applied)
Support

Software&Hardware safe shutdown

function(Integrated on X882 shield, do not need extra expansion board)
Support connecting 3pin PWM fan for cooling
Support Three RAID Modes by jumper setting
UASP supported only, do not support TRIM
Allows booting OS from your HDD/SSD for faster app opens, web serving and file copying
Compatible with all Raspberry Pi operating systems

(If the OS (such as Home Assistant) does not allow the installation of external scripts, then the software safe shutdown and automatic adjust fan speed functions are not supported;)
How to Power NASPi Gemini
Via DC5521 Jack of X882, 5.1Vdc +/-5% , ≥4A

Recommend!!!

(DC5525 Jack is compatible with DC5521, also support 5V PSU with DC5525 Jack)
Via Type-C port of X882, 5.1Vdc +/-5% , ≥4A(Geekworm Type-C 5V 4A 20W power supply is recommended.)
Note about PSU: Please use high quality power adapter, or the HDD/SSD may cannot be recognized. Since NASPi Gemini can install two pcs 2.5 inch hard drives, it needs a high-quality power supply to provide enough current.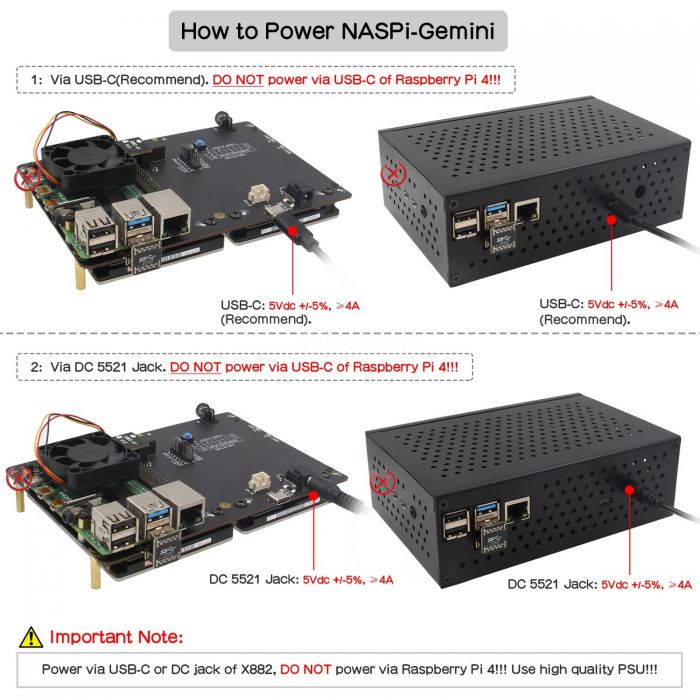 Cooling Solution
The NASPi Gemini uses the same cooling scheme as the NASPi, we only increased the height of the copper spacer from 6mm to 11mm to allow a heatsink with a maximum thickness of 7mm to be placed on the CPU chip.
NASPi Gemini uses 4010 PWM cooling fan, can support automatic adjustment of speed according to CPU temperature, need to install the shell script.
User Manual
NAS Family
About SSD/HDD
Do not recommend using Samsung hard drives, please use hard drives of other brands.
We recommend that you use HDD instead of SSD, which will cause less WIFI interference
As with all SSDs, new SSD/HDD must be formatted before use.
Older SSD drives with less efficient flash media may not perform as well as newer drives.
A microSD card is required for forceing the Raspbian OS to use the HDD/SSD for its "root" partition
Some tutorials
Raid Setting
Please read Raid Instruction firstly. You can freely choose the four RAID modes supported by NASPi Gemini by setting the jumper cap. Strongly recommend to use the same brand and capacity HDDs when use RAID Mode.
*Warning : Please backup your data before setup and switch, otherwise you maybe lost your data.
1. Inert HDDs to X882 shield and fix it.
2. Please connect the X882 to your PC or Raspberry Pi board and keep power on.
3. Switch RAID mode
Set the switch button to your preferred RAID mode(PM/RAID 0/RAID 1/SPAN) as per the RAID illustration table.
Press the SET button for about 5 seconds, and release it till the blue LED indicators starts flashing.
After RAID mode changed, please confirm that the PC can recognize the disk(s) properly and shows the right capacity.
or you can run the fdisk -l command to view the hard drive on raspberry pi OS when you connect X882 to raspberry pi board:
fdisk -l

You can found two hard drives if you select 'clear raid mode'(this is PM model)
or
You found only one hard drive if you select the RAID0/RAID1 model
4. Set CLEAR RAID mode (PM, factory default setup)
Press the SET button for about 5 seconds then and release it till blue LED indicators starts flashing.
After above processes, the setup for CLEAR RAID is done.
[NOTE] Once you set the RAID mode successfully, you need to partition&format&mount the hdd/ssd, so that it can be recognized by your Raspberry Pi OS. please refer to How to View/Partition/Format/Mount HDD/SSD
Button swtich operation guide
Press button switch to turn on
Press button switch and hold for 1~2 seconds to reboot
Press button switch and hold for 3 seconds to implement safe shutdown
The above operations will only succeed after the script has been successfully installed.
Press button switch and hold for more than 8 seconds to force shutdown
Packing List
1 x NASPi Gemini Metal Case
1 x X882 V1.3 Dual 2.5 SATA SSD/HDD Shield
1 x X823-A3 metal bracket with PWM fan
1 x screws pack accessories
Installation Video
https://youtu.be/7FzZeoTBQiI Software Guide of script installation, please fast forward video to 5 minutes 10 seconds.
FAQ
Q1: What to do if HDD/SSD is not recognized?
A: Please refer to How to View/Partition/Format/Mount HDD/SSD
Q2: What is the thickness of a 2.5" HDD/SSD that can be accommodated for NASPi Gemini?
A: NASPi Gemini support Max 16mm thickness 2.5" HDD/SSD; The thickness of 2.5" HDD/SSD on the market is generally 7mm, 9.5mm, 12.5 and 15mm,so you can choose the SSD/HDD according to your requirement.
Q3: Does raid inside of openmediavault function with NASPi-Gemini?
A: NASPi-Gemini support hardware RAID mode, please refer to above Raid_Setting, or you can set it to PM mode then let openmediavault control RAID setting.
Q4: What are the HDDs requirement when use RAID mode?
A: Strongly recommend to use the same brand and capacity HDDs when use RAID Mode.
Q5: What to do if meet I/O error?
A: First please check if you use the USB Type-C power adapter, if yes, please change to use DC power adapter topower via DC jack of X882 to test. The USB Type-C PSU maybe not enough to power the dual HDD/SSD.