NASPi Lite
Jump to navigation
Jump to search
Overview
NASPi Lite is a simplified version of NASPi, which replace the NASPi X-C1 adapter board with X-C2 adapter board. The X-C2 adapter board has one full size HDMI for easy application, also remove the software shutdown function from X-C2.
NASPi Lite is a NUC-style 2.5" sata case for Raspberry Pi 4 Model b 8gb/4gb/2gb. It supports 2.5-inch SATA HDD/SSD. The shell is made of all aluminum alloy, CNC processing method, surface anodizing treatment.
NASPi Lite adopts modular design, and NASPi Lite is composed of three parts: X823 V1.5 storage shield, X-C2 adapter board, heat dissipation system(include X823-A3 metal fan bracket and 4010 2pin cooling fan), and they will be packed into a ALU-case to get a complete NASPi Lite;
X823 provides 2.5 inch HDD/SSD storage function(UASP supported);
X-C2 provides power management and interface adapter function but not support software shutdown.
For the heat dissipation system, we chose a relatively simple and practical heat dissipation solution: a custom metal bracket and a 4010 2pin cooling fan to achieve it.
Note: The X-C2 adapter must be connected with load to operate the normal power on/off.

What's the difference between NASPi and NASPi Lite?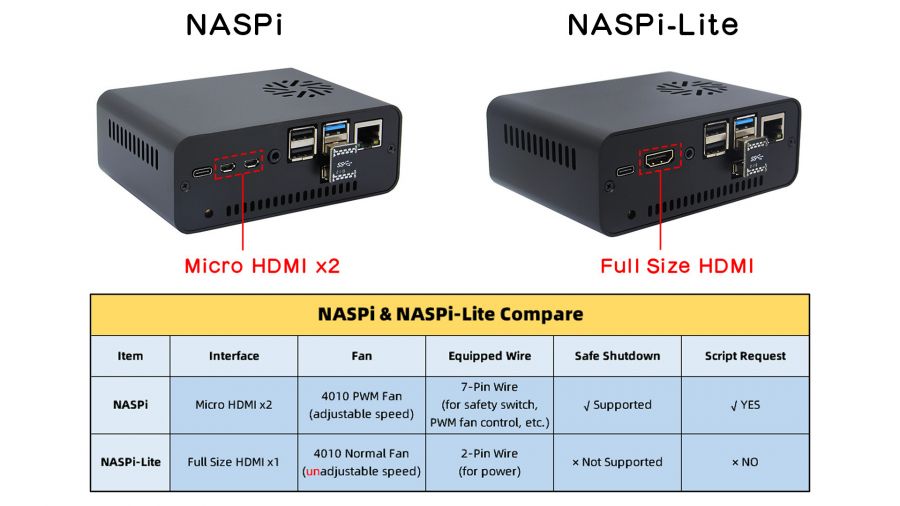 Features
Ideal storage solution for Raspberry Pi 4 - NASPi Lite 2.5" SATA HDD/SSD Kit
Only compatible with Raspberry Pi 4 Model B
UASP Supported Only for Raspberry Pi 4
Compatible with single 2.5 inch SATA hard disk drives (HDD) / solid-state drive (SSD)
Support Max 9.8mm thickness 2.5 inch HDD/SSD (The thickness of 2.5" HDD/SSD on the market is generally 7mm, 9.5mm, 12.5 and 15mm,You only can choose 7mm or 9.5mm thickness HDD/SSD)
Allows booting OS from your HDD/SSD for faster app opens, web serving and file copying

Press button switch to turn on

Press button switch and hold for 3 seconds to force shutdown

DO NOT

support software shutdown

DO NOT

support auto power on function
How to Power
Power NASPi-Lite via USB-C socket of X-C2 adapter
Power supply requirement: 5Vdc +/-5% , ≥4A
We recommend that you use our 20W 5V 4A Type-C power adapter USB C PSU.
Amazon US: https://www.amazon.com/dp/B09J856PND
Amazon DE: https://www.amazon.de/dp/B09J4V3RYK
Packing List
1 x NASPi Lite alu case
1 X X823 V1.5 Shield
1 x X-C2 V1.0 adapter board
1 x X823-A3 metal bracket with 2Pin cooling fan
Scews pack accessories;
Document
Difference between Geekworm NAS Family
Pls refer to GEEKWORM NAS Family
Some tutorials
Installation Video
For NASPi-Lite Kit with X823 V1.5(RPi4+X823 V1.5+X-C2 V1.0): https://youtu.be/WRs7P7rLVJM
5G AP WIFI Test: https://youtu.be/LKJVIBQFYXs
FAQ
Q1. The SSD cannot start or is very slow
A: If you have a Raspberry Pi 4 and are getting bad speeds transferring data to/from USB3.0 SSDs, read this https://www.raspberrypi.org/forums/viewtopic.php?t=245931

Q2. Will the Alu case affect the WIFI?
A: As our test, 2.4G WIFI AP was usable. But different Raspberry Pi individuals have different degrees of WIFI interference. As well as aluminum alloy case will interfere with pi 4's WIFI to a certain extent. So it is strongly recommend to use Ethernet or 5G AP. You can refer to video test of 5G WIFI AP: https://youtu.be/LKJVIBQFYXs

Q3: What is the thickness of a 2.5" HDD/SSD that can be accommodated?
A: The thickness of 2.5" HDD/SSD on the market is generally 7mm, 9.5mm, 12.5 and 15mm,You only can choose 7mm or 9.5mm thickness HDD/SSD, NASPi Lite is not compatible with 12.5mm and 15mm thickness 2.5" HDD/SSD.The thickness of 2.5" HDD/SSD should not exceed 9.8mm. In fact, most 2.5" HDD/SSD on the market are only 7mm thick.

Q4: How to find and use the Raspberry Pi 4 5G wifi?
A: Please refer to: Raspberry pi 4 can't find 5ghz wifi

Q5: What is the read/write performance when used as a NAS?
A:The read and write performance is determined by the speed of the Raspberry Pi's USB 3 bus and SSD. It should be noted that the Raspberry Pi's USB3 bandwidth is only 3Gbps. Normally, the R/W speed is about 300MB/S.

Q6: Does the NASPi Lite support PoE?
A: According to the customer feedback(based on 2021-05-07-raspios-buster-arm64-lite), the NASPi is OK to use with PoE splitter, but make sure to use high quality PoE splitter, or the power maybe not enough to power the NASPi kit.
Collect Feedback
https://geekworm.com/community/forum/topic/33043/solicit-naspi-user-experience-feedback-solutions