X883
Jump to navigation
Jump to search
Overview
This is an ultra-compact raspberry pi 4 dual 2.5 inch sata hdd/ssd storage board X883, it allows two 2.5" HDD/SSD to working at the same time with your Raspberry Pi 4. The SuperSpeed USB 3.0 port delivers a blistering data transfer rate of up to 5Gbps, letting you transfer a large amount of data in seconds.
x883 will replace X829

Note:
Raspberry pi, 2.5" SATA SSDs/HDDs, power adapter are all not included
Due to installation restrictions, please pay attention to the thickness of 2.5" SSD/HDD
As with all SSDs, new SSD/HDD must be formatted before use
Older SSD drives with less efficient flash media may not perform as well as newer drives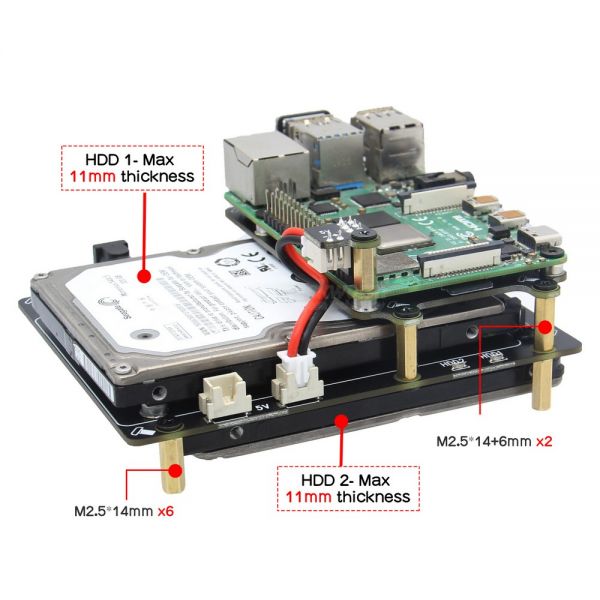 Features
Ultra-compact storage solution for Raspberry Pi 4 - Dual 2.5" SATA HDD/SSD Shield, supports UASP NOT trim
Supports dual 2.5 SATA HDDs/SSDs working at the same time.
The newly designed USB connector can transmit more reliably.
Integrated USB 3.1 Gen1 to SATA 6Gb/s bridge controllers
Quick file transfer with high-speed USB3.1 5Gb/s connectivity from a PC or a Mac
Fully compatible with X735 for intelligent power management and cooling your Raspberry Pi
Fully compatible with X765 for powering over Ethernet (POE, 5V 5A)
Fully compatible with X728 for uninterruptible power supply (18650 UPS, 5.1V 6A, smart power mgmt)
How to Power
Since X883 can install two 2.5-inch hard drives, it needs a high-quality power supply to provide enough current. Please use high quality power adapter that with inner protection, the low quality PSU may damage the X883 board and not recognized the HDD/SSD.
Power supply: 5Vdc +/-5% , ≥4A
Ports & Connectors: DC jack - 5.5x2.1mm
(Note: DC5525 Jack is compatible with DC5521, so you can also use the PSU with DC5525 Jack)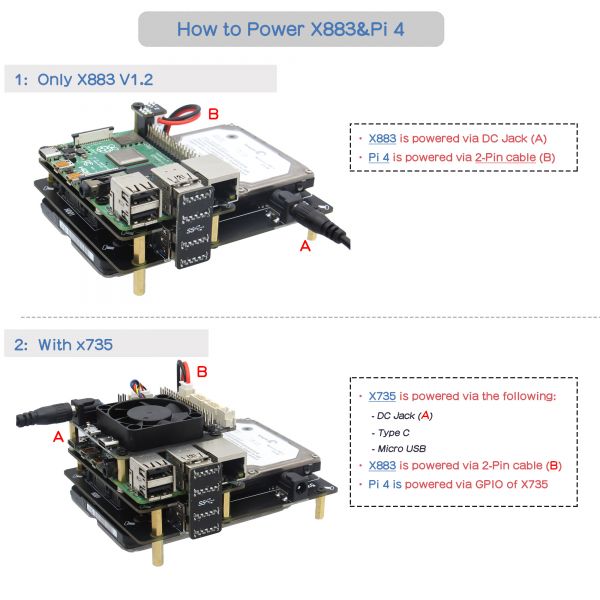 Packing List
1 x X883 Shield (Support Dual 2.5 inch SATA HDD/SSD)
1 x Carrier Board X883-A1 (To mount raspberry pi on X883)
1 x USB 3-D Connector
1 x 2-Pin Power Connection Wire
6 x Spacer F/F M2.5 x 14mm
2 x Spacer M/F M2.5 x 14+5mm
12 x Screw M2.5 x5mm
4 x Screw M3 x 6mm
User Manual
Some Tips
FAQ
Q1: What to do if HDD/SSD is not recognized?
A: Please refer to How to View/Partition/Format/Mount HDD/SSD