X829
Jump to navigation
Jump to search
Overview
The X829 dual 2.5" SATA HDD expansion board, offering an easy and fast way to create bigger storage solution for your Raspberry Pi 4B. Its elegant and ultra-compact design allows two 2.5" HDD/SSD to be conveniently attached to Raspberry Pi 4. The SuperSpeed USB 3.0 port delivers a blistering data transfer rate of up to 5Gbps, letting you transfer a large amount of data in seconds. The mounting holes and standoffs help protect the hard disk drives, while effectively drawing the heat away from the drive for reliable performance. The built-in LED light indicates the reading or writing status – no more guesswork again.
The X829 can be the perfect storage solution for your home media center and building Network-attached storage (NAS) for storing and streaming your own videos, music, and digital photos around the house and even across the world.
Please refer to X822 or X828 if you need dual SATA board for raspberry pi 3.
Features
FOR USE WITH

Raspberry Pi 4 Model B

Operating System

All Raspberry Pi operating systems

KEY FEATURES

Ideal storage solution for Raspberry Pi 4 - Dual 2.5" SATA HDD/SSD Shield
Supports dual 2.5 SATA HDDs/SSDs working at the same time
Allows booting OS from your HDD/SSD for faster app opens, web serving and file copying [1]
Provides additional 2 USB3.1 Gen1 ports for Raspberry Pi
Function to power the RPI via XH2.54 only needing a single power supply
Integrated USB 3.1 Gen1 to SATA 6Gb/s bridge controllers
Integrated USB 3.1 Gen 1 Hub Controller
USB3.1 Gen1 5Gb/s connectivity offers plug-and-play functionality on your Raspberry Pi 4
Quick file transfer with high-speed USB3.1 5Gb/s connectivity from a PC or a Mac [2]
Specially-made USB3.1 jumper to connect with Raspberry Pi - no additional cables needed
Ultra-compact design allows for ease of use two HDD/SSD with Raspberry Pi 4
LED blue indicator indicates each drive status
Fully compatible with X735 for intelligent power management and cooling your Raspberry Pi
Fully compatible with X710 for wide input voltage (6~36V) and intelligent power management
Fully compatible with X765 for powering over Ethernet (POE, 5V 5A)
Fully compatible with X728 for uninterruptible power supply (18650 UPS, 5.1V 8A, smart power mgmt)

SPECIFICATION

Power supply: 5.1Vdc +/-5% , ≥4A

Ports & Connectors:

DC jack - 5.5x2.5mm
USB socket - USB 3.0 type A
Power connector - XH2.54 2-pin
SATA socket - 7+15P Female

NOTES

↑

A microSD card is required for forceing the Raspbian OS to use the HDD/SSD for its "root" partition

↑

Additional USB3.0 A Male to A Male cable is required (not supplied)

For use with original power supply unit only

Do not power your Raspberry Pi via the Pi's 40-pin header and Type-C USB socket at the same time.
How to Power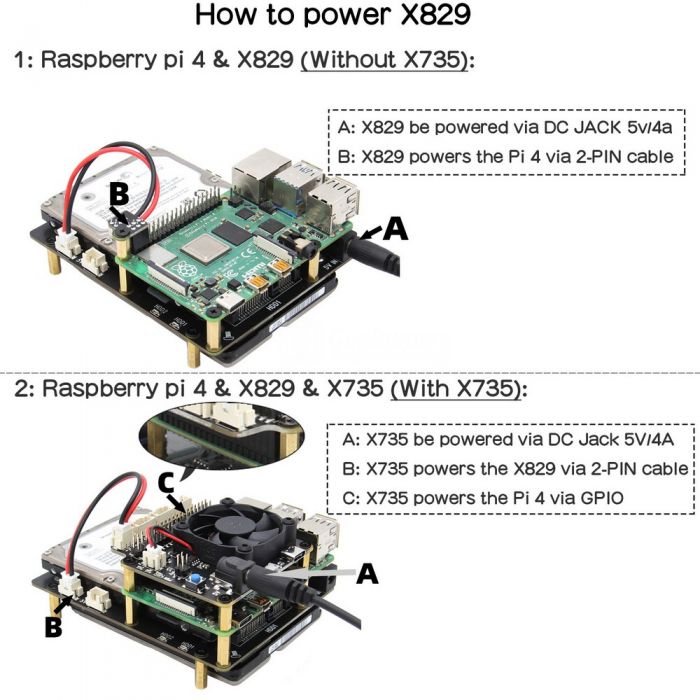 About the HDD Thickness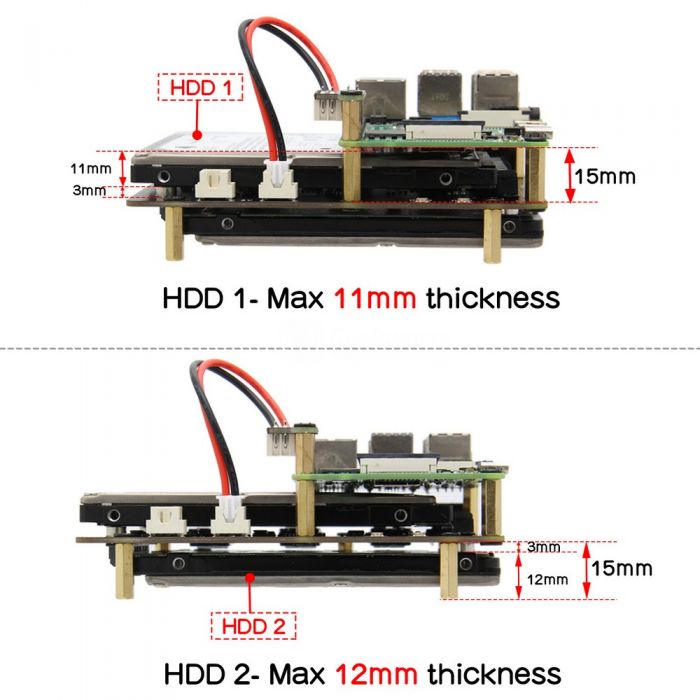 Packing List
X829 HDD/SSD expansion board x 1
USB 3.0 Cable x 1
2-Pin Power Connection Wire x 1
Power daughter board x 1
Spacer F/F M2.5 x 15mm x 7
Spacer M/F M2.5 x 11+1mm x 1
Screw M2.5x5mm x 11
Screw M3 x 6mm x 4
Matching Metal Case
Please refer to X829-C1.
Installation Video
Installation video for Raspberry Pi 4+X829+X735+X829-C1 Case: https://youtu.be/0oQr77aQ6rk
Installation video for Raspberry Pi 4+X829+X708/U100+X829-C1 Case: https://youtu.be/Lz2KAxhcK2E
User Manual
FAQ
Q1. Does the X829 stackable?
A: No, X829 is not stackable, please refer to X828, among the 2.5" SATA shield I(X820 X825 X829 X828), ONLY X828 is stackable.

Q2: Do X series NAS shields support UASP?
A: 2.5", 3.5" NAS shield(such as X825 X829 X829 X835 X832) use JMS583 IC, and all supports UASP(NOTE: Not supported UASP in earlier versions, produced before July 1, 2020), to prevent HDD/SDD from entering the hibernation state,
but M.2 MSATA SSD (X862 V1.0) only support TRIM not UASP; M.2 MSATA SSD (X862 V2.0)only support UASP not TRIM.