X882
Jump to navigation
Jump to search
Overview
This is an ultra-compact raspberry pi 4 dual 2.5 inch sata hdd/ssd storage board X882, it allows two 2.5" HDD/SSD to working at the same time with your Raspberry Pi 4. The SuperSpeed USB 3.0 port delivers a blistering data transfer rate of up to 5Gbps, letting you transfer a large amount of data in seconds.
X882 is not sold seperately, we have designed a case for X882 and sold it as a set, please refer to NASPi Gemini
Update History: In December 2022, the X882 V1.3 has been updated to X882 V2.0, remove the USB-C port on X882 V1.3, and update DC 5V power in to wide voltage input DC6-18V power in. The new version completely solve the issue of I/O error.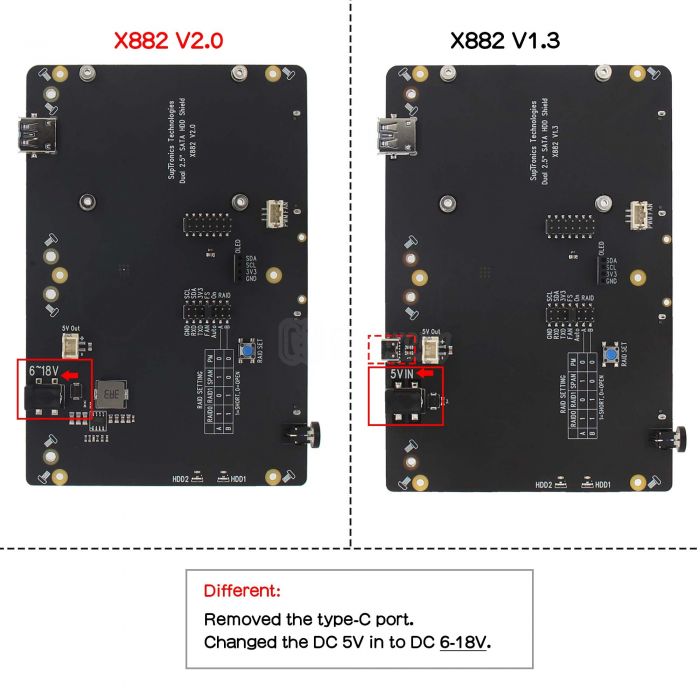 Features
FOR USE WITH

Raspberry Pi 4 Model B

Operating System

All Raspberry Pi operating systems

KEY FEATURES

Ultra-compact storage solution for Raspberry Pi 4 - Dual 2.5" SATA HDD/SSD Shield
UASP supported ONLY, NOT support TRIM
Supports dual 2.5 SATA HDDs/SSDs working at the same time
Allows booting OS from your HDD/SSD for faster app opens, web serving and file copying
Function to power the RPI via XH2.54 only needing a single power supply
Integrated USB 3.1 Gen1 to SATA 6Gb/s bridge controllers
Integrated USB 3.1 Gen 1 Hub Controller
USB3.1 Gen1 5Gb/s connectivity offers plug-and-play functionality on your Raspberry Pi 4
Specially-made USB3.1 jumper to connect with Raspberry Pi - no additional cables needed
Specially-made X882-A1 connector to connect with Raspberry Pi - power Pi4 without additional cables
Ultra-compact design allows for ease of use two HDD/SSD with Raspberry Pi 4
LED blue indicator(HDD1,HDD2) indicates each drive status
Support Auto power on function
Support connecting 3pin PWM Fan

On board switch with LED light
Press button switch to turn on
Press button switch and hold for 1~2 seconds to reboot
Press button switch and hold for 3 seconds to implement safe shutdown
Press button switch and hold for more than 8 seconds to force shutdown

SPECIFICATION

Power supply: 5.1Vdc +/-5% , ≥4A(For X882 V1.3 Version)
Power supply: 6-18Vdc +/-5% , ≥4A(For X882 V2.0 Version)
Ports & Connectors:

DC jack - 5.5x2.1mm (DC5525 Jack is compatible with DC5521, you can also use the PSU with DC5525 Jack)
Type-C port(Geekworm Type-C 5V 4A 20W power supply is recommended.)
USB socket - USB 3.0 type A
Power connector - 5V Out XH2.54 2-pin
PWM Fan port 3-pin
SATA socket - 7+15P Female

Power Supply Requirement

Please use high quality power adapter, or the HDD/SSD may cannot be recognized.
Since X882 can install two 2.5-inch hard drives, it needs a high-quality power supply to provide enough current.

NOTES

Due to installation restrictions, please pay attention to the thickness of 2.5" SSD/HDD.
We do not recommend using Samsung hard drives,Please use hard drives of other brands.
As with all SSDs, new SSD/HDD must be formatted before use.
Older SSD drives with less efficient flash media may not perform as well as newer drives.
A microSD card is required for forceing the Raspbian OS to use the HDD/SSD for its "root" partition
Additional USB3.0 A Male to A Male cable is required (not supplied)

Do not power your Raspberry Pi via the Pi's 40-pin header and Type-C USB socket at the same time.
Raid setup
Refer to How to Configure RAID Setting
Matching Metal Case
X882-C1 metal case with 4010 PWM cooling fan, you can refer to NASPi Gemini.
Packing List
1 x X882 Dual 2.5 SATA HDD Shield(V2.0 or V1.3 Version)
1 x X882-A1 Connector
1 x USB Connector
3 x Jumper Link Pitch 2.54mm
4 x TM3 *6mm Screws (to fix 2.5" HDD/SSD)
4 x F/F Spacer M2.5 *20mm
8 x M2.5 * 5mm Screws
User Manual
Software guide, please refer to X-C1 Software
Important!!
For better system compatibility & performance, Please format your HDD/SSD to Ext4 file system.
Document
Some Tips
FAQ
Q1. Why did the second HDD is not recognized?
You found only one hard drive if you select the RAID0/RAID1 mode.
Please exit the RAID mode and check again after entering the PM mode(clear raid mode).
More details please refer to Set CLEAR RAID mode of How to configure RAID

Q2: What to do if HDD/SSD is not recognized?
A: Please refer to How to View/Partition/Format/Mount HDD/SSD