X703
Jump to navigation
Jump to search
Update History
In July 8th 2022, the X703 V1.2 UPS has done a small update,the "AON" Pin has been updated to "PON" Pin, also the pcb components position will be a little difference. Please refer to the below photo:
Note
NOT supports software safe shutdown.
Do not apply power to your Raspberry Pi 4 via the Type-C socket.
Please use high quality power supply, the low quality power supply will generate surge Voltage, which will damage the board chip. we recommend Panasonic brand NCR18650BD 18650 lithium battery.
If 【CHG】 pin is OPEN, battery charging will be started after powering on and stopped after powering off. If 【CHG】 pin is SHORT, the battery will be automatically charged once your power adapter connected.
Do not short the"AON" pin.
Be sure to power off & remove the 18650 battery then wait for 2 seconds when toggle charging mode
Overview
The X703 is a new design UPS board which is specially designed for Raspberry Pi 4 Model B only. It provides an advanced uninterruptible power supply and power. The X703 adds 4 test pins to achieve powered between X703 and Raspberry Pi 4 without additional cable.
Safety Instructions and Warnings
You must read these safety instructions and warnings before charging your batteries.
Lithium Polymer and Li-ion batteries are volatile. Failure to read and follow the below instructions may result in fire, personal injury and damage to property if charged or used improperly.

Never make wrong polarity connection when charging and discharging battery packs. Always double check polarity of battery's connector to make sure "+" to "+" and "-" to "-".

Do not mix and use old batteries and new batteries, or batteries with different brand names.

Lithium batteries has it's cycle life, please replace old battery with new one when it reaches it's service life or when it is two year old, whichever comes first.

When charging Battery Pack, please put battery in a fire proof container. Please don't leave the X703 on the wood material or carpet and unattended.

Must keep the X703 away from children.

Please watch Main Video and Tutorial Video regarding 18650 batteries at: https://www.staysafebattery.com/en/
Features
Smart Uninterruptible Power Supply (UPS)
ultra-thin
Supports 3A via Type-C socket fast charging
Add 4 test pins to achieve powered between X703 and Raspberry Pi 4 without additional cable.
Only work with single 18650 Lithium Ion battery
Integrated battery protection circuit
Integrated over current protection and over voltage protection
On-board 4 green LEDs indicate battery charging and discharging levels of 25%, 50% , 75% and 100%
On-board red LED show the status of battery charging or fully charged
On-board push button to control power on /off (Press-ON, Hold the button pressed at least 2s -OFF)
Allows power input via Type-C socket or XH2.54 connector
On-board 2-Pin PH2.0 connector allows to connect external power switch
DON'T supports software safe shutdown.
Specifications
Power supply via Type-C socket: 5Vdc ±5%, ≥3A;
UPS output: 5.1V ±5% Max 3A
UPS charging current: 1A
Terminal Battery Voltage: 4.2V
Recharge Threshold: 4.1V
Packing List
1 x X703 V1.2 18650 UPS Shield
1 x Jumper link Pitch 2.54mm
6x M2.5 *4mm Screws
2x M2.5 *5+3mm Spacers
2x M2.5 *5mm Spacers
User Manual
18650 battery dimension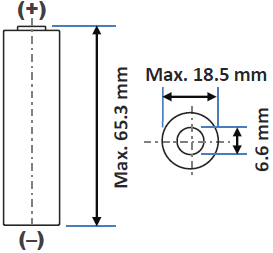 Do not use 18650 battery with built-in protection circuit
FAQ
Q1: Will X703 UPS work with the rpi poe hat?
A:No, the X703 UPS does not support rpi poe hat.

Q2: Why CHG light is not light up when external power supply is connected?
The X703 UPS does not discharge when charging. Therefore, when external power adapter is used, raspberry pi is powered by the power adapter instead of UPS.
When remove the external power adapter, raspberry pi will be powered by the battery, which can avoid frequent battery charging and discharging.
Please make sure that the power adapter used is ≥3A, and always short the CHG , so that it can be automatically charged when an external power supply is connected.