PiKVM-A4
Jump to navigation
Jump to search
Overview
PiKVM-A4 is one of the members of PiKVM family, it only supports Raspberry Pi Zero 2 W without a matching metal case.
!!! warning "ZeroW reached EOL and is no longer supported, the last image it can be found here"
Or you can refer to here

The PiKVM-A4 is composed of follow parts: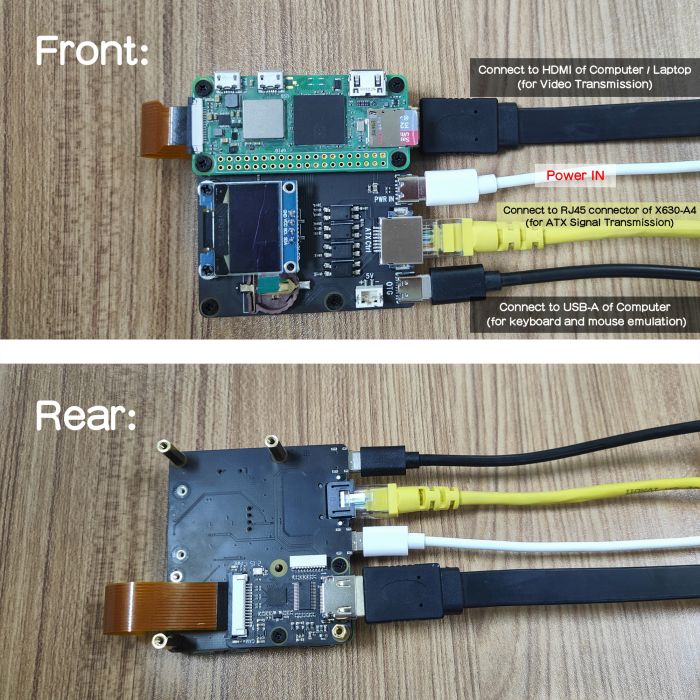 X630 HDMI to CSI-2 Board (for video capture)
X630-A4 HAT Board (for ethernet, RTC, ATX Control power in etc)
X630-A5 Adapter Board (it is installed inside the PC case, and it connect the computer motherboard and IO panel cabe of PC case))
0.96 inch OLED (for display, Resolution: 128×64 pixel)
Ethernet Cable (TIA/EIA-568.B connection, and it's ATX control signal cable)

Important Note: The OLED screen will not work if you use PI ZERO image, because pikvm OS has not fixed this problem. If it is fixed in the future, the screen will work fine.
How to Power
Power Input: 5.1Vdc +/-5% , ≥3A (Power Via USB Type-C port of X630-A3 / X630-A4 / X630-A8)
How to Cool
Packing List
1 x 0.96 inch OLED: Resolution: 128×64 pixel, with 2 piece of M2*6 screws
1 x Ethernet Cable (Cable length: 100cm)
1 x X630 HDMI to CSI-2 Module

1 x FPC Cable(8cm length)

1 x X630-A4 Expansion Board

1 x USB-A to USB-C OTG Cable (Cable Length: 100cm / 39.37 inch)
8 x M2.5x3mm Screw
3 x M2.5x4+4mm Spacers
1 x M2.5x10+4mm Spacer
1 x M2.5x15+4mm Spacer
2 x M2.5x15mm F/F Spacers

1 x X630-A5 V1.0 Adapter Board

1 x M3.5x6mm Screw
4 x ATX Control Cable(2pin Female to Female Dupont Cables) (Cable Length: 47cm / 18.50 inch)
Hardware Parameters
Connection Diagram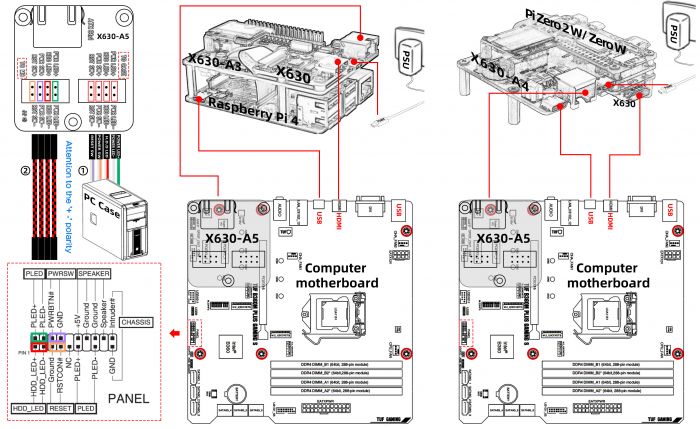 Note:
The X630-A5 adapter board will be install into the PC Case.
The wire group ① connect to X630-A5 comes from the PANEL of PC Case.
The black and red wires(wire group ②) come from X630-A5 accessories.
Installation Video
PiKVM-A4 Kit: https://youtu.be/a2oYTEh7QC0
User Manual
Download here: https://pikvm.org/download/
For Raspberry Pi Zero 2W, please use the follow V2 OS.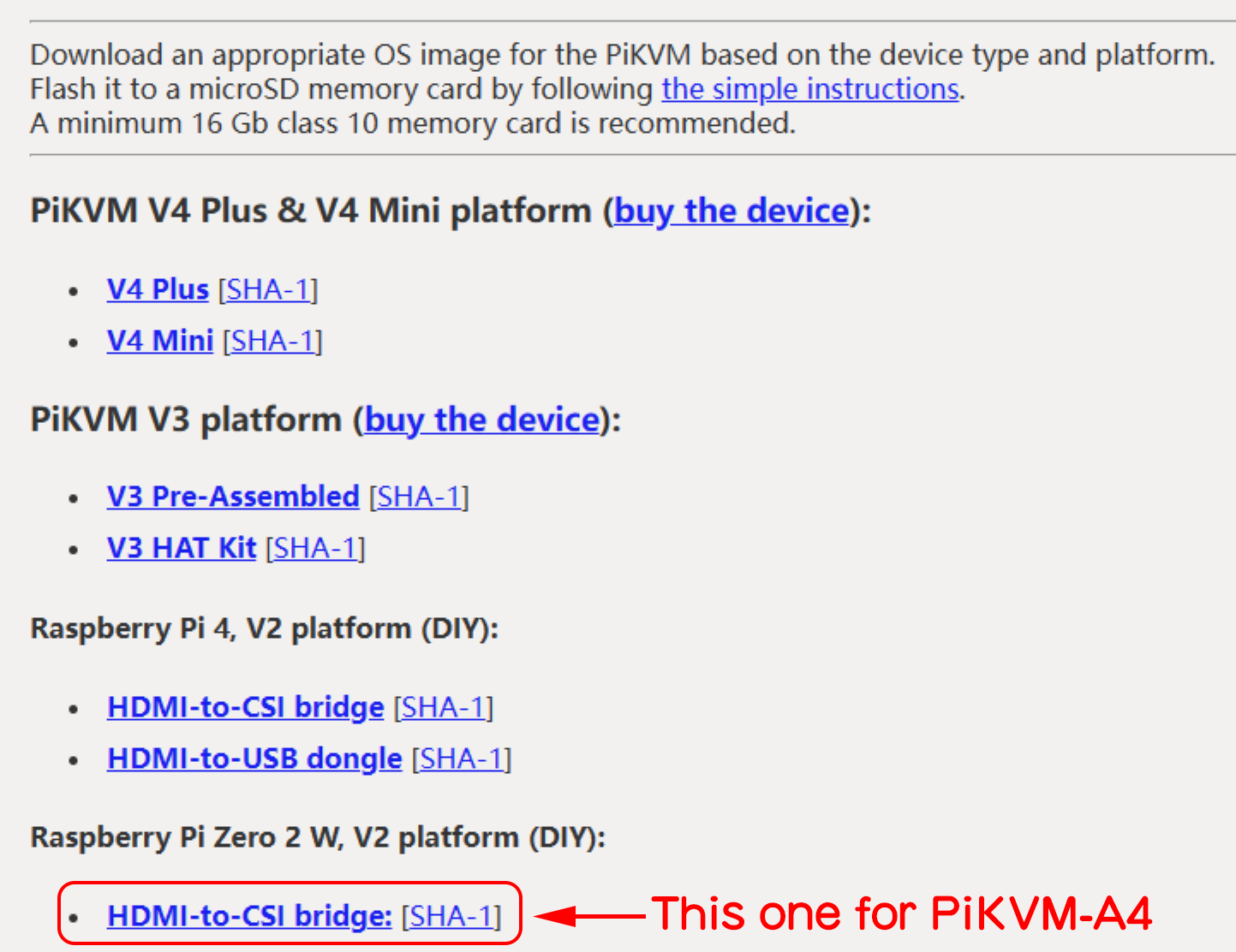 !!! warning "ZeroW reached EOL and is no longer supported

Firstly, we recommend carefully reading official documentation from website: https://docs.pikvm.org/faq/.
If you run into any issues you can check the following Q&A. If that still doesn't help you you're welcome to raise an issue ticket at https://geekworm.com/community/forum/topic/78220/pikvm-faq or email to us (support@geekworm.com)
(Please be sure to provide installation pictures or videos to contact us, which can effectively solve the problem.Thanks.)
blog sharing for reference: https://www.andysblog.de/kvm-over-ip-pikvm-als-bausatz
FAQ
Q. I want to control several pc power. Is it possible with one PiKVM-A4 and several x630-a5
A. No, one kit can only control one pc.

Q: How to login?
A: Input the XX.XX.XX.XX ip address on the explorer, then input user: admin, the default password is 'admin' also.

Q: How to switch root user?
A:
su root
#default password  is root also


Q: How to enable OLED?
A: In fact, the official firmware of PiKVM based on raspberry pi zero 2 w does not support OLED display. If the official firmware supports it in the future, please refer to the official instructions official documation
Or refer to: https://geekworm.com/community/forum/topic/85024/enable-oled-on-geekworm-pikvm-a4-kit
Q: How to enable RTC?
A: Firstly, insert the C1220 button battery. run the following command:
rw
sudo nano /boot/config.txt
#Then change the line: dtoverlay=i2c-rtc,pcf8563 to dtoverlay=i2c-rtc,ds1307

#Test RTC
#Display the current time of the Raspberry Pi
date  
#Write the time of Raspberry Pi to DS1307
sudo hwclock -w

#Read the time of DS1307
sudo hwclock -r
ro


Q: Why PiKVM-A3/A4 does not show the video?
A:
Double-check that the video capture device is connected correctly and tightly. For the CSI bridge, this should be exactly the camera port;
Some laptops do not output any signal until you switch the output (usually via the FN + and an F5 key on the keyboard).
Your computer may have turned on sleep mode for the monitor. Move the mouse to turn it off.