X652
Jump to navigation
Jump to search
Overview
The X652 is a Raspberry Pi CM4-based KVM-over-IP remote management PCI Express card that can be easily inserted into 1U and 2U form factors for PC, Sun and Mac platforms. it adds remote, unblocked, BIOS-level access and control to any server. Accessed from any Web browser, it provides anytime, anywhere KVM access with security, stability and speed.
The IP KVM PCI card offers KVM control from the BIOS-level onward. Reboot, monitor the entire boot process, and interact with your connected system easily, while the integrated remote ATX power control allows you to switch the machine on/off, reset it, and monitor power & storage LED activity remotely.
The X652 also supports powering over Ethernet (PoE) that allows Ethernet cable to transmit data and power simultaneously using a single network cable, minimizing cable usage and eliminating the need for separate power supplies and outlets.
Note:
The X652 Kit does not come with a Raspberry Pi CM4, please prepare the CM4 module yourself.
Don't power the X652 via USB Type-C socket if powering over Ethernet.
Features
Model: X652
Based on the Raspberry Pi Compute Module 4 and Compatible with all variants
Compatible with PiKVM V3 platform OS version only, not support V4
HDMI Full HD capture based on the TC358743 chip
Supports HDMI input resolutions up to 1920x1080 60Hz
Hardware Real Time Clock (RTC) with CR1220 coin battery socket
M.2 2280 KEY-M socket for NVMe SSD storage expansion
Gigabit Ethernet that supports data transfer speeds of up to 1000 Mbps
PoE Supported – Power over Ethernet for simplified installation
Supports for powering via USB-C
Supports booting from Micro-SD, CM4 eMMC and faster M.2 2280 NVME SSD
Installs justs like any PCI card into a tower / desktop PC
Low profile and standard profile bracket Inside-both Mini and standard desktop host workable
Reliable remote network access to servers and computers
OTG Keyboard & mouse; Mass Storage Drive emulation
Equipped with a cooling fan X680-A1 to dissipate heat from your CM4
How to Power
① PoE power, 5Vdc +/-5%, 2.5A via POE ( Recommend, the PoE switch must support

IEEE 802.3af

)
② 5.1Vdc +/-5% , ≥3A; Power via USB Type-C PWR port of X652; ( Refer to Geekworm 5V 4A USB-C Power Adapter PSU20 )
How to Cool
X652 equipped with an active cooling fan board (X680-A1) that can cool your Raspberry Pi CM4, and X680-A1 is included in the Packing List;
In fact, if you don't like cooling fans, you can try C235, which can fully meet the cooling needs of CM4, but C235 is NOT included in the Packing List;
Packing List
1 x X652 V1.0 Expansion Board
1 x X680-A1 V1.0 Cooling Fan
1 x Colorful ATX Control Cable (Cable Length: 52cm / 20.47inch)
1 x Mini HDMI to HDMI Cable (Length: 30cm/11.8inch)
1 x USB-A to USB-C OTG Cable (Length: 32cm/12.59inch)
1 x Standard height PCIe Add-in Card I/O Bracket
1 x Low height PCIe Add-in Card I/O Bracket
1 x Screws Pack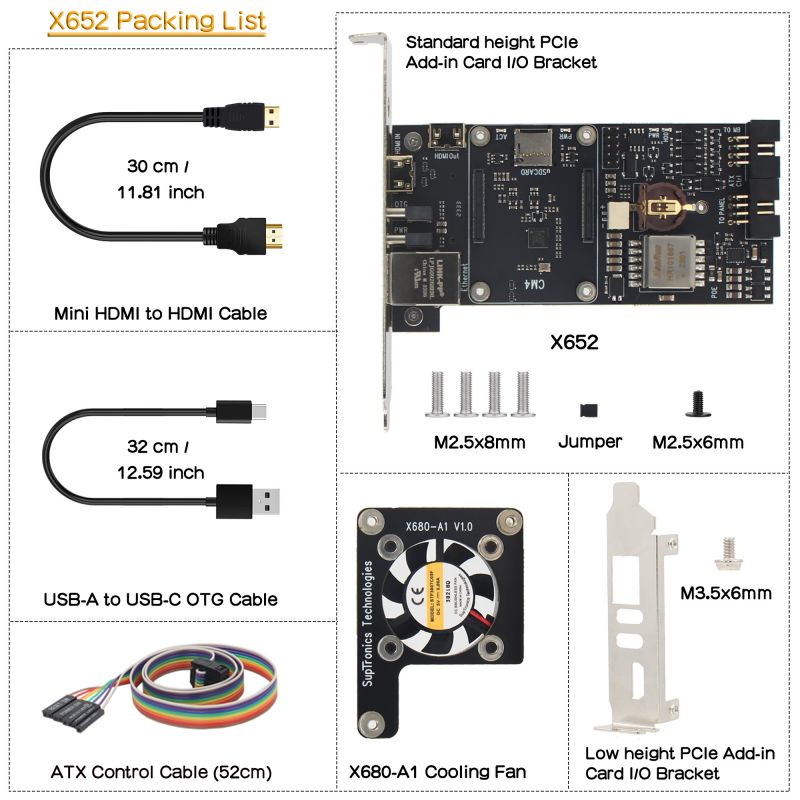 User Manual
Installation Video