X650
Jump to navigation
Jump to search
Overview
X650 shield is a member of the PiKVM[1] family. It is a Raspberry Pi CM4-based KVM-over-IP remote management PCI Express card that can be easily inserted into 1U and 2U form factors for PC, Sun and Mac platforms. It adds remote, unblocked, BIOS-level access and control to any server. Accessed from any web browser, it provides anytime, anywhere KVM access with security, stability and speed.
This IP KVM PCI card X650 offers KVM control from the BIOS-level onward. Reboot, monitor the entire boot process, and interact with your connected system easily, while the integrated remote ATX power control allows you to switch the machine on/off, reset it, and monitor power & storage LED activity remotely.
The x650 itself has a built-in Toshiba TC358743 chip, so it no longer needs the X630 for the HDMI to CSI function.
The X650 is also equipped with half-height and standard-height bracket, both mini and standard desktop hostsworkable.
Want to know more information for pikvm, please refer to https://pikvm.org/
Features
Only Compatible with the Raspberry Pi Compute Module 4 and Compatible with all variants, and full Compatible with PiKVM OS (Raspberry Pi-based KVM over IP)
Only compatible with PiKVM V3 OS, NOT support V4
PCI style, installs justs like any PCI card into a tower / desktop PC
Supports video and audio.
Low profile and standard profile bracket Inside-both Mini and standard desktop host workable
HDMI Full HD capture based on the Toshiba TC358743 chip,supports HDMI input resolutions up to 1920x1080
OTG Keyboard & mouse; Mass Storage Drive emulation
Hardware Real Time Clock (RTC) with CR1220 coin battery socket
Gigabit Ethernet socket supporting Power over Ethernet (POE) expansion, reserve the 4-PIN POE Pin.(Need extra PoE module)
Equipped with cooling fan that allows the heat from your CM4 to dissipate
How to Power
Power Input: 5.1Vdc +/-5% , ≥3A (Power via USB Type-C PWR port of X650)
Use splitter to get POE power supply, refer to PoE splitter.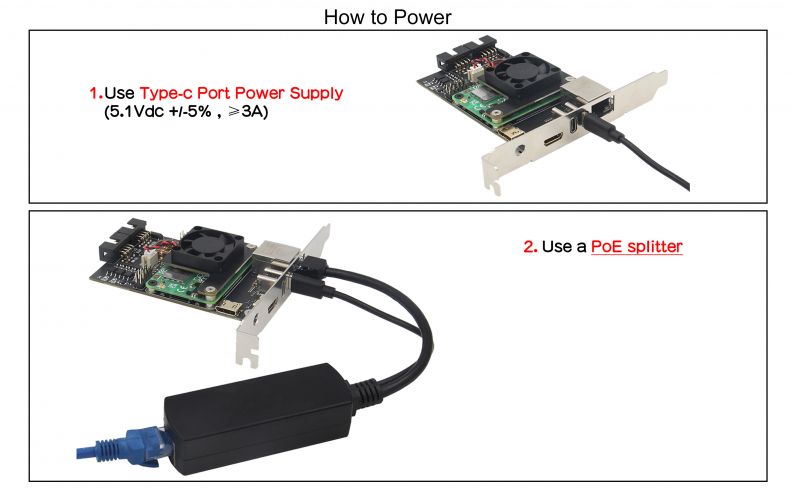 About POE Splitter, refer to PD3005G-3A
How to Cool
X650 equipped with an active cooling fan board (X680-A1) that can cool your Raspberry Pi CM4, and X680-A1 is included in the Packing List;
In fact, if you don't like fans, you can try C235, which can fully meet the cooling needs of CM4, but C235 is NOT included in the Packing List;
User Manual
First you need to make sure your hardware connections are correct, please refer to the video and diagram below
Installation Video
X650: https://youtu.be/2nKzQlkTXF8
Connection Diagram
Overall connection diagram: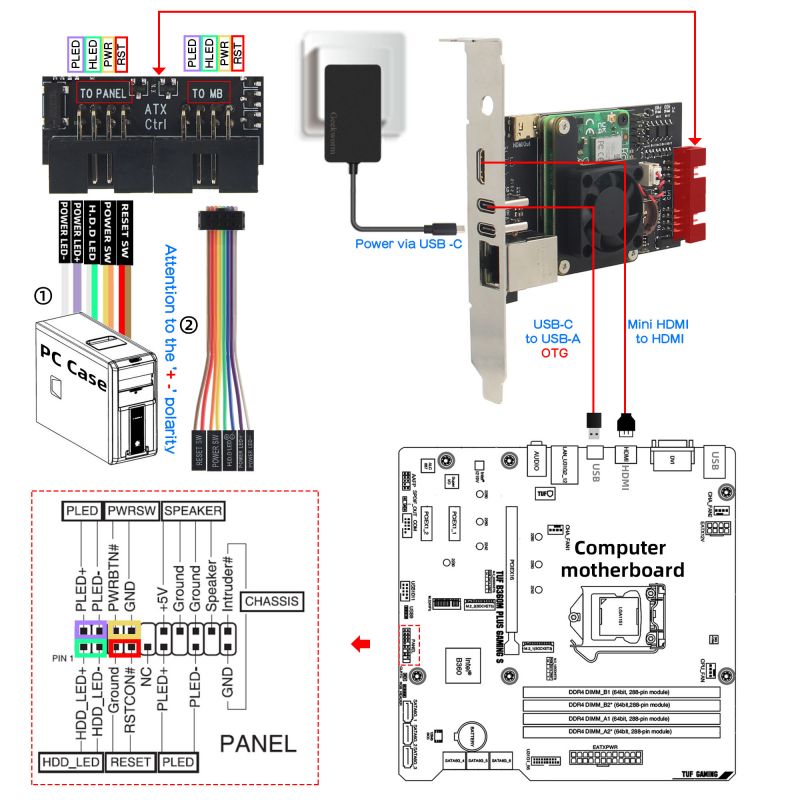 OS download and install
1. Firstly, need prepair a micro sd card, a minimum 16 Gb class 10 memory card is recommended.
2. Download an appropriate OS image for the PiKVM, the url link is https://pikvm.org/download/ or click this one to download it. (Please use the V3 HAT OS)
3. Flash OS image into Micro SD card
1) How to installing the Operating System (CM4 without eMMC)
Refer to Official installation tutorial
2) How to flash OS onto the eMMC of CM4? (CM4 with eMMC)
a. Short nBOOT&GND, refer to the picture below.
b. Connect Type-C OTG to your computer
c. Power the X650 via PWR Type-C with your 5V Power adaper
d. Then rerfer to this tutorial to flash pikvm OS
e. Remove the jumper of nBOOT&GND after flashing is complete, then restart your device;
4. Power the device, then open explore to login the pikvm web ui.
Enable RTC
Due to different RTC chips with official PiKVM hardware, you still need to configure RTC to make RTC work normally.
Firstly, insert the C1220 button battery. run the following command in web terminal window:
1. switch to 'root' user
su root

then type the password, and the default password is 'root' also.
2. Switch OS to writable mode
rw

3. Edit the /boot/config.txt file, and change line dtoverlay=i2c-rtc,pcf8563 to dtoverlay=i2c-rtc,ds1307 (due to use the different RTC chip).
sudo nano /boot/config.txt

Then save & reboot the device;
4.Test & setting RTC, write&read the time of Raspberry Pi to RTC DS1307
date
sudo hwclock -w
sudo hwclock -r

5. Swith OS to readonly mode
ro

Enable OLED display
Run the following command in web terminal window:
rw
systemctl enable --now kvmd-oled 
ro

If you are using PiKVM OS V3 Pre-Assembled, the OLED configuration is already pre-installed, you can ignore this step.
Enable pikvm hdmi audio
Refer to Enable pikvm hdmi audio
Packing List
1 x X650 V1.3 Expansion Board
1 x X680-A1 V1.0 cooling fan Adapter board
1 x Colorful ATX Control Cable (Cable Length: 47cm / 18.50 inch)
1 x Mini HDMI to HDMI Cable (Length: 50cm/19.69)
1 x USB-A to USB-C OTG Cable (Length: 50cm/19.69)
1 x Standard height PCIe Add-in Card I/O Bracket
1 x Low height PCIe Add-in Card I/O Bracket
1 x Screws Pack
FAQ
Why the device does not show the video only display

No Signals

?

Double-check that the video capture device is connected correctly and tightly. For the CSI bridge, this should be exactly the camera port;
Some laptops do not output any signal until you switch the output (usually via the FN + and an F5 key on the keyboard).
Your computer maybe enter sleep mode, please exit sleep mode
If your desktop only has a VGA display port, there may be no video signal when you use VGA to HDMI adapter, and there is no way to solve this; However, you can try to lower the resolution and restart the PC to test, but the probability of success is very low.
Why is the X650 not working?

A:
1. First you need to make sure your physical connection is correct, or you can email us at support@geekworm.com to confirm your physical connection;
2. Make sure to use the right pikvm OS.


3. Make sure CM4 is tightly connected with X650. (This is very important, and this error often occurs)

How to switch to root user?

A: run the following command:

su root

Then type the password, the default password is 'root' also.
Does the x650 support audio?

A: Yes. Refer to Enable pikvm hdmi audio
Does the x650 support OLED display?

A: Yes.

Please connect the OLED shield as shown below (But we actually think OLED displays are pointless):

Then run the following command to enable oled display

rw
systemctl enable --now kvmd-oled 
ro


About OLED shield, refer to OLED
Does the X650 support PoE power? How to enable PoE Power?

A: The X650 reserve the POE port, but need to use with customized POE module to support PoE power, and the customized POE module still not release now. And the X650 does not support the Raspberry Pi official PoE module. Recommend to use PiKVM-A8 kit, if you need PoE power.
What's the function of mini HDMI?

A: The X650 mini hdmi is to output some information from the PiKVM OS server, please refer to the below picture:
References