P165
Jump to navigation
Jump to search
Foreword
Why design this product?
After the Raspberry Pi 4 was released, we found that the heat generation of Pi 4 also increased with its performance. We have encountered many times that Pi 4 crashed due to excessive heat generation. This problem can be satisfactorily solved by use the Raspberry Pi 4 armor case with other Pi 4 external expansion board.
At the same time, we found that various types of Raspberry Pi 4 expansion boards such as DAC+, UPS HAT, or various LCDs on the market also encountered excessive heat generation when used on Pi 4. So we try to solve this problem.
Inspired by Raspberry Pi 4 passive coolign armor case, we simplified the design, so there is the birth of this Embedded Armor Aluminum Alloy Heatsink / Radiator.
Why is it compatible with the pi 4 expansion boards?
The P165(P165-A) Embedded Armor Aluminum Alloy Heatsink Radiator is 7mm high (designed with negative tolerance) and is equipped with M2.5*5+5 copper spacers; so the total height is 12mm, which can support most of Raspberry Pi 4 expansion boards(not support PoE expansion board); if you use expansion board with other height, you only need to replace the copper spacers with the right height. (If you need a special height copper spacers, please contact us.)
The raspberry pi hat positioning hole has internal thread for easy fixing from above or below; Compared to the raspberry pi PCB, the entire heat sink shrinks inward by 0.5 mm.
Why design this new P165-B 11mm heatsink?
We found that the copper spacers height required for most Raspberry Pi expansion boards is 11mm, so we designed this 11mm embedded heatsink(P165-B). Compared with the old model(P165-A), the heat dissipation area is increased and the heat dissipation effect will be better;
at the same time, this new version support POE extension;
What if the Raspberry Pi 4 expansion board comes into contact with the P165-B 11mm heatsink?
Please use the 2*20 female header to add the height of expanion board.
Update History
We only keep the M2.5*5+4mm, M2.5*5+5mm, M2.5*13+6mm spacers in the P165-A packing list(in August 2021), due to the Raspberry Pi expansion board usually with 12mm or 20mm height, the three spacers combination are enough in application.
On November 11th, 2020, based on customer feedback, a slightly thicker version was released, which is 11mm thickness. It supports 3010 cooling fan, will have a better heat dissipation function and compatible with PoE expansion board. This new embedded heatsink is named P165-B, while the old radiator will be renamed P165-A from P165.
On July 2020, update the cooling fan of P165 embedded radiator from 2506 to 2507.
On April 10th, 2020, the P165 embedded heatsink has been updated to attach thermal tape at both CPU and RAM at April 2020, the first version just need to attach proper thermal tape at RAM.
On September 29, 2019, Geekworm release this Raspberry Pi 4 Model B embedded aluminum heatsink to help slove Pi 4 excessive heat generation problem. This heatsink, which called P165, can also be used with a cooling fan above.
Features
Only supports Raspberry Pi 4 Model B;
Supports to cooling down the Raspberry Pi 4 board when using the Pi 4 expansion board;(Please choose P165-B if you need to use it with PoE board);
Equipped with a variety of screws and copper spacers;(The screw packs of P165-A and P165-B are different);
Raspberry Pi HAT positioning hole is M2.5 internal thread; (this design is convenient to fix);
Supports fan installation; Cooling fan can be added when the heat dissipation of a single aluminum heat sink is not enough;
How to connect the cooling fan
Compare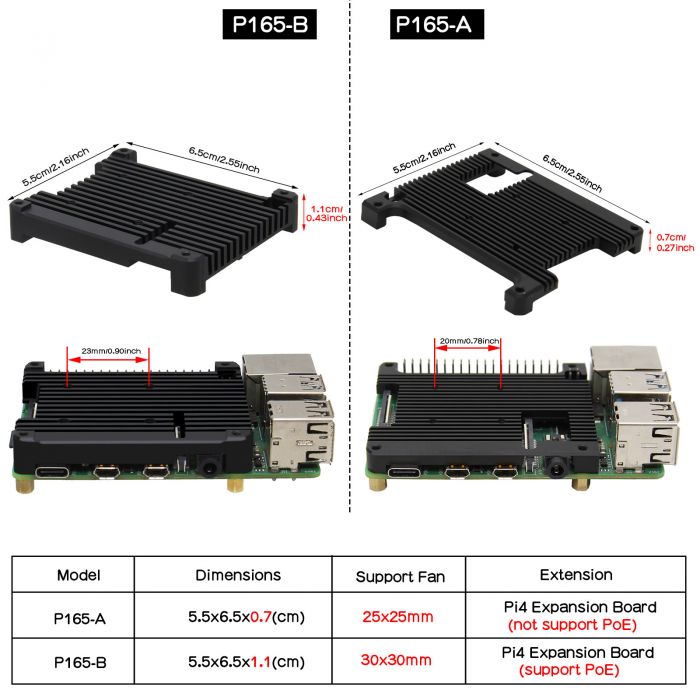 Packing List
P165-A Packing List:
1x 7mm armor heatsink(P165-A)
4 x PM2.5x12mm Screws
4 x M2.5x5 +4mm Spacers
4 x M2.5x5 +5mm Spacers
4 x M2.5x13 +6mm Spacers
1 x thermal tape (cut for CPU and RAM)
1 x 2507 cooling Fan (optional)
P165-B Packing List:
1 x 11mm armor heatsink(P165-B)
4 x M2.5x5+5mm spacers
1x thermal tape( free gift, only use when you need)
Document
Installation Video for P165-A and P165-B: https://youtu.be/so8klKaebJ8