X835
Jump to navigation
Jump to search
Overview
It's time to use idle hard drives. you can DIY a small NAS, music player or something interesting with X835 expansion board for Raspberry Pi 4.
The X835 expansion board provides a complete storage solution for Raspberry Pi 4 Model B; The X835 3.5" SATA adapter can support up to 10TB 3.5 inch SATA hard disk drives (HDD).
The X835 stackable 3.5 inch SATA HDD expansion board, offering an easy and fast way to create bigger storage solution for your Raspberry Pi 4B. Its elegant and ultra-compact design allows 3.5" HDD to be conveniently attached to Raspberry Pi. The SuperSpeed USB 3.0 port delivers a blistering data transfer rate of up to 5Gbps, letting you transfer a large amount of data in seconds. The mounting holes and standoffs help protect the hard disk drives, while effectively drawing the heat away from the drive for reliable performance. The built-in LED light indicates the reading or writing status – no more guesswork again.
The X835 can be the perfect storage solution for your home media center and building Network-attached storage (NAS) for storing and streaming your own videos, music, and digital photos around the house and even across the world. the X835 also supports operating system booting from your HDD for faster app opens, web serving and file copying.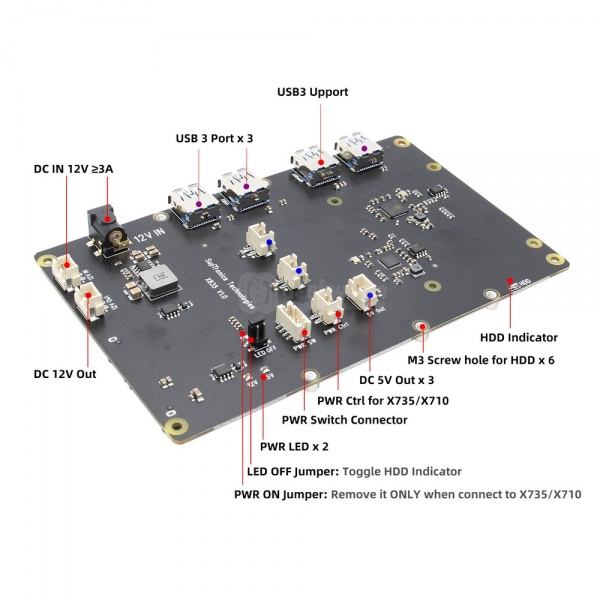 Tips about 3pcs DC 5V OUT Port:
When use external latching switch on X835 board, please do not connect 2pin power cable to DC 5V OUT nearby USB2 and USB3.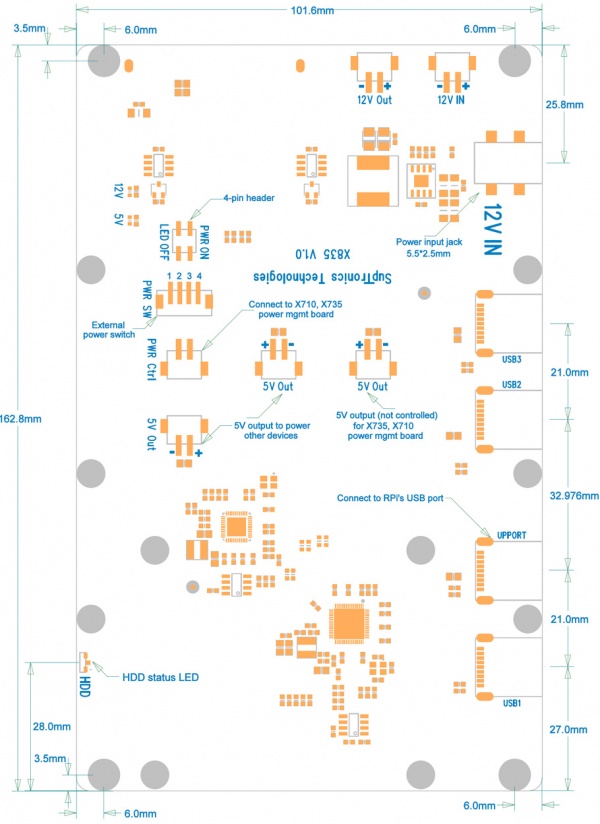 What do you need to use Raspberry Pi 4 X835 3.5 inch SATA HDD Storage Board?
1. A Raspberry Pi 4 Board
2. A DC 12V ≥3A Power Supply
3. A 3.5 inch SATA hard disk drive(HDD)
4. A X835 Metal Case (optional, will release in the future)
Features
Operating System: All Raspberry Pi operating systems
Supports up to 14TB 3.5 inch SATA hard disk drives (HDD) (Recommend to use new HDD, as the old one maybe not recognized)
Ideal storage solution for Raspberry Pi 4
USB 3.0 connectivity offers plug-and-play functionality on your Raspberry Pi 4
Quick file transfer with high-speed USB 3.0 connectivity from a PC or a Mac
External Self Powered - Do not require power from Raspberry Pi USB port
PCB Size 163mm x101mm
Installation Guide
Installation Video
Installation User Manual
Tips: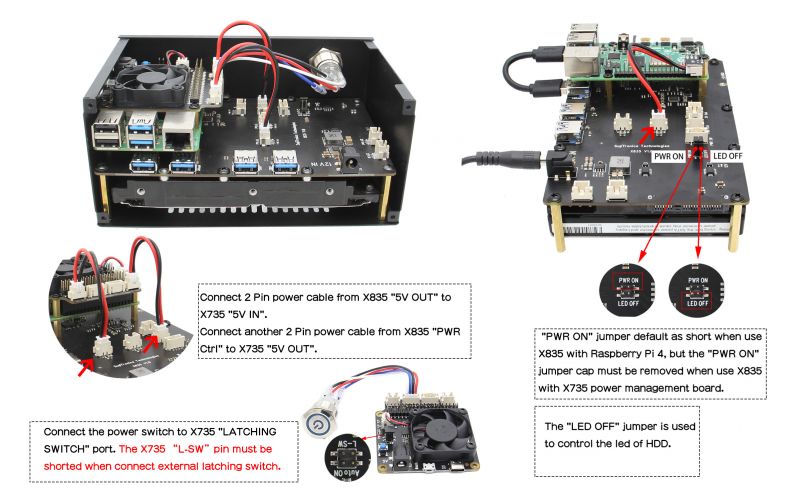 Packing List
1 x X835 HDD expansion board
1 x USB 3.0 A Male to A-Male Data cable
1 x 2-Pin Power Connection cable
1 x Power daughter board
4 x Spacer F/F M2.5 x 12mm
4 x Spacer F/F M3 x 32mm
8 x Screw M2.5 x5mm
8 x Screw M3 x 8mm
Power Supply
Power supply: 12Vdc +/-5% , ≥3A
Ports & Connectors: DC jack - 5.5x2.5mm
PS: As we know that the power supply is very important to the hard disk, so please do not use the low quality power adapter. Please use a high quality power adapter, or you may encounter problems such as not recognizing the hard disk.
Some Tips
How to connect X835 and X735?
NOTE: X735 use DC 5V/4A power adapter, X835 use DC 12V/3A power adapter, so DON'T directly connect the 12V/3A PSU to the X735,otherwise the X735 will burn out.
How to stack X835
Note: If you need to use just one piece 3.5" SATA HDD for Raspberry Pi 4, please refer to X832, the X832 use USB bridge to connect Pi 4 with X832.
Please refer to the following guide about how to stack X835: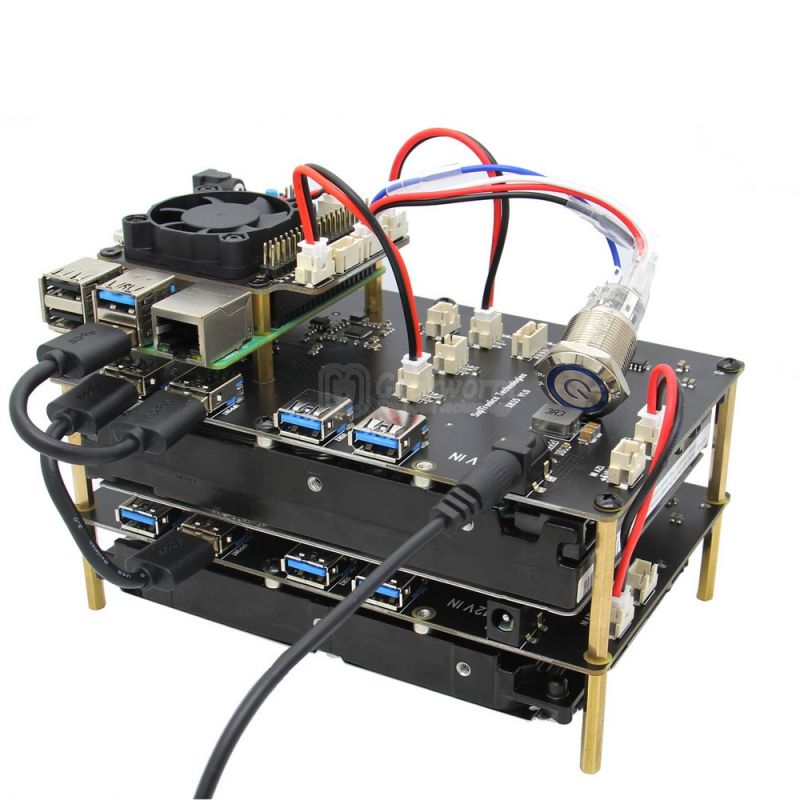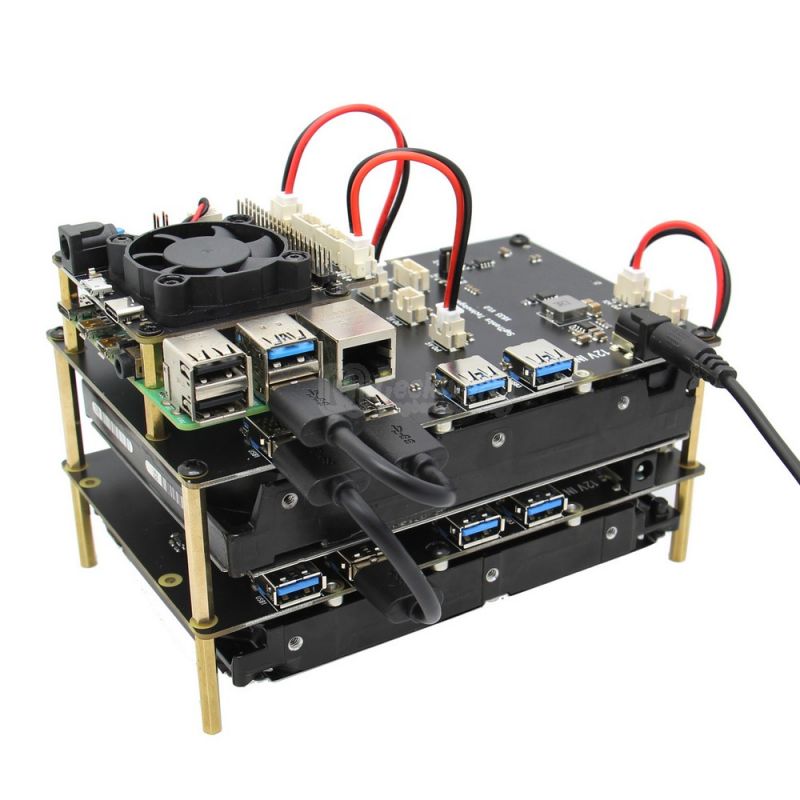 Matching Metal Case for X835
Please refer to X835-C1.
Document
About USB boot please refer to Does the X825/X855 support USB boot
FAQ
1. Why when multiple X835 boards are stacked together, except for the first X835 at the top, all other X835s are not powered on?
Answer: When multiple X835 boards are stacked, except for the first X835 board on the top, the two jumpers of the other X835 boards need to be plugged in, otherwise they will not be powered on.

2. How to use external power switch for X835 board?
Answer: 1. Please use latching switch only and not use momentary switch; The jumper socket fitted for "PWR ON" must be removed when using an external latching power switch. 2.All the board, cable, jumper connections must be under power-off station.

3. What power supply requires for X835?
Answer: The X835 reuqires 12Vdc +/-5% , ≥3A power supply with DC jack - 5.5x2.5mm.

4. Where to connect the power supply?
Answer: Whatever to use with X735 or not, the PSU must be connected to X835 DC 12V IN port, not X735 or Raspberry Pi.

5.How to connect the X735 with X835?
Answer: Connect the 2pin power cable from X835 "5V OUT" to X735 "5V IN". Connect another 2 pinc power cable from X835 "PWR Ctrl" to X735 "5V OUT".

6. How to set the Jumper cap on X735?
Answer: The "L-SW" pin must be shorted when use X735 latching switch port to connect an external latching switch.

7. How to connect the power switch in the X835 metal case?
Answer: Connect the power switch to X735 "Latching Switch" port when use with X735.

8. How many X835 borads can I stack?
In theory, it can stack as many X835 as possible, but considering the speed of USB3 and power supply issues, it recommend that just stack about 3-5pcs X835.