N508
Jump to navigation
Jump to search
Overview
This is the Orange Pi 5 Plus metal case which compatible with Orange Pi 5 Plus 4GB/8GB/16GB, the model is N508. It reserves all the interfaces for the Orange Pi 5 Plus motherboard. For good heat dissipation, it can use 4010 5V active cooling fan and a 10mm passive aluminum heatsink at the same time.
| Model | Compatible with | NVMe SSD Support |
| --- | --- | --- |
| N505 | Orange Pi 5/5B | Yes, BUT NOT support to fix 2280 SSD to Case. |
| N506 | Orange Pi 5/5B | Yes, support to mount 2280 length SSD inside the case for Orange Pi 5. |
| N508 | Orange Pi 5 Plus | Yes. |
| N510 | Orange Pi 3B | Yes. |
| N500 | Orange Pi Zero 2 | No. |
Note:
The first version of N508 case does not reserve the antenna holes!!!
The heatsink will touch the back of audio port after installation, but not affect usage.
Features
Model: N508
Compatible with Orange Pi 5 Plus 4GB/8GB/16GB
High quality metal material with surface galvanized process
All ports and slots of the case can match with Orange Pi 5 Plus
Equipped with 5V 4010 cooling fan for active cooling
With a 10mm thickness aluminum heatsink for passive cooling
Case Dimensions:108*80.8*43.8 mm/ 4.25*3.18*1.72inch
With 75mm distance mounting hole, you can hang it on the wall or somewhere you want.
Packing List
1x N508 metal case for orange pi 5 plus
1x 4010 5V cooling fan
1x 10mm aluminum heatsink
1x Screws Pack
User Manual
Please pay attenttion!!!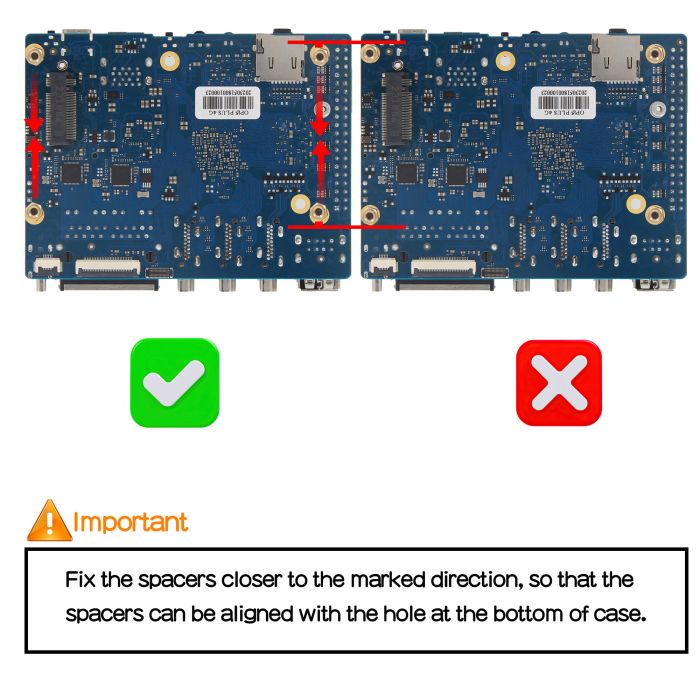 Installation Steps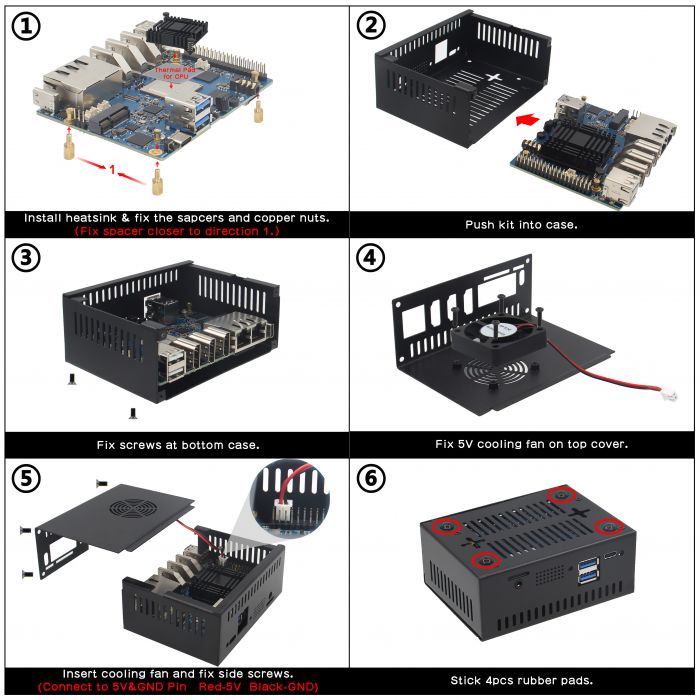 Installation Video
Geekworm N508 Installation Guide: https://youtu.be/LkfAG6QMKko
Geekworm Orange Pi 5 Plus Heatsink Installation Guide: https://youtu.be/fUrbUVHNIck
Thanks for the video from leepspvideo! https://youtu.be/CfIWyWxPaC0