N510
Jump to navigation
Jump to search
Overview
This is a metal case specially designed for Orange Pi 3B, the model is N510. It reserves all the interfaces of the Orange Pi 3B motherboard, supports the 3010 5v cooling fan installation, supports the extraction of the GPIO cable, and also reserves holes for you to facilitate the installation of external antenna.
Note:
The 3010 5V cooling fan should be connected to the 5V & GND GPIO pin of Orange Pi 3B, refer to Orange Pi 3B GPIO Pin function.
Only compatible with Orange Pi 3B. NOT compatible with Orange Pi 3 or Orange Pi 3 LTS or Raspberry Pi board!
| Model | Compatible with | NVMe SSD Support |
| --- | --- | --- |
| N510 | Orange Pi 3B | Yes, BUT NOT support to fix 2280 SSD to Case. |
| N505 | Orange Pi 5/5B | Yes, BUT NOT support to fix 2280 SSD to Case. |
| N506 | Orange Pi 5/5B | Yes, support to mount 2280 length SSD inside the case for Orange Pi 5. |
| N508 | Orange Pi 5 Plus | Yes. |
| N500 | Orange Pi Zero 2 | No. |
Features
Compatible with Orange Pi 3B
Model: N510
Case Dimensions: 89.8x63x35.8mm/3.54x2.48x1.41inch
High quality metal material with surface galvanized process;
All ports and slots of the case can match with Orange Pi 3B perfectly
Equipped with 5V 3010 cooling fan for active cooling
With 3pcs aluminum heatsink for passive cooling
GPIO cable slot and TF card slot reserved
Oval-shaped openings on both sides of the case for the installation of antenna and GPIO cable lead-out
Reserved hole for NVMe SSD 2280, but NOT support to fix 2280 SSD to Case.
With 64mm distance mounting hole, you can hang it on the wall or somewhere you want.
Packing List
1x metal case for Orange Pi 3B
1x 3010 5V cooling fan
1x 3pcs aluminum heatsinks
1x Screws Pack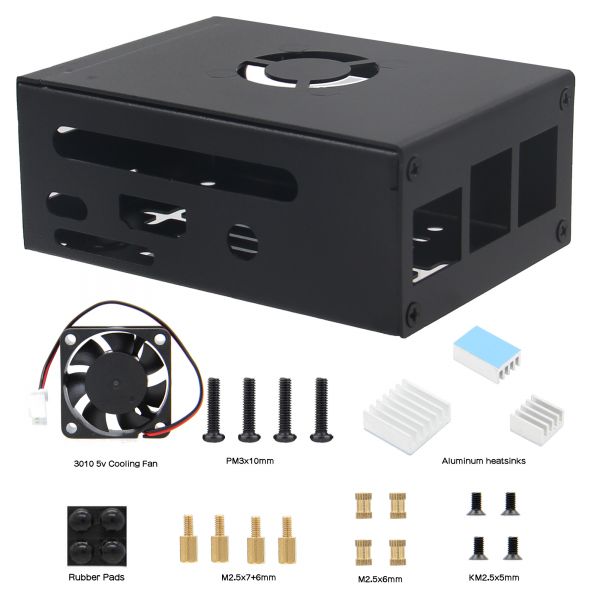 User Manual
Installation Video Orange Pi 3B Case for N510: https://youtu.be/yjrSHL8I1iI