X857-C3
Jump to navigation
Jump to search
Overview
Due to X857 V1.2 X862 V1.0 X872 are be upgraded to new version, so we must also upgraded the matching metal case.
This case is only support X862 V2.0, X857 V2.0, X873(Only support X873 produced or shipped before May 2021).(X873 produced after May 2021 use longer 6mm USB3 connector with mark 2113 on the USB3 connector, not support X857-C3.) Please refer to X857-C1 if you are using X857 V1.2, X862 V1.0, X872 V1.1.
Some changes:
We reduced the height of the case by 3mm;
We adjusted the position of SSD led;
No more
This is new version X857-C3 metal case with power control switch and super mute cooling fan designed for Raspberry Pi 4 Model B and X857 V2.0 mSATA SSD Shield/ X862 V2.0 M.2 NGFF Shield/ X873 NVME M.2 Shield.
Please note that the X857-C3 case DON'T SUPPORT X857 V1.2 / X862 V1.0 / X872 V1.1. DON'T SUPPORT X873 produced or shipped after May 2021.
It supports X735 installation for intelligent power management and cooling your Raspberry Pi, also supports X708/U100 UPS with battery holder installation for UPS function. The equipped cooling fan is installed on the side of the battery holder to provide better heat dissipation.
Features
High quality metal material with surface galvanized process
Equipped with super mute cooling fan
Equipped with power switch with beautiful LED indicator to control the power of X857 V2.0/X862 V2.0 and the Raspberry Pi 4; (LED indicator can be disable)
Easy to install, all main connectors are easily access to use;
Case Size(Installation): 11.4cm x9.5cm x 5.5cm / 4.48inch x 3.74inch x 2.16inch
Supports X735 installation for intelligent power management and cooling your Raspberry Pi
Supports battery holder installation for UPS function
Packing List
1 x X857-C3 Metal Case
1 x Cooling Fan(4010)
1 x Power Control Switch
1 x Screws Pack
1 x Screw Driver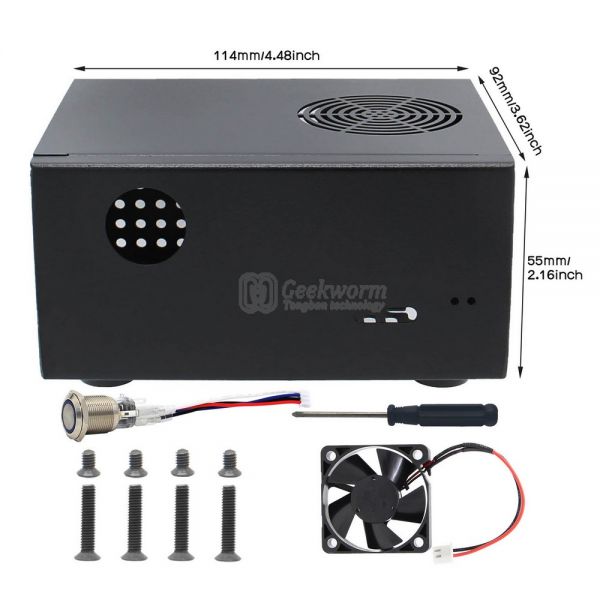 User Manual