X862 V1.0
Jump to navigation
Jump to search
Overview
X862 has been upgraded to V2.0 version, please refer to X862 V2.0
X862 is M.2 NGFF SATA SSD Shield for Raspberry Pi 4 model B. It provides a complete storage solution for raspberry pi 4. Now there are 2 versions of X862.
X862 V2.0 ONLY support M.2 NGFF SSD Key-B 2280 length.
X862 V1.0 supports multiple M.2 NGFF SSD lengths including: 2280, 2260, 2242, 2230.
Important NOTE:
The case of X862 V1.0 and X862 V2.0 are different. X862 V1.0 should use X857-C1 Case, but X862 V2.0 use X857-C3 Case.
X862 V1.0 version supports TRIM but not UASP, V2.0 version supports UASP but not TRIM.
After our test, X862 V2.0 can connect to 2.4G wifi in seconds without the metal case. However, if X862 work with a metal case or external USB 3.0 devices such as a mouse or keyboard, you may still need to use Ethernet or 5G AP.
This X862 is not fit to ROCK64 and Raspberry Pi 3B+ /3B because the difference of USB 3 position. Please refer to X860 if you want use M.2 NGFF SATA SSD on the Raspberry Pi 3B+/3B or ROCK64 board.
Features
FOR USE WITH

Raspberry Pi 4 Model B

Operating System

All Raspberry Pi operating systems

KEY FEATURES

Ideal storage solution for Raspberry Pi 4 - M.2 NGFF SATA SSD Shield
Supports up to 2TB m.2 NGFF SSD solid-state drive
Supports multiple M.2 NGFF SSD lengths including: 2280, 2260, 2242, 2230[1]
Integrated USB 3.1 Gen1 to SATA 6Gb/s bridge controller
Integrated high efficiency step-Down Converter, 3.3V max 4A to power the SSD
USB3.1 Gen1 5Gb/s connectivity offers plug-and-play functionality on your Raspberry Pi 4
Allows booting OS from your HDD/SSD for faster app opens, web serving and file copying [2]
LED blue indicator indicates drive status
External self-powered or USB bus-powered
Onboard DC jack & XH2.54 connector for extra SSD power supply
Specially-made USB3.1 jumper to connect with Raspberry Pi - no cabling required!
Fully compatible with X735 for intelligent power management and cooling your Raspberry Pi
Fully compatible with X710 for wide input voltage (6~36V) and intelligent power management
Fully compatible with X765 for powering over Ethernet (POE, 5V 5A)
Fully compatible with X728 for uninterruptible power supply (18650 UPS, 5.1V 8A, smart power mgmt)

SPECIFICATION

5Vdc +/-5% , Powered via USB port by Raspberry Pi
5Vdc via DC power jack or XH2.5 connector, Extra power supply for SSD

USB socket - USB 3.0 type A x1
Power input jack 5.5*2.5mm x1
XH2.54 SSD power input connector x1
67Pin M.2 connector P=0.5mm, H3.2mm, Key B x1

NOTES

↑

Additional spacer required for SSD lengths 2260, 2242 and 2230 (not supplied with X862)

↑

A microSD card is required for forcing the Raspbian OS to use the HDD/SSD for its "root" partition

NGFF SATA SSD is not included
Compatible with M.2 NGFF SATA SSDs only, not compatible with NVMe M.2 SSDs
As with all SSDs, new media must be formatted before use
SSDs use exceptionally high performance storage media that will run hot when under load
Older SSD drives with less efficient flash media may not perform as well as newer drives
USB 3.0 devices might generate radio frequency interference that can cause Wi-Fi and other wireless devices operating in the 2.4GHz band to have issues communicating with your Raspberry Pi4. To avoid interference on the 2.4GHz band using Wi-Fi, try using the 5GHz band instead. If problem still exists, please turn off WiFi and use the wired network instead.
How to Power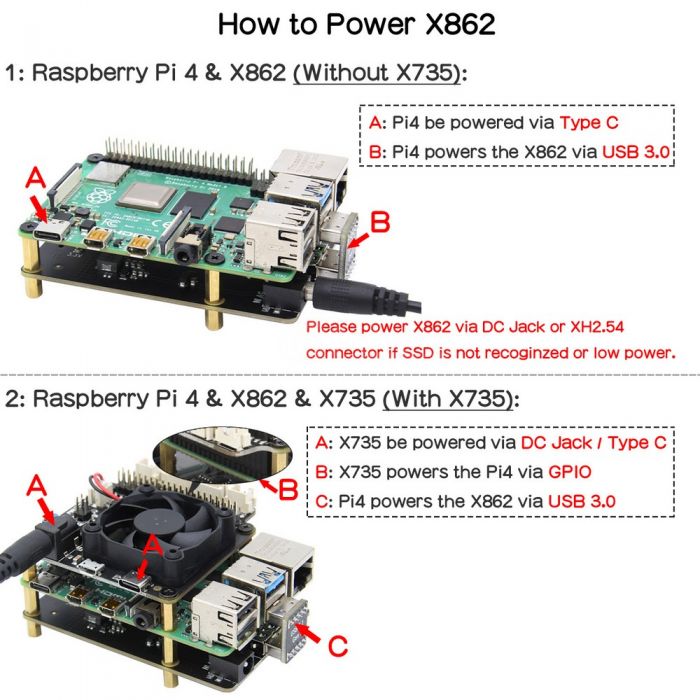 Packing List
X862 V1.0 M.2 NGFF SATA SSD Shield x 1
USB3.1 jumper x 1
Screw M2.5 *6mm x 4
Spacer M/F M2.5 *12mm x 4
Spacer F/F M2.5 *8mm x 4
Screw driver x 1
Screw M2 *4mm x 1
Matching Metal Case
Please refer to X857-C1 Case
Installation video for Raspberry Pi 4+ X862 V1.0 + X735 + X857-C1 Case: https://youtu.be/TrQwcPBU9S0
User Manual
Customer video for your reference: https://youtu.be/Q1btyPoL0GI
USB boot video for reference:
FAQ
Q1: What to do if you find the SSD is not recognize?
A: 1. Please confirm that you use the SSD with right interface which match with the socket of your expansion shield. (Not recommend to use SAMSUNG SSD, as there will be big EMC interference.)
2. If use WiFi, please try to close WIFI to test.
3. Please use right interface M.2 SATA SSD (KEY-B) to X862.
4. Please try provide extra power to X862.
5. Please test and make sure your Raspberry Pi4 USB3 port is good one. (We get the feedback that Pi 4 USB3 port is easy to broken)
If still any issue, please email us at support@geekworm.com and provide the follow information:
1. Your order number.
2. The SSD model you use.
3. Photos about all the hardware connection.
4. Run the command " lsusb" and show us the result.

Q2: What to do if you find the 2.4G Wi-Fi is not stable when use Raspberry Pi 4 with expansion board(like X825/X857/X862/X872) connected by USB3 connector?

A: 1.Please try to use WIFI 5G AP if you find the 2.4G signal is unstable, because we found that USB 3.0 high-speed transmission will interfere with the Raspberry Pi's 2.4G wifi signal. We think this is caused by the unreliability of the Raspberry Pi's wifi design. If the Raspberry Pi Foundation reserves the SMA IPEX antenna interface, everything will become easier. please refer to https://www.raspberrypiwiki.com/images/5/53/Usb3-frequency-interference-papers.pdf
2. You can also use a USB wifi dongle to connect to Pi's USB2.0 to solve the problem.

Q3. Does it support booting from SSD?
A: Yes. A microSD card is required for forcing the Raspbian OS to use the HDD/SSD for its "root" partition. Please refer to How to Run Raspberry Pi 4 or 3 Off an SSD or Flash Drive or Please refer to Does the X825/X855 support USB boot

Q4: How to Initialize, Partition and Format a Brand New SSD in Windows
A: Please refer to Tutorial Initalize New SSD

Q5: About the X862 write speed
A: According to the test, the X862 can reach about 300mb/s write speed, but you need to install the Raspberry Pi OS into the SSD then test the speed.(Note: the copy date speed is not accurate.)
Q5: Does the X862 support UASP or TRIM?
A: X862 has two versions, V1.0 version supports TRIM but not UASP, V2.0 version supports UASP but not TRIM.
Q6: How to test the access speed of Raspberry Pi?
A: Please refer to: https://jamesachambers.com/raspberry-pi-storage-benchmarks/ ; Please use the RASPBIAN to test.