AMPi
Jump to navigation
Jump to search
Overview
Geekworm AMPi is an ultra-thin desktop AMP kit based on Raspberry Pi 4, which is ideal to use in Raspberry Pi-based hi-fi systems. It composed of three parts: X960 AMP board, cooling system ( P165-B aluminum heatsink), and a NUC style aluminum case. Just simply assemble them with the Raspberry Pi 4 motherboard.
X960 V1.2 expansion board can turn your Raspberry Pi 4 into a ready-to-play high resolution network music player.
The case is made of all aluminum alloy, surface anodizing treatment.
Features
Model: AMPi
Compatible with Raspberry Pi 4 Model B
NUC style aluminum alloy case
High resolution network music player
Use high quality TAS5756M chip
Full high definition 24-bit 192kHz Texas Instruments TAS5756M digital audio codec
Input power: 9–26V
For use with
Raspberry Pi 4 Model B Only
(X960 is compatible with Raspberry pi 3 also, but both AMPi case and P165-B are not compatible with Pi 3)
How to power
Powered by an external 9–26V DC power supply(via X960 DC Jack)
Recommended to use Geekworm 12V max.5A 60W power adapter PSU60
Packing List
1x AMPi Aluminum Alloy Case
1x X960 V1.2 AMP Expansion Board
1x P165-B Heatsink
1x screws pack
User Manual
The X960 use the same chip with Raspberry Pi DigiAMP+, about the software you can also refer to Raspberry Pi DigiAMP+.
Installation Guide
Installation Steps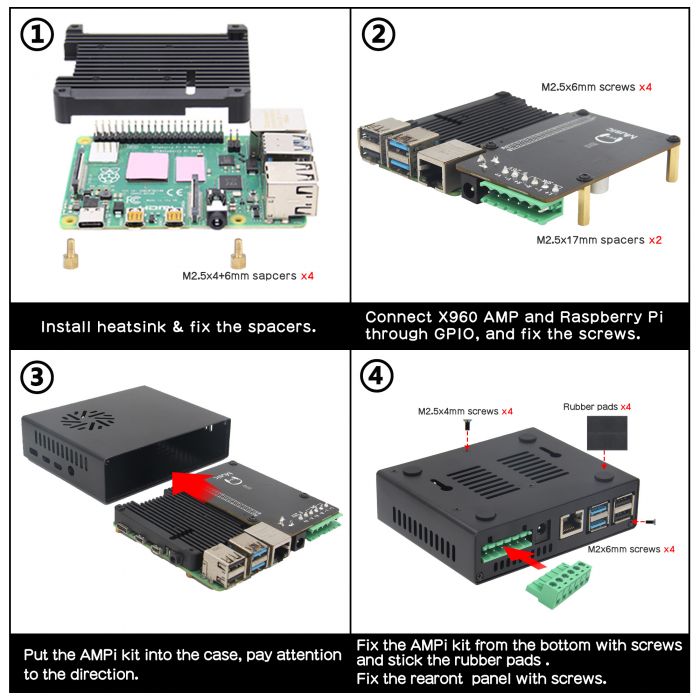 FAQ