X920
Jump to navigation
Jump to search
Packing List
1 x X920 Expansion board
1 x Pack of screws
Overview
The X920 expansion board is suitable for Raspberry Pi 3 Model B/ 2B / B+
DAC All-function with PCM5122 chip
Operating System: All Raspberry Pi operating systems
Support the mainstream music player,such as Volumio, RuneAudio, OSMC, XMBC(Kodi), MOODE etc.
Operating System
Moode Audio Player
OSMC
Openelec
Raspbian Jessie
Volumio
Pi Core Player
RuneAudio
Features
Full-HD audio – up to 24-bit/192kHz playback
Built in audiophile TI Burr Brown DAC (TI PCM5122)
Class leading audio; 112db SNR, and -93db THD
Integrated hardware volume control
TI's LP5907 Ultralow-Noise voltage regulator for optimal audio performance
Built in IR receiver (Vishay TSOP34838)
Available with RCA and 3.5mm phone jack output connectors
Powered by Raspberry Pi, no external power requirements
Conforms to the Raspberry Pi hardware-attached-on-top (HAT) specification
Access to GPIO pins on HAT
Specification
Raspberry Pi I2S Input (LRCK - GPIO19, BCK - GPIO18, DATA - GPIO21, GND)
Output Ports: 1 x 3.5mm phone jack , 2 x RCA connectors
Analog audio output level: 2.0VRMS
Resolution/Sampling Rate: upto 24bit / 192KHz (Raspberry Pi I2S)
IR receiver: GPIO17, 38KHz
Size 65mm x 56mm
Matching Case
How to use
For Volumio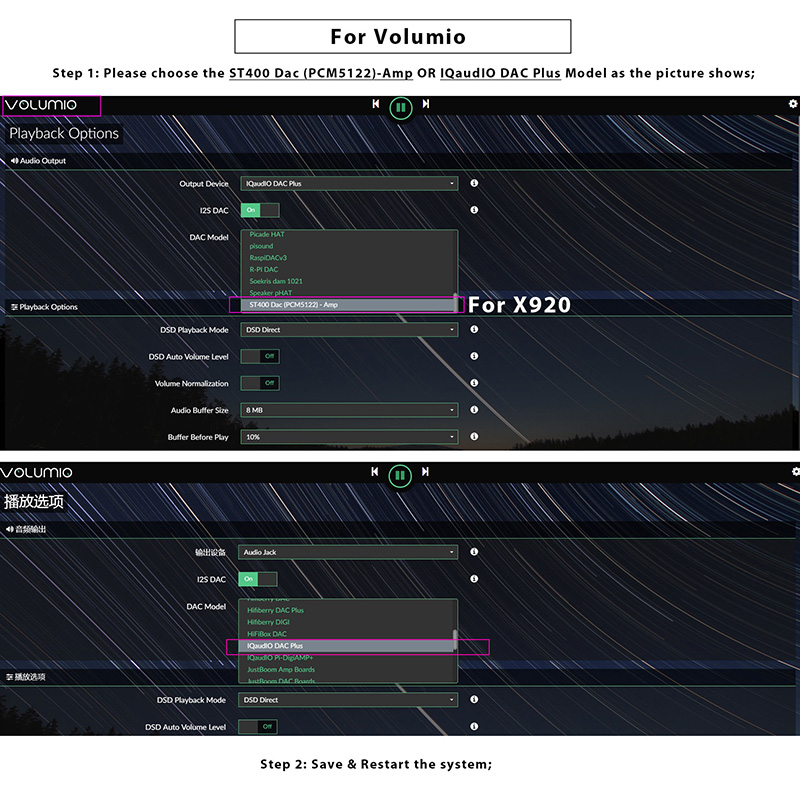 For RuneAudio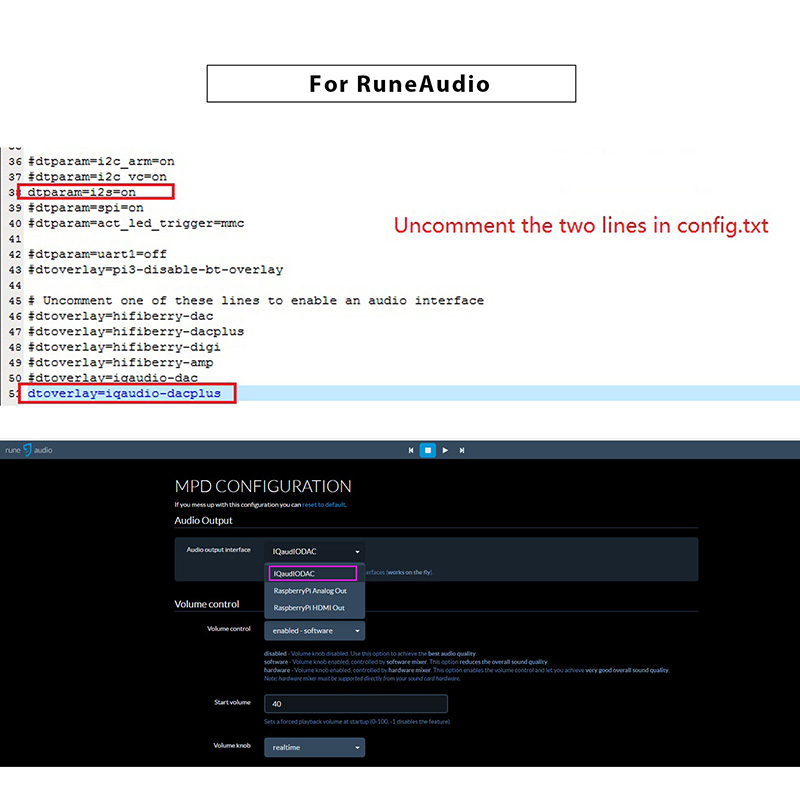 For OSMC (Version: 20180601)
1. Select My OSMC and enter "Pi Config".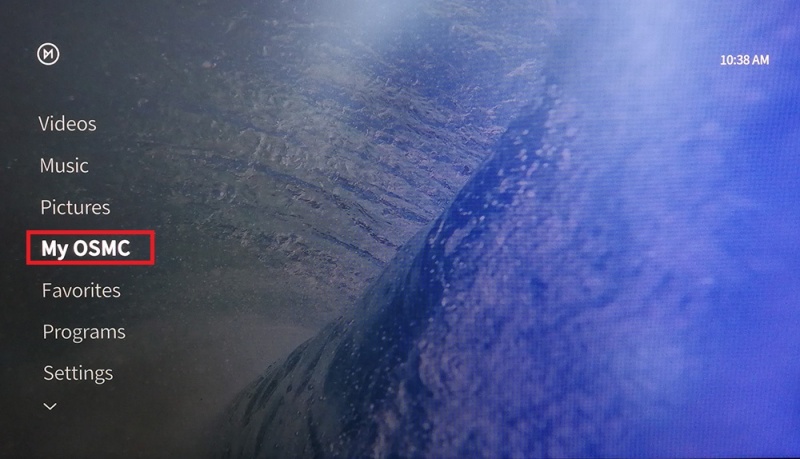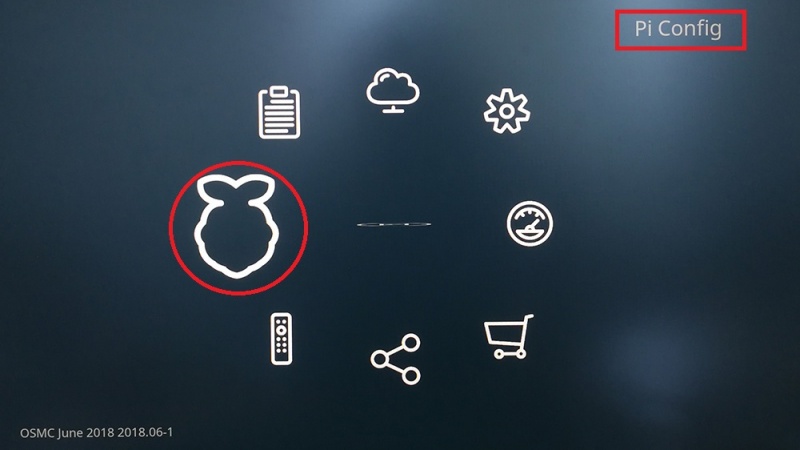 2. Select "Hardware Support", "Soundcard Overlay" => "iqaudio-dac-overlay";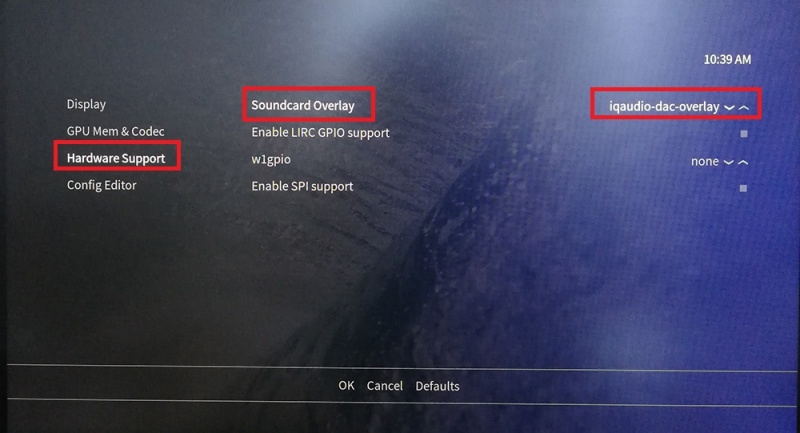 3. Reboot your Raspberry Pi;
4. Select "Settings".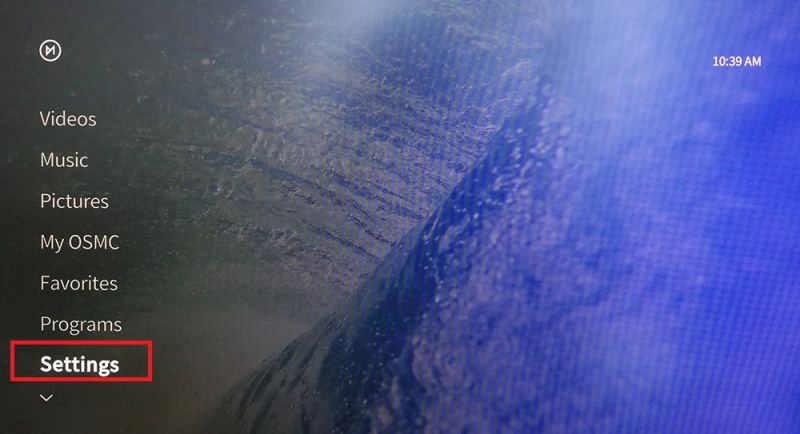 5. Select "System".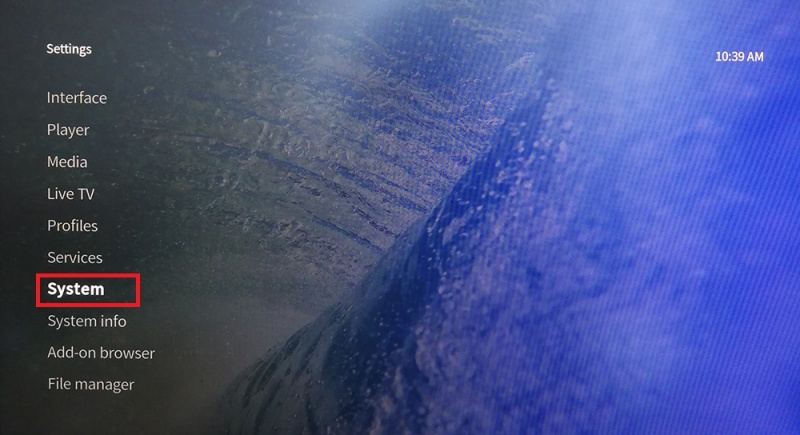 6. Select "Audio " => "Audio output device", set Audio Decoder to "ALSA: Default(IQaudIODAC Analog)"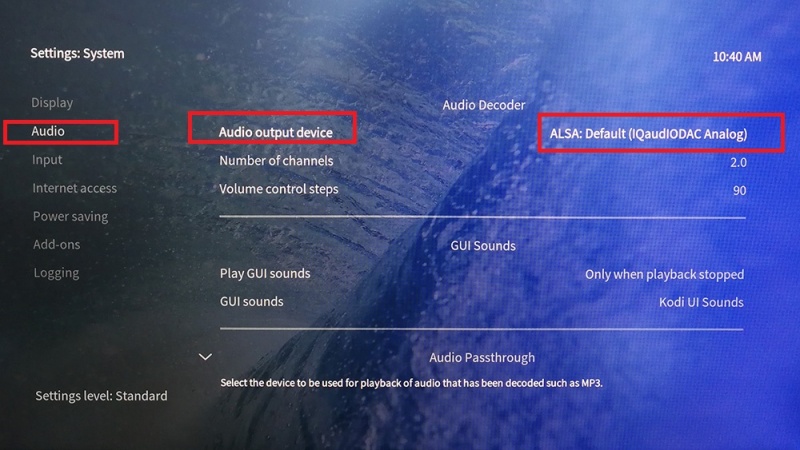 7. Done!
Hardware Installation
Please refer to Hardware Installation
More details please refer to web site