X728-hardware
Jump to navigation
Jump to search
X728 V1.3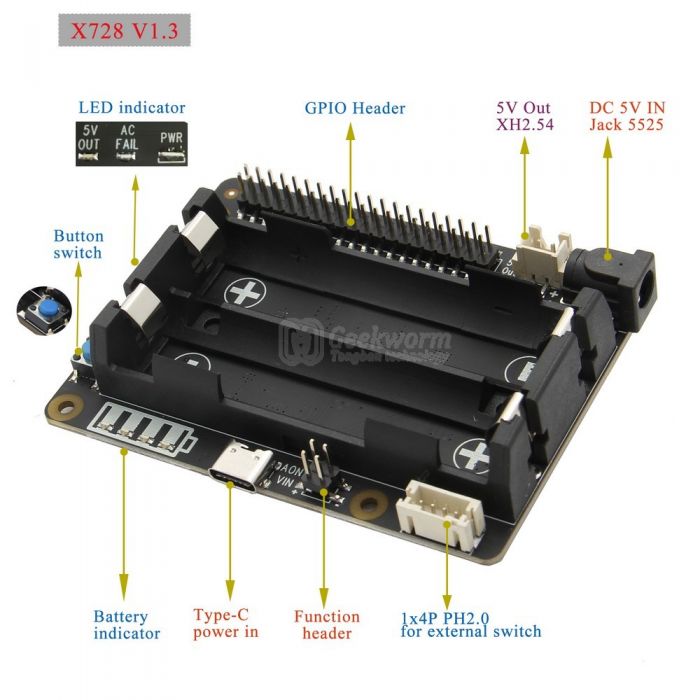 X728 V1.2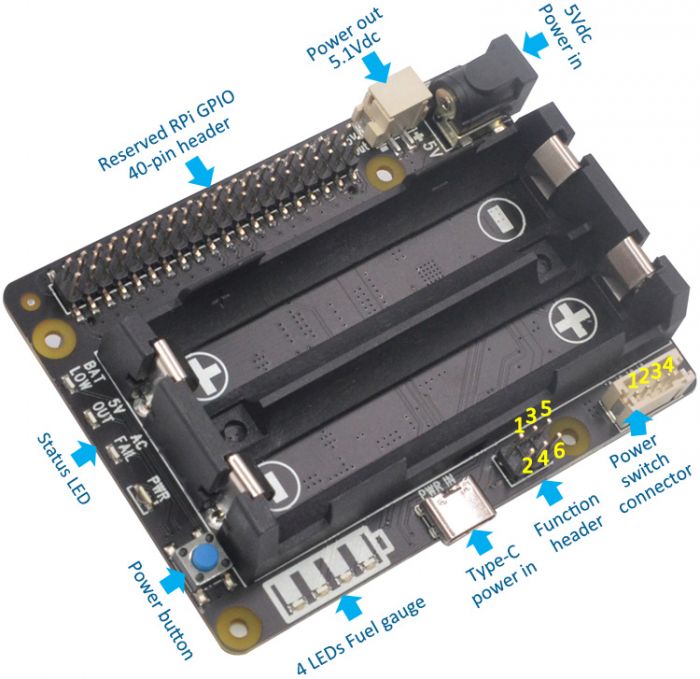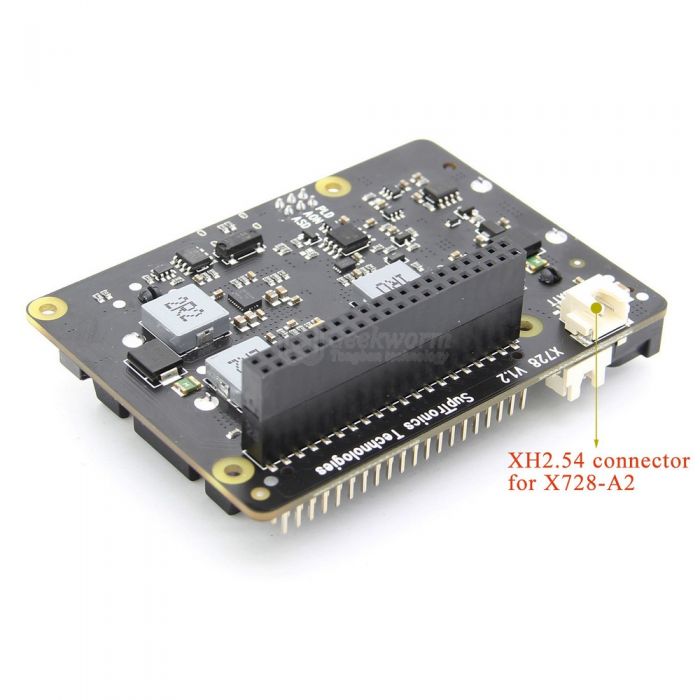 Power Jack and Connectors
| | |
| --- | --- |
| Power input | 5Vdc +/- 5% ,≥3A |
| DC Power Plug Size | 5.5*2.5mm |
| USB power in socket | Type-C |
| UPS power output | 5.1Vdc 8A |
| Power output connector | XH2.54mm 2pin |
X728 powers the Raspberry Pi via the 40-pin header (Pin 2 & 4)
Don't power the Raspberry Pi via the Pi's type-C USB socket
X728 can be powered via the onboard DC jack

or

Type-C USB power socket
6-Pin Function Header for X728 V1.2
Jumper Name
Usage
PLD

(Power loss detection)"

Short - AC Power loss or power adapter failure detection enabled

(Active if power adapter disconnected) Open - Power loss detection disabled

AON

(Auto power-on)

Short - Auto power-on when power applied

(Will delay 3 seconds before powering on) Open - Auto power-on disabled

ASD

(Auto shutdown)

Short - Automatic shutdown enabled when battery low (≤3Vdc )

(Battery must be >3V and installed before enabling this function) Open - Automatic shutdown disabled

Procedure to enable ASD function --IMPORTANT

 1. Battery voltage must be >3Vdc
 2. Insert the battery into the holder
 3. Wait 3 seconds then insert the jumper
 4. If the jumper inserted before battery, remove
     battery & jumper then repeat step 1, 2 and 3.

Connector for External Power Switch
| Pin No. | Pin Description |
| --- | --- |
| 1 | Power on/off control connecting to switch |
| 2 | Ground |
| 3 | LED+ for battery low indicator |
| 4 | LED+ for power on, rebooting and shutdown |
Please use

momentary

switch only and don't use latching switch
Connector - Pitch 2.0mm 4pos
| | |
| --- | --- |
| Press and Release | Raspberry Pi and X728 turn on |
| Press and hold for 1~2 seconds | System rebooting |
| Press and hold for 3~7 seconds | System shutting down |
| Press and hold for >8 seconds | Force shutdown |
Function LEDs
LED Name
Usage
BAT LOW
LED red on indicates battery low (≤3.0Vdc) or blue power button pressed (Jumper for ASD inserted)
5V OUT
LED green on flashing indicates 5V power out and UPS powered by battery
AC FAIL
LED red on indicates AC power loss or PSU failure or PSU disconnected
PWR
LED blue indicates

Stays on - Power on Blinks rapidly - system rebooting Blinks slowly - Shutting down
Fuel gauge - LED Indicator
Operation of Discharging:
| Capacity C (%) | D1 | D2 | D3 | D4 |
| --- | --- | --- | --- | --- |
| C ≥75% | ON | ON | ON | ON |
| 50%≤C<75% | ON | ON | ON | OFF |
| 25%≤C<50% | ON | ON | OFF | OFF |
| 3%≤C<25% | ON | OFF | OFF | OFF |
| 0%<C<3% | Flashing | OFF | OFF | OFF |
Operation of charging:
| Capacity C (%) | D1 | D2 | D3 | D4 |
| --- | --- | --- | --- | --- |
| Fully charged | ON | ON | ON | ON |
| 75%≤C | ON | ON | ON | Flashing |
| 50%≤C<75% | ON | ON | Flashing | OFF |
| 25%≤C<50% | ON | Flashing | OFF | OFF |
| C<25% | Flashing | OFF | OFF | OFF |
Pins and GPIO used
| Pin No. | Usage |
| --- | --- |
| 2, 4 | +5V power supply |
| 3, 5 | I2C for RTC and battery fuel-gauge systems |
| 6 | Ground |
| 29 | GPIO5 for power management |
| 32 | GPIO12 for power management |
| 33 | GPIO13 for power management |
| 31 | GPIO6 for AC power loss detection (Jumper for PLD inserted, High=power loss,Low=Power supply normal) |
18650 battery dimension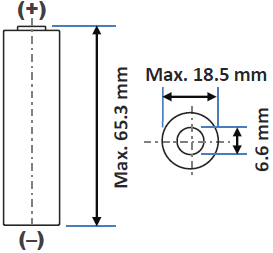 Do not use 18650 battery with built-in protection circuit
Installation Guide
Return to X728