X306
Jump to navigation
Jump to search
Overview
X306 is a one cell 18650 UPS shield designed for Raspberry Pi Zero W / 2W.
It equipped with 3 standard USB-A 2.0 ports, and a USB Type C to power. The USB-A port can be used to connect external devices such as mouse, keyboard etc.
Note:
The Raspberry Pi board, power adapter are not included in the packing list.

Raspberry pi micro OTG port cannot be used as it is occupied by USB HUB
4 Pin header function description:
| Pin | Function |
| --- | --- |
| AL ON: Pin 1&2 | Short: Power always on, power button disabled; |
| AL ON: Pin 1&2 | Open: Power button Press to switch on, Hold 3 seconds to switch off |
| PWR SW: Pin 3&4 | for external 2-pin momentary switch |
"AL ON" enable, "PWR SW" will be disable.
"PWR SW" enable, "AL ON" will be disable.
Features
Ideal Uninterruptible Power Supply (UPS) solution for Raspberry Pi Zero W/2W
Max 5.1V 4000mA Power Backup for even the most demanding Raspberry Pi set ups
18650 single cell battery holder
Upto 1000mA charging current
Integrated battery reverse polarity protection circuit
Integrated over current protection and over voltage protection
Intelligent automatic charging and discharging
4 blue LEDs indicate battery charging and discharging levels of 25%, 50% , 75% and 100%
Red & green LEDs show the status of power on/off and charging status
On-board push button to control power on /off (Press-ON, Hold the button pressed at least 3s -OFF)
Ultra-low standby power consumption of μA to maximize battery life
Integrated IN-to-SYS pass-through path to pass the input voltage to the system
Advanced system power path management avoids frequent charging and extend battery life
Connects to the Raspberry Pi via Pogo Pins - no wirindg & soldering required
4-pin header for external power swtich and always-on power option
Equipped with three USB2.0 ports and one USB2.0 4-through-holes for more USB expansion
Specification
Input supply voltage: 5Vdc +/-5%
Input supply current: ≥3A
Charging current: 900~1050mA
Trickle charge current: 130~140mA
Predetermined Charge voltage: 4.2V +/-1.5%
Output voltage: 5.1V +/-5%
Max output current: 4000mA
How to Power
Power Input: 5.1Vdc +/-5% , ≥3A (Power Via USB Type-C port of X306 NOT Pi zero 2W)
How to Cool
Aluminum Heatsink for raspberry pi zero 2 w, please refer to C296
Packing List
1 x X306 18650 UPS Shield
4 x M2.5 x 5mm Screws
PCB dimention
FAQ
Q1. What 18650 battery is recommended?
A: 18650 battery dimension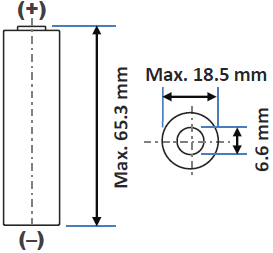 Q2. What is the power output for each usb port?
A: It is 5V, all ports share 4A, not limited to 500mA.
Q3. Is there any way I can check from the raspberry pi if it's connected to the power or the battery from the UPS?
A: When connected to the power supply to X306, the power supply supplies power to the Raspberry Pi; remove the power supply, it is powered by the battery.