T300
Jump to navigation
Jump to search
Overview
NVIDIA Jetson Nano 2.5 inch SATA SSD/HDD Shield Storage Expansion Board USB 3.1 T300 V1.0 for NVIDIA Jetson Nano Developer Kit
This is an expansion board designed specifically for NVIDIA Jetson nano developer kit that supports up to 4TB 2.5-inch ssd/hard drives by Geekworm and Suptronics, it allowing you to expand your storage with high-speed SSD drives on NVIDIA Jetson nano developer kit.
Please refer to MVMe M.2 SSD Shield if you want use extrem high performance NVMe M.2 SSD on jetson nano.
How to boot the rootfs from external drive: https://www.jetsonhacks.com/2019/04/25/jetson-nano-run-on-usb-drive/
Features
ITEM
DESCRIPTION
FOR USE WITH

 

Jetson Nano
OPERATING SYSTEM
All operating systems
KEY FEATURES
· Ideal storage solution for Jetson Nano - 2.5"" SATA HDD/SSD Shield
· Supports up to 4TB 2.5-inch SATA hard disk drives (HDD) / solid-state drive (SSD)
· USB 3.1 Gen1 to SATA 6Gb/s bridge controller
· USB 3.1 Gen1 connectivity offers plug-and-play functionality on your Jetson Nano
· Quick file transfer with high-speed USB3.1 Gen1 connectivity

 

from a PC or a Mac
· Specially-made USB3.1 bridge to connect with Jetson Nano - no additional cables needed
· On-board DC power jack allows to provide enough power to HDD/SSD
· Intelligent power management - Automatic powering off when system shutdown
· With 1 Female to 2 Male DC cable supplied to power both T300 and Jetson Nano
· USB bus-powered or powered by external power adapter
· LED blue indicator indicates drive status
POWER SUPPLY
· Power supply via DC jack :

 

5VDC ±5%.
· A good quality power supply is required, otherwise the hard disk will not be recognized or the system will automatically shut down.THIS IS VERY IMPORTANT!!
I/O PORTS
· USB Type-A socket x 1
· DC Jack

 

5.5x2.1mm x 1
· 22Pin SATA socket x 1
DIMENSION
PCB Size: 123mm x 79mm
Power supply
There are 3 power supply methods:
Directly power the motherboard is acceptable if use a good quality DC 5V 4A power adapter.(otherwise the current is not enough to 2.5 inch sata ssd)
Power the jetson nano and T300 vith 1 female to 2 male DC cable, require a good quality DC 5V 4A power supply, otherwise jetson nano will be automatically shut down.
Can power the T300 separately, but will lose the power management function.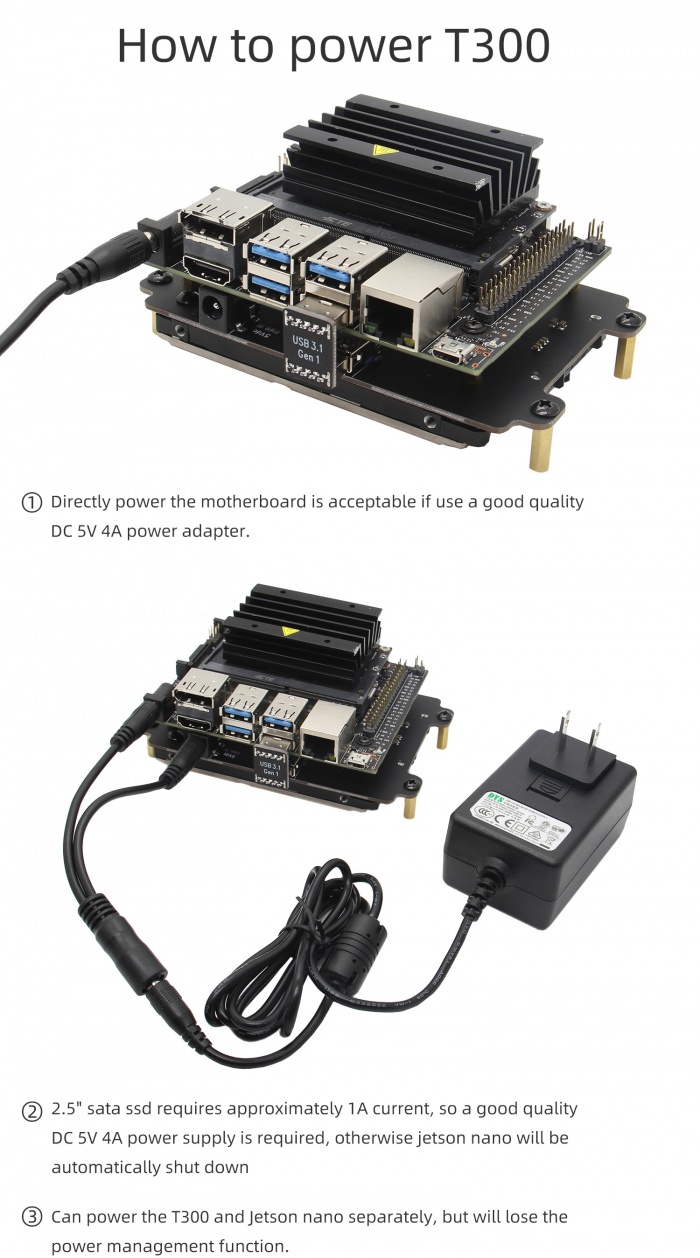 Packing List
1 x T300 V1.1 2.5 inch SATA SSD/HDD Shield
1 x USB 3.1 Bridge
1 x 1 Female to 2 Male DC cable (length: 15cm)
1 x installaton screw pack
Installation Guide

Matching Case
Please refer to T300-C3.
FAQ
Q: How to boot the rootfs from external drive?
A: Please refer to https://www.jetsonhacks.com/2019/04/25/jetson-nano-run-on-usb-drive/