CM4 Stick
Jump to navigation
Jump to search
Overview
This CM4 Stick is an expansion board based on Raspberry Pi CM4. Provides a variety of expansion interfaces for the CM4 module, including upgrade interfaces, GPIO expansion, CSI, full size HDMI, TF card slot, USB 2.0, fan socket, etc.. With a small size, it is can be adapted to variety of applicantion.
When connected to the computer with USB-A OTG, it becomes a real USB flash drive.
Pls refer to C235 if you need heatsink for your CM4.
Note:
Must make sure that the CM4 module is correctly installed on the expansion board CM4 stick before powering on.
Raspberry Pi Compute Module 4(CM4)is not included in the packing list.

USB-A and USB-AF/USB-C ports cannot be used at the same time.

The USB-AF and USB-C power supply ports can be used at the same time.
Features
1 x Full-size HDMI 2.0 Interface
1x USB-A: OTG USB (used to upgrade and update Raspberry Pi Compute Module 4)
1x USB-AF: USB 2.0 High Speed socket, It is convenient for you to connect a keyboard or mouse. You can use a third-party USB-hub to expand more USB ports
1x USB-C: Type-C Power Port 5V/3A
TF Card interface: MicroSD Card Slot (only supports CM4 module that without eMMC)
20Pin GPIO be reserved
1x fan interface: 4P-PH2.0 Fan Control Interface

(Not support pwm fan speed adjustment)

1 x CSI camera FPC connectors (22-pin 0.5mm pitch cable)
1x Reboot Button
1x Toggle Switch (for function selection of USB device and CM4 device)
Working Temperature: 0℃~80℃
PCB Dimension: 70x45mm
User Manual
How to use CM4 stick flashing OS into TF card
Install Rpi-boot Windows installer, download then double click it to setup. After the installation is complete, you can get a shortcut to rpiboot
Move the 'TOGGLE SWITCH' of CM4 stick to A direction, then insert CM4 stick into your desktop computer, then run rpiboot, You can find that the computer will add a logical drive letter.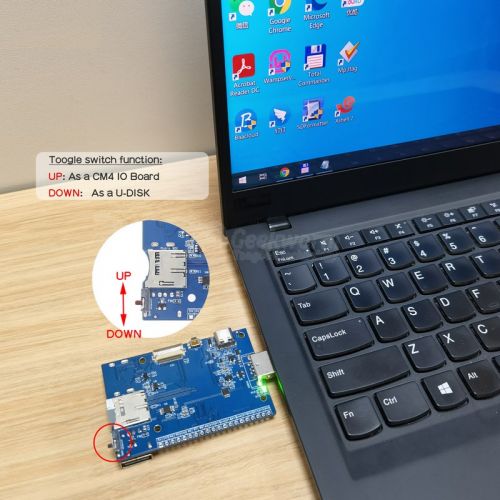 Now, you use CM4 STICK as a normal USB device to burn firmware to it.
Since the CM4 STICK can also be used as a USB device. You don't need to use an additional TF card reader. You can directly use the CM4 STICK to modify the config.txt file on your WINDOWS computer.
How to use CM4 stick to start CM4
1. Firstly, don't forget to move the toggle switch to the down direction.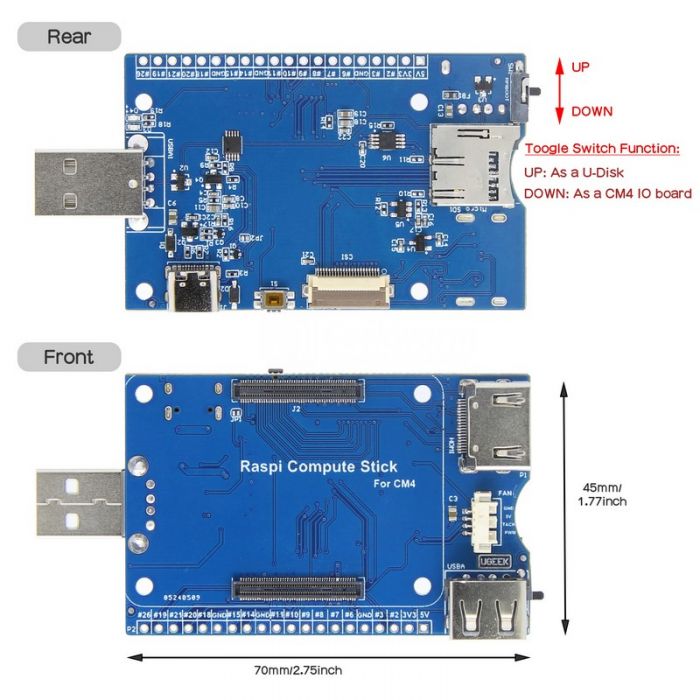 2. Insert TF card
3. The USB interface is disabled to save power by default on the CM4 . To enable it you need to add dtoverlay=dwc2,dr_mode=host to the config.txt file, detail to refer to CM4 datasheet
dtoverlay=dwc2,dr_mode=host

More reaspberry pi official documentation refer to Official Documentation
Rpi-boot Windows installer or refer to CM4 emmc flashing
Packing List
1 x CM4 Stick shield
Document
FAQ
Q1. The USB interface is not working?
A: Please refer to the above [How to use CM4 stick to start CM4]