X930
Jump to navigation
Jump to search
Overview
The X930 HiFi DAC for Raspberry Pi adds a high-quality sound to your Raspberry Pi. it is designed for optimal sound output quality and the ideal HiFi solution for all Raspberry Pi users that love music.
It features CSR8675 flagship Bluetooth 5.0 module to ensure high quality remote audio streaming. It brings new life to traditional electronics like home speakers, wired headphones to receive wireless music from cellphones, tablets, laptops, etc. It supports aptX, aptX HD and Active Noise Cancellation. Standard CD quality is 16bit. Using aptx-HD wirelessly stream 24bit music quality for a "better-than-CD" listening experience.
It supports intelligent power management, safe reboot, safe shutdown and full poweroff from software. The most efficient way to avoid OS image corruptions & other issues that can damage your Pi! The on-board push buttons can be used to switch on or off Bluetooth or Raspberry Pi.
Easy to use & installation - The X930 connects directly to the Raspberry Pi where no external cables are needed. No need to solder any header or wire, just stack it on top of your Raspberry Pi because it corresponds to the Raspberry Pi Foundation's HAT size including mounting holes and form factor.
Features
FOR USE WITH
Raspberry Pi 4 Model B
Raspberry Pi 3 Model B+
Raspberry Pi 3 Model B
Raspberry Pi 2 Model B
Raspberry Pi 1 Model B+
Raspberry Pi Zero/Zero W
OPERATING SYSTEM
Moode Audio Player
OSMC
Openelec
Raspbian Jessie
Volumio
Pi Core Player
KEY FEATURES
X930 HiFi DAC HAT
Full-HD audio – up to 24-bit/192kHz playback
Audiophile TI Burr Brown 32-bit/384kHz DAC (TI PCM5122)
Class leading audio; 112db SNR, and THD of 0.0019%
Integrated hardware volume control (via ALSA), full 2v RMS
Uses the Texas Instruments ultra-low-noise voltage regulator (output noise< 10μVRMS)
On-board RCA connectors
Uses the digital I2S audio signals to reduce CPU load over USB audio solutions
Connects directly to the Raspberry Pi - No wiring required
Powers the Raspberry Pi - no additional power supply
Reserved Raspberry Pi GPIO pin header
Optional - CSR8675 Premium Bluetooth5.0 Audio Module
Audiophile-approved performance flagship Bluetooth chip CSR8675
Play music wirelessly from your Bluetooth-enabled Smart Phones, Tablet and more without the hassle of cables
Qualcomm aptX HD Audio ensures compatible Bluetooth devices deliver high definition (HD) Audio
Powered by the latest Bluetooth 5.0, and backwards compatible with Bluetooth v4.2, v4.1, v4.0, v3.0, and v2.1
The use of a dedicated HiFi DAC (PCM5122) enables audiophile grade sound output at the analog RCA jacks
Re-connects quickly to the last paired device, No password or key required
Intelligent and safe power management
On-board buttons to switch the Bluetooth or Raspberry Pi on /off
Supports safe reboot, safe shutdown and full poweroff from software
Most efficient way to avoid OS image corruptions & other issues that can damage your Pi!
On-board LEDs show the status of power on, reboot and shutdown

Please refer to the user manual for Script for power management (Volumio)
Specifications
Power supply: 5Vdc ±5%,≥3A recommended
GPIO used for I2S audio : LRCK - IO19, BCK - IO18, DATA - IO21
GPIO used for power management: IO5, IO12, IO13
Analog audio output level: 2V RMS
Resolution/Sampling Rate: upto 24bit / 192KHz (Raspberry Pi I2S)
PCB size 65 x 56mm
How to Power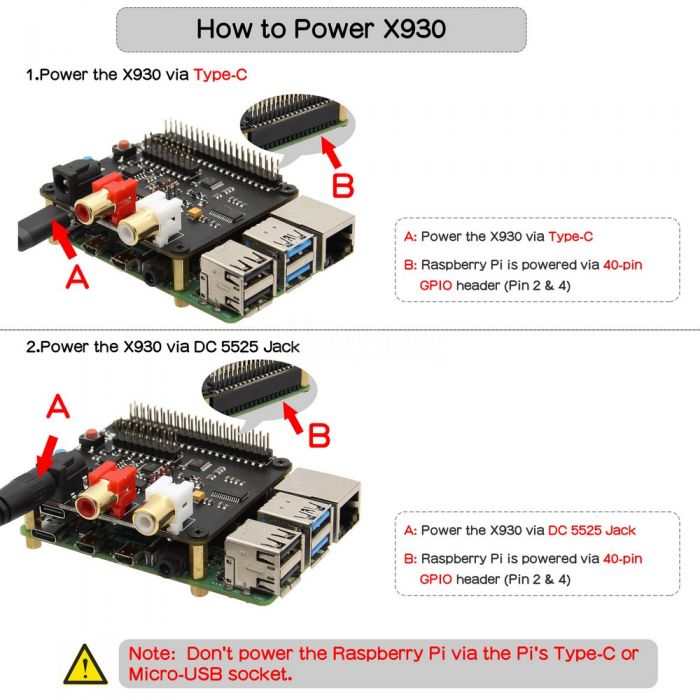 Packing List
1x X930 V1.3 expansion board
8x Screw M2.5 *5mm
4x Spacer F/F M2.5 *12mm
1x CSR8675 Bluetooth5.0 module(Optional accessories)
User Manual
FAQ
Q1. Does it include BT module?
A:The BT module is not included, we still haven't produced it. You can DIY by yourself.