X825-C2 Case
Jump to navigation
Jump to search
Overview
This is a metal case with power control switch and super mute cooling fan, it is a perfect choice for X825 V1.2/V1.5 SSD/HDD storage board user. It also support to install the X735 Auto Cooling & safe shutdown board over Raspberry Pi.
Note: Because we found that USB 3.0 high-speed transmission will interfere with the Raspberry Pi's 2.4G wifi signal. So if you find the 2.4G signal is unstable, please try to use WIFI 5G AP. (Please refer to: raspberrypiwiki.com/X825#Document) We think this is caused by the unreliability of the Raspberry Pi's wifi design. If the Raspberry Pi Foundation reserves the SMA IPEX antenna interface, everything will become easier. We will also struggle to solve this issue in the future.
[update on December, 2019]
The X825 case has been updated to X825-C6 now.
[update on Oct. 8th, 2019]
We improve X825-C2, and named it X825-C3;We made the following improvements ON X825-C3 Case:
1. We canceled the front panel TF card slot and let the TF card hide inside the X825 case; we think that it may cause accidents if the TF card is exposed to the outside, also the users do not need to insert the TF card frequently.
2. We also added vents on the front panel with two reasons: one is for the coordination of the appearance, and the other is to dissipate heat;
3. We replaced the original 3010 cooling fan with new 4010 fan.
Features
Power switch with beautiful LED indicator to control the power of X825 V1.2/V1.5 and the Raspberry pi 4 Model B;
Support super mute cooling fan, hundreds of round cooling holes on both side of the case, provides good heat dissipation, bluetooth and WIFI signal;
Reserved Side Slot(Interface) for GPIO/FFC Cable
Reserved Slot for X735 DC power Port, microusb port and Type-C Power Port
Case Size(Installation): 11.3cm x 9.4cm x 6.7cm / 4.44inch x 3.7inch x 2.67inch;
High quality metal material with surface galvanized process;
Support super mute cooling fan;
4010 Fan
Bearing: Sleeve
Voltage: 5V DC
Working Current: 0.06A
Noise Level: 23.1dBA-26.1dBA
Speed: 4200 RPM
Dimensions:40x40x10mm
Cable length: 11cm/4.33inch
Net Weight:13g
Temperature range: -10+80°C
Packing List
1 x X825 V1.2 Metal Case (with 4 pieces of M3 screws)
1 x Power Control Switch
1 x Mini Fan(with 4 pieces of screws)
User Manual
File:X825 Metal Case USER MANUAL EN-V1.pdf
Installation Guide
Installation Video
How to install X825 V1.5 + Raspberry Pi 4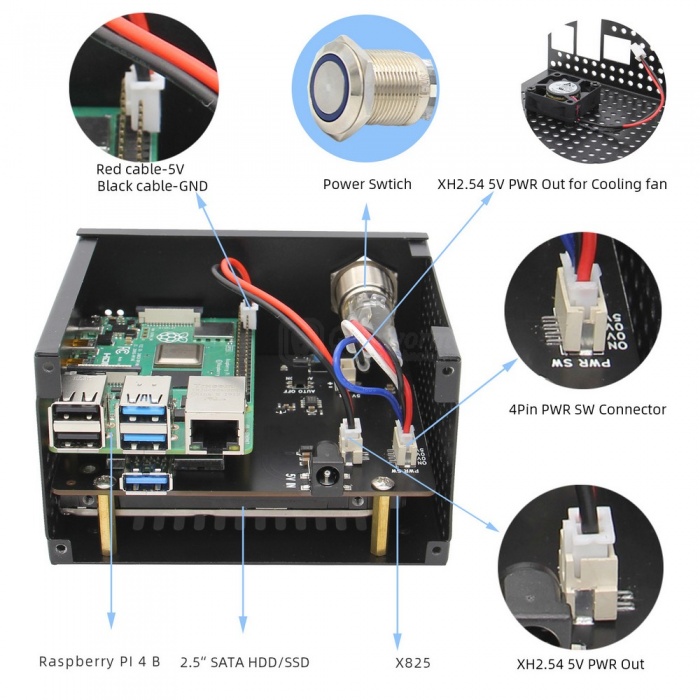 How to install X825 V1.5 + X735 V2.1 + Raspberry Pi 4
FAQ
1. Why remove the TF card slot in front of X825-C6 case?
A:Because we consider that the users do not need to insert the TF card frequently, exposure the TF card to outside may cause some unexpected trouble. So we do not open the TF card slot for X825 case.

2. Why update the previous honeycomb case?
A: It will be more beautiful and dust-proof without opening so many round holes compared with previous version.