X400 V3.0
Jump to navigation
Jump to search
Overview
This is a redesigned X400 audio expansion board. We have adopted a lot of customer feedback on the previous version. We have made many improvements based on the previous version. I believe you will like it.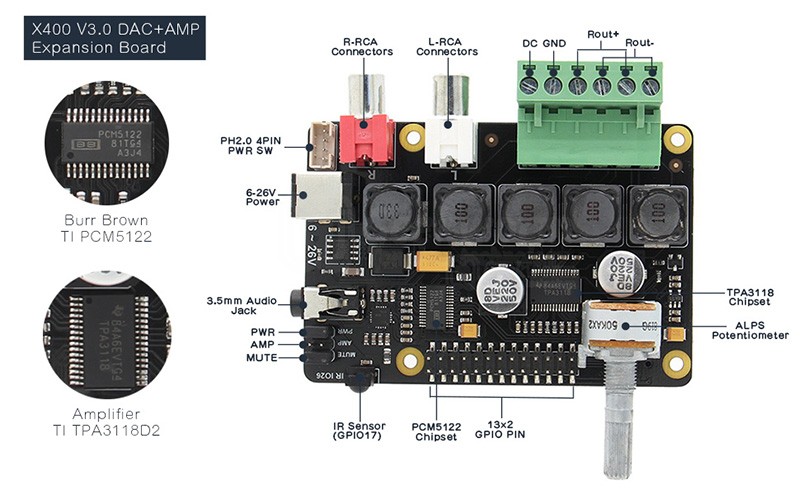 Features
Full-HD audio – up to 24-bit/192kHz playback
Audiophile TI Burr Brown 32-bit/384kHz DAC (TI PCM5122)
Class leading audio; 112db SNR, and THD of 0.0019%
Built in High quality Class-D stereo audio amplifier (TI TPA3118D2)
Up to 2×30W Into a 8-Ω BTL Load at 24Vdc
Capable of driving 4 Ohm speakers (also works with higher impedance speakers)
Built in high quality audio headphone amplifier (TI TPA6133A)
Uses the Texas Instruments ultra-low-noise voltage regulator (output noise< 10μVRMS)
Uses the Texas Instruments high efficiency step-Down DC converter (up to 95%)
6V~26Vdc converted to 5.1V, 3A to power the Raspberry Pi
Uses the genuine ALPS RK163 series potentiometer for smooth volume adjustment
Built in high quality IR sensor (Vishay -the world's leading supplier of infrared receivers)
Onboard RCA connectors
Onboard 3.5mm stereo headphone jack
Onboard speaker & power screw terminals

Onboard 4pin PH2.0 connector allowing to connect a external lighted power switch to control power

Onboard gold-plated high-current DC power jack (5.5x2.5mm)
Uses the digital I2S audio signals to reduce CPU load over USB audio solutions
Connects directly to the Raspberry Pi - No wiring required
Powers the Raspberry Pi - no additional power supply
Reserved Raspberry Pi GPIO pin header (2x13Pins)
Pop-noise can be improved by enabling GPIO control
AMP can be enabled / disabled with jumper link
WARNING:
DO NOT APPLY POWER TO YOUR RASPBERRY PI VIA THE PI's MICRO USB SOCKET.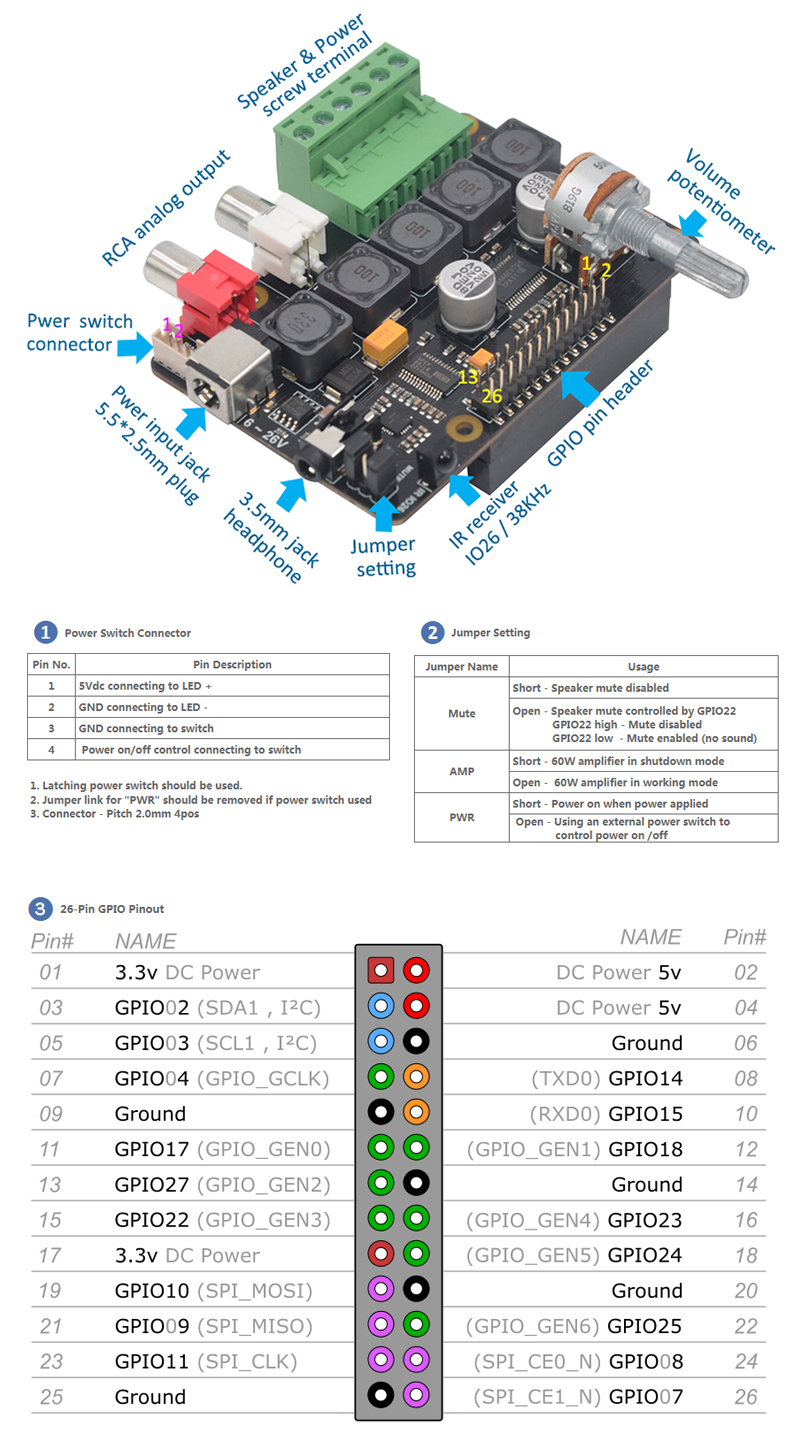 Specification
Power supply: 6-26Vdc,( >=3A is recommend)

GPIO used : LRCK - IO19, BCK - IO18, DATA - IO21, IR - IO26, AMP mute - IO22

Analog audio output level: 2V RMS
Headphone max output power: 142mW at 16Ω
Amplifier max output power: 2×30W at 8Ω BTL Load at 24Vdc
Resolution/Sampling Rate: upto 24bit / 192KHz (Raspberry Pi I2S)
PCB size 87 x 56mm
Power Supply Require
DC 6-26V,( >=3A is recommend)
Please refer to DC 19V 2A Power Supply
Packing List
1 x X400 V3.0 Expansion Board
1 x Installation screw pack
Matching Metal Case for X400 V3.0
There are two types of housings, one for X400 and PI 3B(name it X400-C3) and the other for X400 and PI 4B(name it X400-C4).
Note: Please remove the jumper cap on the PWR (on the X400 board beside the 3.5mm jack headphone), or the power switch will not work normally. Please refer to FAQ 3.
X400-C3
X400-C4
For use with
X400 V3.0 and

Raspberry Pi 3B+/3B

X400 V3.0 and

Raspberry Pi 4 Model B

Features

Ultra-compact aluminum chassis
All ports and slots of the case can match with Raspberry Pi and X400 perfectly
Exhaust holes surface can reach perfect heat dissipation
Equipped with 19mm metal latching power switch
Equipped with high quality solid aluminum potentiometer Knob
Raspberry Pi status LEDs still visible after installation
Easy to change the Raspberry Pi OS SD card - Not need to open the case

Match with raspberry pi 4 and X400 V3.0, not support other raspberry pi board
All ports and slots of the case can match with Raspberry Pi 4 and X400 well
Exhaust holes surface can reach good heat dissipation
Equipped with beautiful metal latching power switch to control the X400 V3.0 DAC board and raspberry pi 4 model b
Equipped with a Geekworm Embedded Heatsink and cooling fan kit, provide better heat dissipation
Equipped with high quality potentiometer Knob
High quality metal material with surface galvanized process;

Packing List

1x X400 v3.0 enclosure
1x Metal power switch
1x Aluminum potentiometer Knob
4x Screw M2.5 *28mm
6x Screw M3 *6mm
1x 1.5mm hex kety

1 x X400-C4 enclosure
1 x potentiometer Knob
1 x Mounting screw package
4 x Rubber mats

1 x Embedded Heatsink

1 x 2506 Cooling Fan
X400-C4 Case Installation Guide:
Video: https://youtu.be/c0SqQQ_oAnE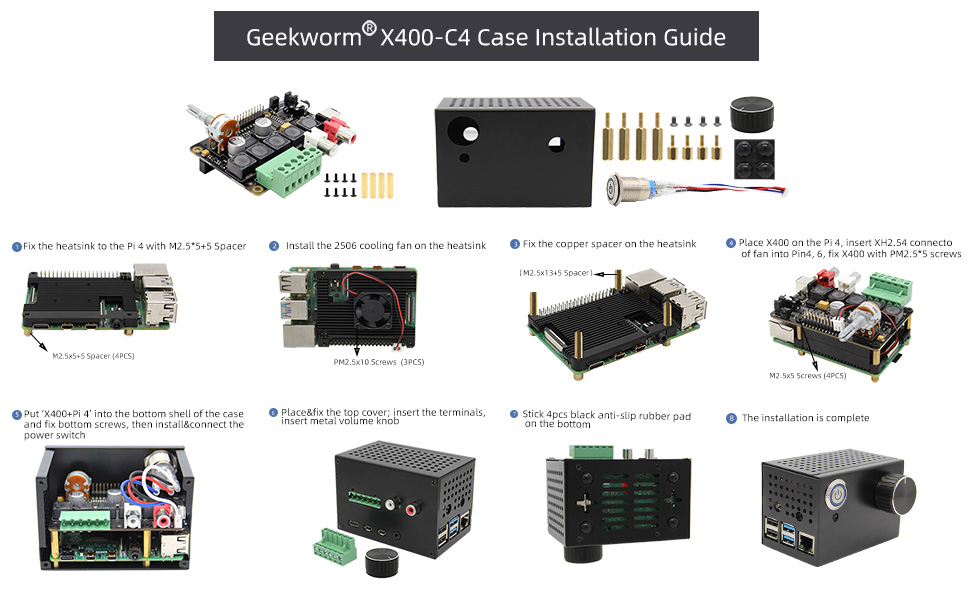 X400-C3 Case Installation Guide:

Hardware and Software Configuration
More Hardware and Software Configuration please refer to web site
For Volumio
DAC Model: Please choose ST400 or IQAUIDO-dac
FAQ
Q1. Why my headphone left channel has no sound?
Customer Feedback: I am having a problem with the headphone left channel. The sound is out of phase; the voice of the signer is almost missing on the left channel when I am using headphones.
Answer: If you happen to meet this problem, please just contact us by email and attach order number, and we will help you send a headphone cable to solve this problem.
Q2. Can X400 v3.0 board can be used on Raspberry Pi Zero W or Raspberry Pi Zero?
Answer: Theoretically speaking it will be compatible, but not actually it is tested, so we can not confirm.
Q3. Why the power switch isn't working? The LED is always green but doesn't function. When I put the power on, the Raspberry Pi is booting regardless of whether the button is on or off.
Answer: There is a jumper cap on the PWR (on the X400 board beside the 3.5mm jack headphone), when using an external power switch to control power on/off, please remove the jumper cap. Please refer to the following picture.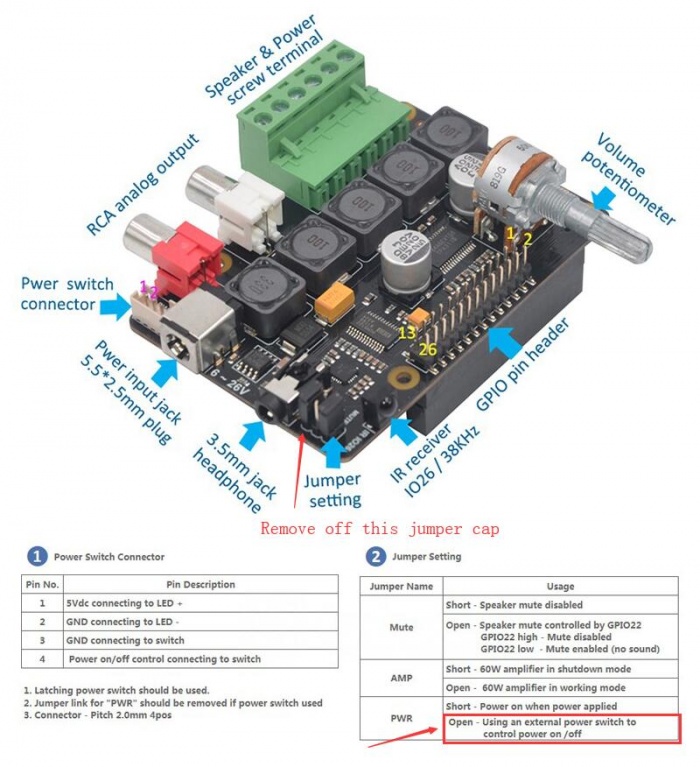 Q4. Which DAC model do I set with piCoreplayer?
Plase choose the iqaudio-DAC .
Q5.Can I have my phone charging at the same time as I have it attached to the rca playing music, or will that fry the system?
Please do not use X400 or rasdpberry pi to charge your phone, it is not support to charge the phone.
Q6. Does the X400 V3.0 support to use with the X862?
Yes, it is OK but note the power supply must only connected to X400.
Q7: When I plug in headphones to the 3.5mm jack on the DAC they work fine but the speakers also stay on as well. How would I make just the headphones work when they are plugged in & the speakers would be off?
Please move the jumper cap on MUTE to AMP to solve the issue.