X350
Jump to navigation
Jump to search
Overview
The Raspberry Pi has an on-board audio jack, which is super handy for all kinds of sound effects and speech, just plug and go! However, for when you want better audio for music playback,This X350 USB audio card can greatly improve the sound quality and volume.
You can DIY a external speaker using the 4pin speaker cable (you can found cable in the package box), and control the speaker via the on-board button.
In additonal, you can use it on the desktop computer, you only use one USB cable to connect the desktop computer and X350, and insert earphone into the X350, then you can enjoy the high quality sound.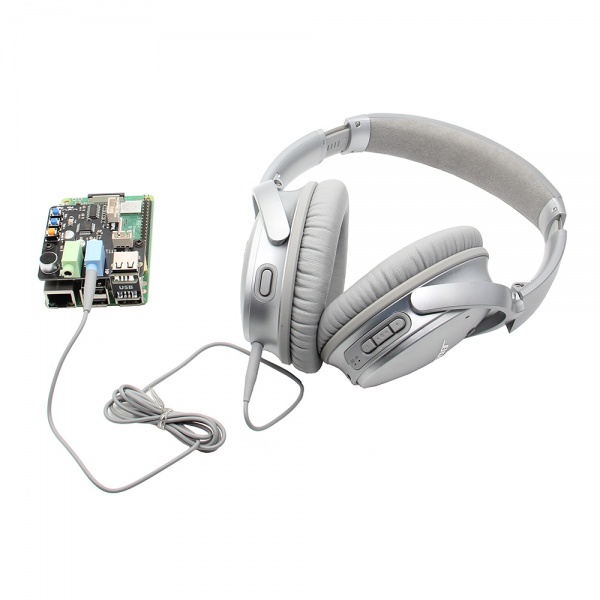 Features
Ideal USB audio solution for Raspberry Pi
48K/44.1KHz Sampling Rate for both Playback and Recording

On-board high-sensitivity Electret Condenser Microphones

Supports 16 bit ADC input with Microphone Boost

High Performance 16 bit audio DAC with Earphone Phone Buffer
On-board 3.5mm headphone jack and microphone input jack
On-board buttons for speaker volume control and microphone mute
On-board LED Indicators for Record Mute Status, Playback and power
Compatible with Raspbian without Additional Driver
On-board stereo Class-D audio amplifier with high SNR
2x3W Output at 10% THD with a 4Ω Load
2.4W Output at 1% THD with a 4Ω Load
32-Step Up/Down Volume Control from -80dB to 24dB
Superior Low Noise 60uV and Minimize Pop/Clip Noise
On-board XH2.54 connector for speaker output, power input and speaker mute GPIO control
USB bus-powered - does not require external power supply
PCB Size 56mm x 56mm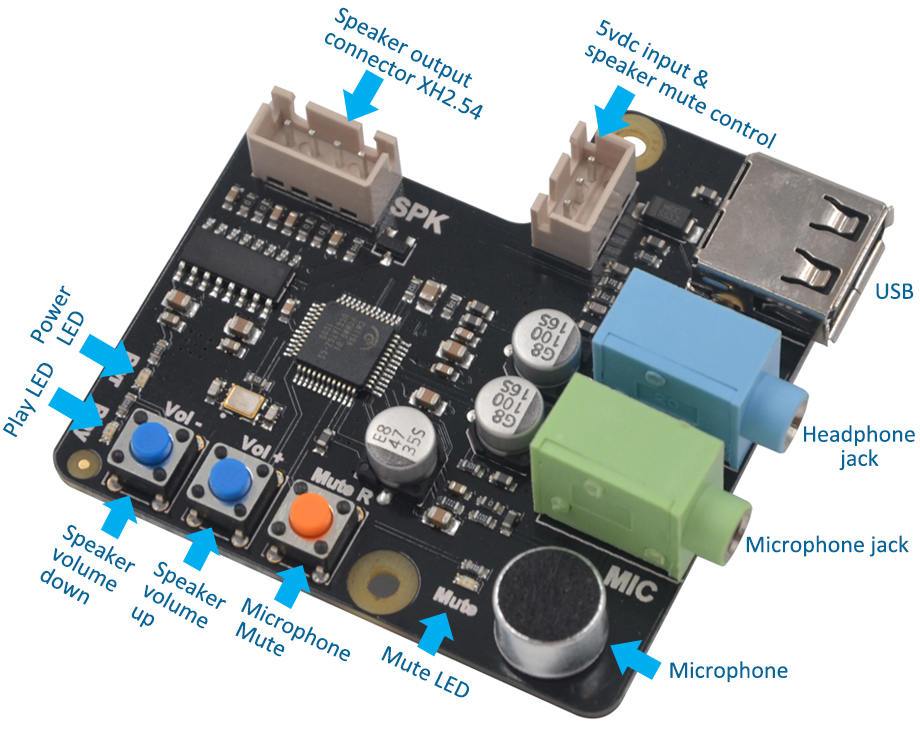 Power Supply Requirement
Power supply: 5Vdc +/-5% , Powered by Raspberry Pi
Speaker output power : Max 2x3W Output at 10% THD with a 4Ω Load
Headphone output voltage : 1.25Vrms
Ports & Connectors:
USB socket - USB 2.0 type A, 3.5mm audio jack x2
Power input connector - XH2.54 3-pin x1
Speaker output connector - XH2.54 4-pin x1
Packing List
1 x X350 Board
1 x 4PIN speaker cable (about 30cm length)1
1 x usb connector
1 x install screw pack
User Manual
X350 use CM119A chip from c-media;
https://learn.adafruit.com/usb-audio-cards-with-a-raspberry-pi?view=all
FAQ
1.Is it possible to use both the onboard microphone and an external microphone at the same time (2 audio input channels at the same time)?
Answer: Sorry, it is not possible to use both the onboard microphone and an external microphone at the same time, but if you need to use two microphone, you can consider to use two X350 audio board to stack on and under your raspberry pi to use it.(actually we do not test it, you need to test it yourself, thank you!)
2.How to setup and use X350 board?
Answer: Please refer to here and try it on Raspbian.