X20 HiFi
Jump to navigation
Jump to search
X20-DAC INTRODUCTION
Operating System: VOLUMIO, MOODE
For Use With: Raspberry Pi 1 Model B+/ 2 Model B / 3 Model B
X20-DAC BOARD
Features
ESS Technology flagship DAC chipset (ES9028Q2M) for best sound quality
129dB DNR -120dB THD+N
32bit/384kHz Bit to Bit Playback & Native DSD Playback (Use with our XMOS I2S module)
JRC MUSES8920 high quality Audio J-FET input dual OP AMP
Ultralow phase noise 100MHz HiFi TCXO
Texas Instruments ultra-low-noise voltage regulator
Dedicated individual DVCC, AVCCL, AVCCR, Oscillator 3.3V power supply
Selected high quality components (WIMA Film capacitor, Panasonic low ESR aluminum electrolytic capacitor, Gold-plated RCA connectors etc)
Can connect to our XMOS USB-to-I2S module directly
Can be used individually with only 3 wire I2S signal connected from other i2s interface
All dual OPAMP in single dip8 package IC can be used
High performance and compact Raspberry Pi DAC solution for everyone
Specification
Power supply: +5Vdc ±5%, +15Vdc ±5%, -15Vdc ±5%
Analog audio output level: 2V RMS
Resolution/Sampling Rate: Up to 24bit / 192KHz (Raspberry Pi I2S); Up to 32bit / 384KHz (Use with XMOS USB to I2S board); DSD64 /DSD128 (Use with XMOS USB to I2S board).
PCBA size : 101.5 x 56mm x 34.5mm, PCB size : 85 x 56mm
X10-PWR POWER SUPPLY BOARD
Features
Fully regulated linear power supply board for X10 / X20 series DAC
Texas Instruments ultralow noise TPS7A470x regulator
Four individual 5.2V/ 5.0V/-15V/+15V to power the Raspberry Pi (1), DAC chipset and OPA
High performance ELNA and Nichicon Audio Purpose Capacitors
For use with R-core transformer
Specification
Input rating : 6VAC ±5% 2.5A, 6VAC ±5% 0.5A, 15VAC ±5% 0.55A, 15VAC ±5% 0.55A
Output voltage:5Vdc ±5% 2.5A, 5Vdc ±5% 0.5A, +15Vdc ±5% 0.5A, -15Vdc ±5% 0.5A,
PCBA size : 85mm x 56mm x 50.5mm, PCB size : 85 x 56mm
Notes:
Low voltage indicator might show up during boot, it does not affect audio performance.
WARNING:
DO NOT APPLY POWER TO YOUR RASPBERRY PI VIA THE PI's MICRO USB SOCKET.
X10-RTR R-CORE TRANSFERMER
Features
For use with X10-PWR power supply board
High quality 35W R-core transformer
Equipped with AC voltage selector switch convenient to select 115/230Vac input
Lighted power switch
Equipped with detachable power cord
Full aluminum chassis
Specification
Input : AC110 / 230V ~50 / 60Hz
Output: 6VAC ±5% 2.5A, 6VAC ±5% 0.5A, 15VAC ±5% 0.55A, 15VAC ±5% 0.55A
Size 118m x 93mm x 59mm
X10-I2S BOARD XMOS USB TO I2S / SPDIF / Coaxial
Features
The XMOS xCORE-AUDIO Hi-Res family of parts
Deliver precise output with low noise/distortion for soothing, high-quality sound
Ideal HiFi audio solution for Raspberry Pi
Streamed through Raspberry Pi to I2S, DSD and/or S/PDIF interfaces
PCM up to 32bit /384 KHz sample rates
Native DSD, DoP64 and DoP128
Up to 192 kHz, 16/24 bit resolution S/PDIF output
Asynchronous Isochronous transfer from Raspberry Pi
Multiple OS support (Volumio, Moode Audio Player, Windows, Android etc)
SiTime SiT8208 ultra performance oscillator
Texas Instruments ultra-low-noise voltage regulator
Specification
Power supply: +5Vdc +/-5%
CODEC: I2S 16, 24, or 32 bit PCM, DSD64 and DSD128
PCM sample rates : 44.1, 48, 88.2, 96, 176.4, 192, 352.8, 384KHz
Optional S/PDIF output : Up to 192 KHz; 16/24 bit resolution
PCBA size : 101.5 x 56mm x 34.5mm, PCB size : 85 x 56mm
X10-HPAMP HiFi Headphone Amplifier
This optional accessories;
Features
Uses TI TPA6120A2 as headphone chip
SNR of 128dB A-Weighted and THD of 112.5dB
Current-Feedback Architecture
The best class AB high fidelity headphone amplifier for diyer to enjoy
Original ALPS RK27 potentiometer
0.1% low noise thin film resister
6.35mm and 3.5mm earphone output jack
Specification
Power supply: +15Vdc ±5%, -15Vdc ±5%
Output power: 150MW /250, 300MW /120, 1000MW /32
Frequency response: 20hz-30khz
PCBA size : 124mm x 56mm x 37.5mm, PCB size : 85 x 56mm
Software Configuration
Volumio (Version: 2.368)
Select the"PLAYBACK OPTIONS"menu, Turn off "I2S DAC" and select "xCORE-AUDIO Hi-Res 2" or "SA9227 USB AUDIO" under"Output Device." Then reboot and you are done.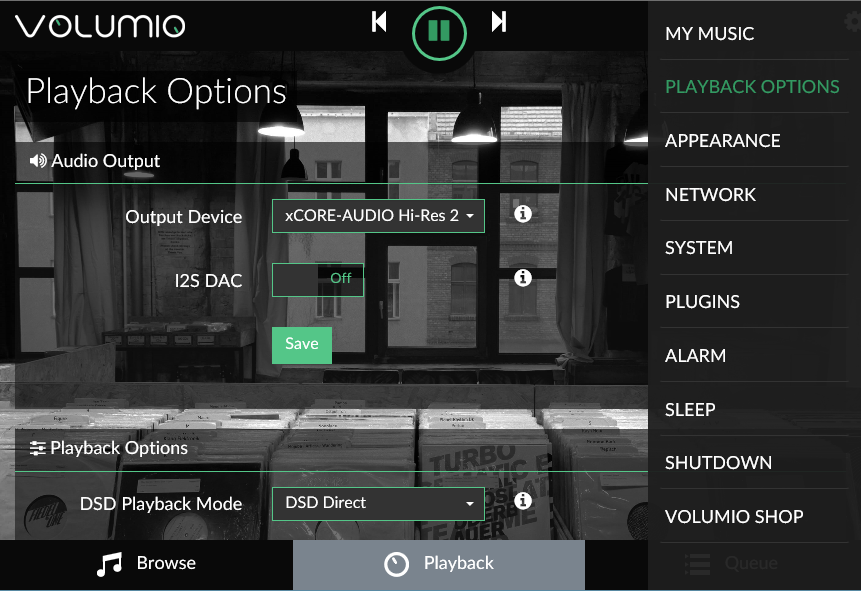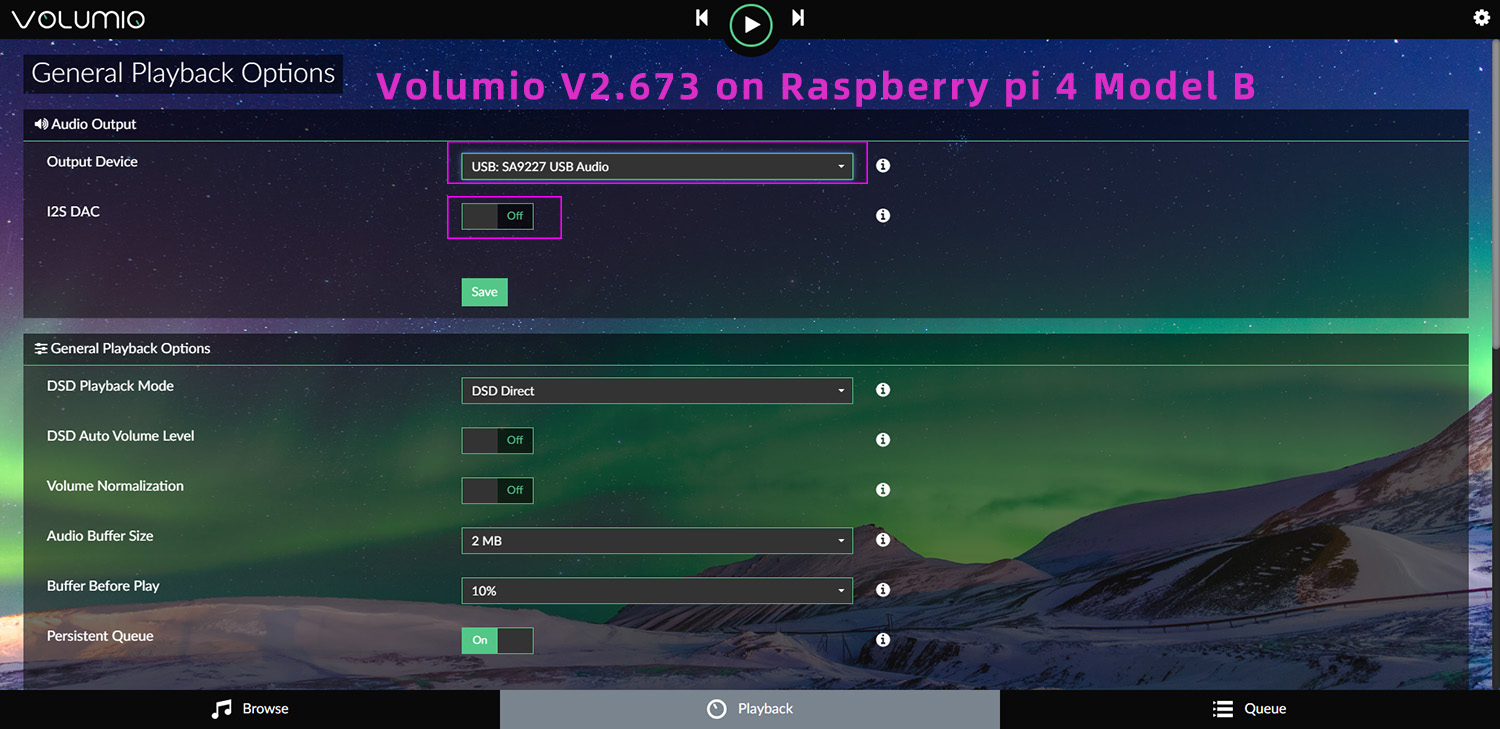 Moode Audio Player (Version: 3.1)
Simply select the"Configure"menu, select "MPD" under "configuration settings", then select "USB audio device" under "Audio device", Then click "APPLY" and reboot.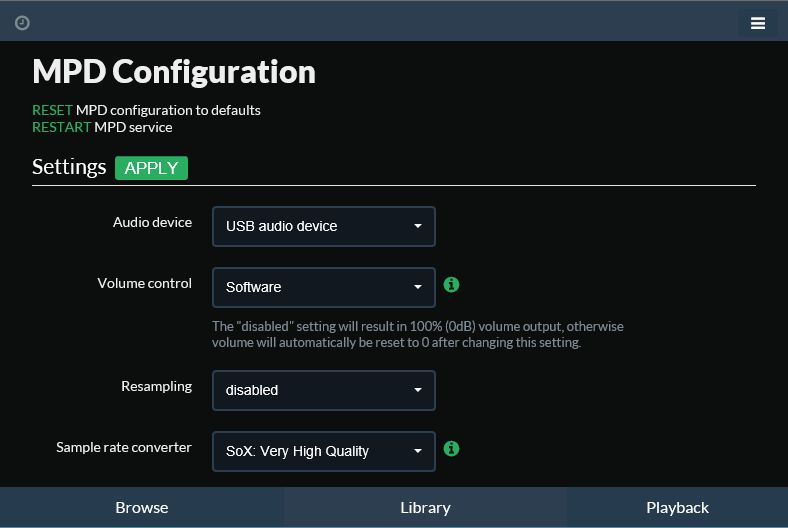 Document