X200
Jump to navigation
Jump to search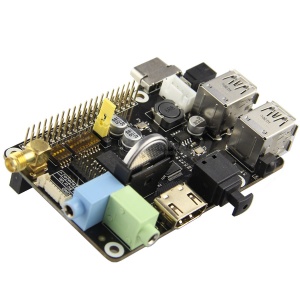 Overview
X200
X200 Full Function Expansion Board (SKU:359062)
X200 Raspberry Pi Expansion Board Adds VGA Output, Microphone input, stereo audio output, Wi-Fi, RTC, IR receiver and More.
Features
Input Voltage: 6V to DC21V converted to 5V
VGA output: HDMI to VGA converter supporting up to UXGA (1600×1200) and 1080p with 10-bit DAC
Audio: 3.5mm MIC in jack, 3.5mm stereo audio jack, SPDIF output, audio IO connector (Microphone input and stereo audio amplifier 3.3W x 2)
Wireless: Wi-Fi (IEEE 802.11b/g/n) with antenna, IR sensor (38KHz)
USB: self-powered USB hub with 3 ports
RTC: Based on DS3231SN with included CR2032 battery
Servo support – 8-channel Darlington driver chip (ULN2803) allowing to control electronic circuits which require more current.
Misc: DIP switch to remove connection from RPi's pin header
Dimensions: 85 x 56mm (Same size as Raspberry Pi)
Other Features Easy to Use:
No need of cable and setting; Conversion: It can convert complete HDMI into VGA video; Supports165MHz/1.65Gbps per channel (6.75Gbps all channel) bandwidth for HDMI input; Supports Analogue Video output up to UXGA and 1080p with 10-bit DAC.
Packing List
1 x X200 Expansion Board
1 x CR2032 battery
1 x USB Male to male connector
1 x 2.4GHz Wi-Fi Antenna
1 x Plastic mounting kits