Smart 5-12V Single Way inching and locking Module
Jump to navigation
Jump to search
Introduction
WIFi control model, no need to program. No matter where you are, you only need to download a APP to connect the wifi and control the cloud.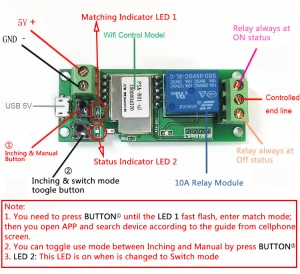 Feature
With signal instruction light and relay pull-on instruction light
Power < 1W, and quiescent current:80mA
Cutover current< 10A , Cutover voltage< 250V
10A Relay Model
The life of Relay Model is more than 1,000,000
Insulation resistance: 100M
Maximum pull-on time: 15mS
Maximum release time: 5mS
Working Temperature: -40 to 70degree
Working Humidity: 40% to 80% RH
Function
Default inching Function: Press the open relay by mobile phone, then cut off the pull-on imediately(default one second), it has the timing-share function at the same time.
Self-locking when press the inching and locking button with the light on. Press open relay to pull-on, press close relay to cut off.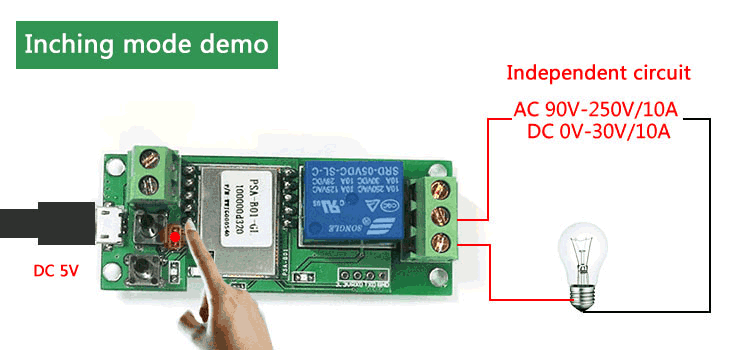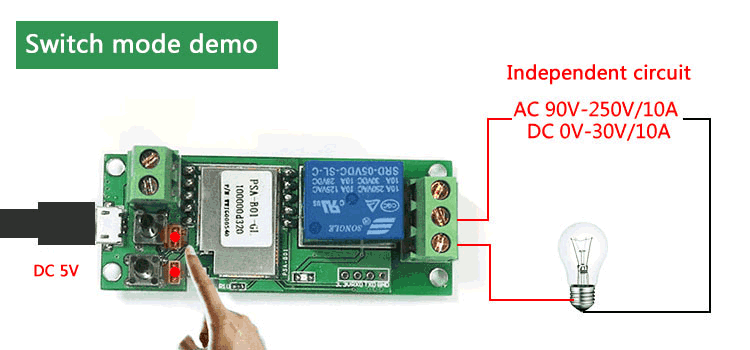 Packing List
1 x Switch Module
Application