RPi Camera A
Jump to navigation
Jump to search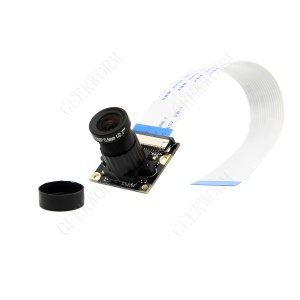 Overview
This is a Raspberry Pi Camera, supports all revisions of the Raspberrypi.
Support infrared fill light,support infrared night vision.
Adjustable-focusing to meet your need.
Features
5 megapixe
Resolution: 2952*1944
Lens: 1/4 5M
Aperture(F): 1.8
Focal Length: adjustable.
Sensor best resolution: 1080p.
4 screw holes; Used for both attachment and 3.3V power supply; Supports up to 2 infrared LED and/or fill white light LED.
Packing List
1 x Camera module
1 x 15-pin FFC(15cm length)
Not include 2 pieces fill light;
User manual please refer to User manual for Camera