RPI Lithium Battery Expansion Board SKU:435230
Jump to navigation
Jump to search
Overview
Lithium Battery PowerPack V1.0 Used for Raspberry Pi 3 Model B / Pi 2B / B+ and Cellphone
Features
Battery capacity: 3800mAh
Maximum output current: 1.8A
Output voltage: 5.1V ± 0.1V
Standard charging current / voltage: 1.0A/5.0V
It's convenient to power on / off raspberry pi via battery swith;
It can last about 9 hours if only pi 3.
The Lithium battery expansion board can be also used on cellphone.
Note: You can still charge this battery even if the switch is turn off;
Working principle
The working PMU (Power Manage Unit)can be only worked for charging mode or step-up mode at the same time.
If the USB-A interface without any external load (like Pi), with 5V input voltage of MicroUSB, then the PMU enter charging mode. The PMU will integrate a current-limiting resistor with the external voltage, 5V voltage for Lithium battery, around 4.6V-4.7V voltage for USB-A interface.(The "ON" LED lights )
The PMU would enter step-up mode without external 5V voltage. Under this circumstance, turn on the switch, USB-A interface can output maxmum 5V voltage, two USB-A interface can maxmum output 1.8A current. The PMU itself has current-limiting protection. it will be short circuit when over 1.9A current.
Packing List
1 x Lithium Battery Expansion Board
FAQ
Q1.How long can this powerpack work for RPI 3B?
Answer: We test 6 kinds of collocations (RPI 3 with various of lcd scerrn) according to different configuration.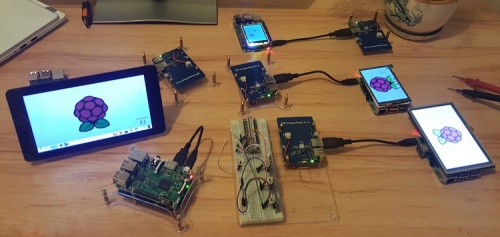 Here comes the result:
| Collocation | First time | Second time | Third time | Remark |
| --- | --- | --- | --- | --- |
| RPI 3B Board | 557min | 575min | 599min | Timing statistics have been run in the background, it lasts around 9 hours |
| RPI 3B + 2.2 inch lcd | 490min | 448min | 477min | 2.2 inch lcd is more electricity-saving, it lasts more than 7 hours |
| RPI 3B + 3,5 inch lcd | 404min | 361min | 391min | For 3.5 inch lcd, it has larger size screen, could last 6 hours |
| RPI 3B + 5 inch lcd | 224min | 255min | 278min | HDMI 5 inch lcd can last around 3.5 hours |
| PRI 3B + Waveshare 7 inch lcd | 176min | 162min | 183min | For 7 inch lcd, large current consumption on Backlit, can last 2.5 hours |
| RPI 3B + Official 7 inch lcd | 355min | 363min | 347min | Official 7 inch DSI lcd is better in consumption design |
Q2. How to know whether the board is in charge or full of charge?
Answer: It depends on the Charge LED. When red LED lights, it means PMU' s charging for battery. While it means PMU' d already powered up to 95% for battery when the LED off. It can be 100% full after one more hour.
Q3.How long does the powerpack need to be charged?
Answer: Based on the different current of 5V voltage MicroUSB interface, we advice you could refer to parameter of 5V 1A to charge it. It' s still ok with 5V 0.5A or 5V 2.5A. When use the parameter of 5V 1A to charge, it needs around 3 hours.
Q4. Can users replace the Lithiunm Battery by his own?
Answer: Of course they can. One thing to mention, the replaced monolithic must be 3.7V, you can replace your needed capacity, like 5000-10000maH. It' s direct ratio between capacity and volume(PS: The replaced Battery Polarity must be same as the original one, or it' ll destory PMU)
Q5. Can it realize long-lasting via parallel connection or series connection?
Answer: Our product could be parallel connection under certain circumstance. Because the PMU can only manage step-up and charge with standard 3.7V(4.2V when full) monolithic.(Parallel monolithic must be resistance balance)
CAN NOT USE IN SERIES CONNECTION!
Q6. Can it power for RPI 3B when being chagred at the meantime?
Answer: It can not do that in principle. But the charging PMU can output 4.6v-4.7v voltage to USB-A interface, so that can power for RPI 3B. Under this circumstance, the PMU is in charge mode. It can' t be used if you power for Pi 3 and the other TFT LCD or else. Only power for Pi 3 in the case of using SSH and the other remote control.
Q7: What if CHG red LED flash, and the PMU fail to enter charge mode?
Answer: The solution is to remove the output cable of USB-A. Make it non-load and put the switch to "OFF". Then input 5v voltage voltage, the PMU enter charge mode, and red LED last lightning.