DAC+
Jump to navigation
Jump to search
Introduction
PiFi HIFI DAC+ Digital Audio Card Pinboard designed For Raspberry PI 2 Model B +, adopt high-end DAC chip PCM5122 of TI Company.
You can setup internet HIFI player by Volumio or xbmc system.
[NEW]: How to display the Volumio of DAC+
Features
Use I2S interface rather than USB, which can control volume via hardware.(While the old version DAC for Raspberry PI B with the chip PCM5102 do not have this function)
Two output interface to connect Amplifier
Upgrade DAC Chip and adopt I2S interface, users can adjust volume and audio parameter via I2C interface
Support 16-32 bit Audio Data Format and sampling rate higher than 384kHZ
Chip PCM5122 can integrate Negative Charge Pump; No need DC blocking capacitors for output; Support load lower than 1kΩ, and PCM510xA can drive several products in parallel
Output interface adopt gilded RCV double terminals and gilded headphones seat in 3.5mm
Design with Isolated Power; No welding
Double color LED, red light for indicating DAC power, green light for operating condition
adopts gold plating and arc traces, which can reduce signal reflections and refractions
IR receive function
IR control guide
The solution for the flac or AirPlay un-supported of Hifiberry DAC
Please use the moode3.1 system and choose the buffalo IIIse.
Download
How so config on the KODI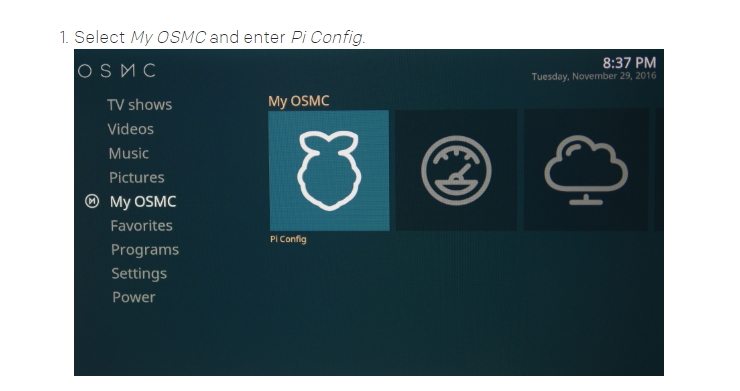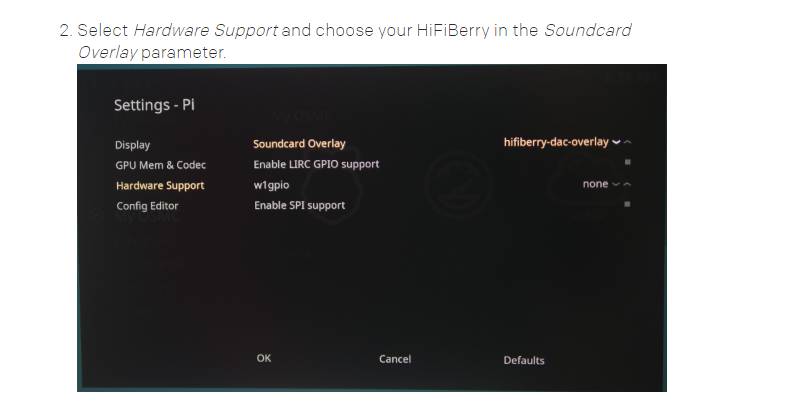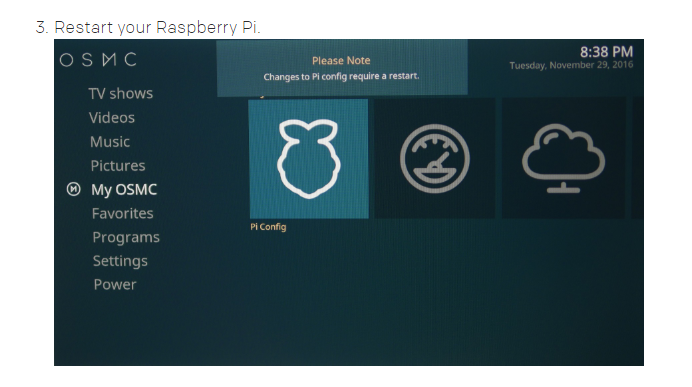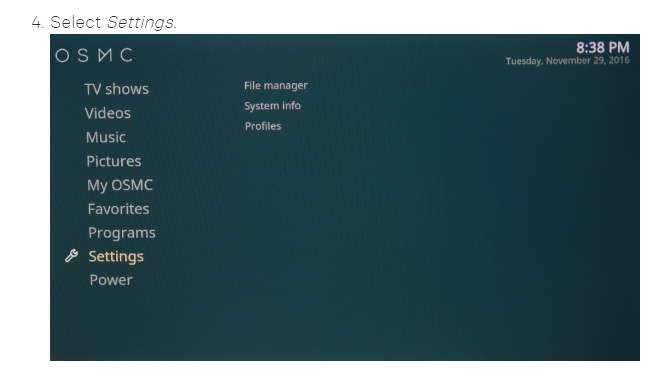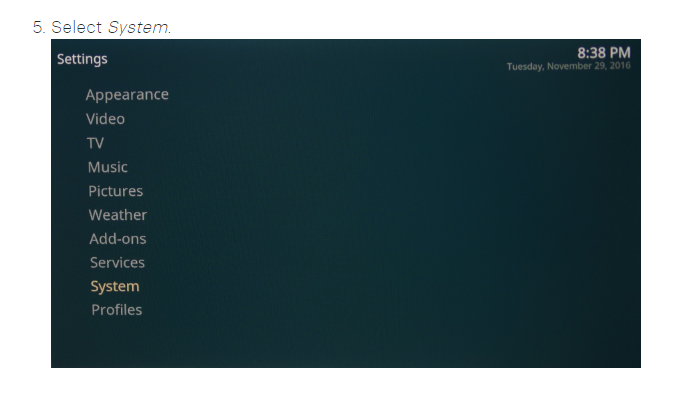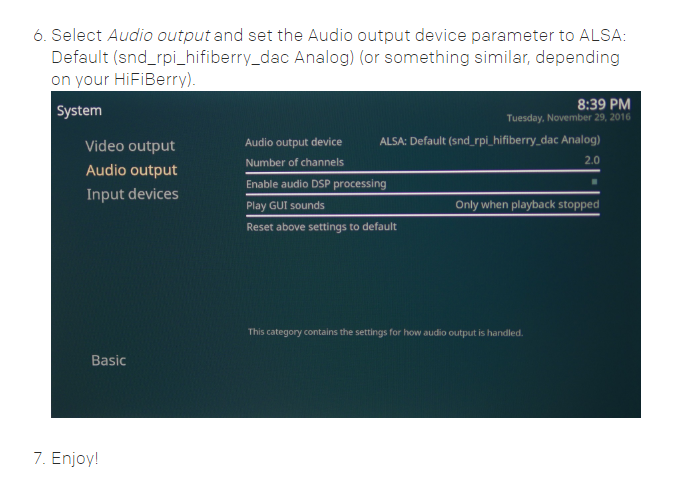 Document
Q & A
Q1: How could DAC+ use on XBMC, OSMC, Kodi etc.?
Add a line to file config.txt

sudo nano /boot/config.txt
dtoverlay=lirc-rpi,gpio_in_pin=26


Q2: Why My DAC card shows ALSA fault?
1. This is a compatibility issue of VOLUMIO system. and we fund some related issues about ALSA on VOLUMIO.ORG. Here is anything we search on google: https://cse.google.com/cse?cx=partner-pub-0839303782430158:6119498809&q=ALSA%20&oq=ALSA%20&gs_l=partner-generic.12...1677.1677.0.2228.0.0.0.0.0.0.0.0..0.0.gsnos%2Cn%3D13...0.46j2116j2...1.34.partner-generic..0.0.0.
2. we recommend not to open the alsa option, otherwise it will result in the loss of the driver (configuration) file. in fact, this audio board supports hardware to adjust the volume. If the system fixes this problem, we will post a message on the wiki, please pay attention to our wiki.
Packing List
-> Go Shopping RPI HIFI DAC+ Digital Audio Card SKU:363003
Acrylic Case
It only fit to DAC+ shield.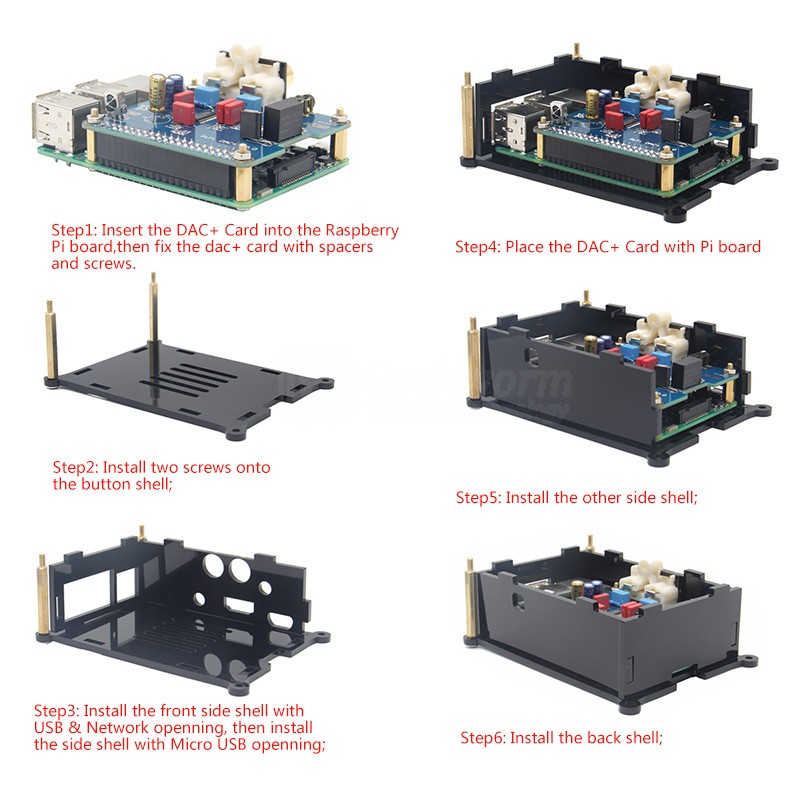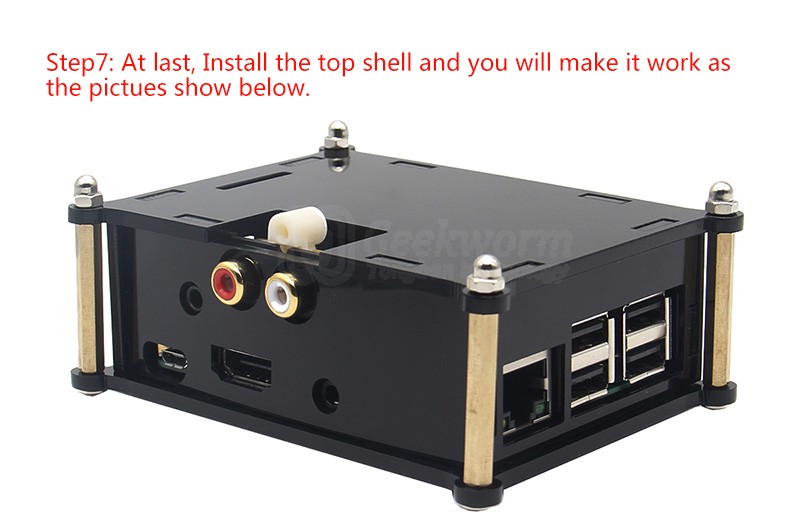 FAQ
If your DAC+ board can not work properly, please follow these instructions:
1. At first, Please check if your DAC+ configuration is right, please refer to our WIKI: http://www.raspberrypiwiki.com/index.php/RPI_HIFI_DAC%2B_Digital_Audio_Card_SKU:363003
Notice: Please remember to reboot the system after you complete and save all the configuration.
2. Please have a check if your audio format is supported .(Such as do not support DTS, AC3,DSD, and other multi-channel audio source formats); for more details, please refer to the OS instructions in our WIKI.
3.If the problem still can not be solved, please try to replace the power supply and power supply cable, and please feel free to contact us by customer service anytime and anywhere.
4.When your hear the sound like noise, actually it is not noise, maybe your decoding is not right, so you need to check your configuration. You can try runeaudio or moode.If you still can not solve the problem, please send us the screenshot of your volumio configuration,we will ask for the technician to check for you!