RPI HIFI AMP
Jump to navigation
Jump to search
Introduction
RPI-HIFI-AMP module is a high-quality, highly efficient 25W Class-D power amplifier for the Raspberry Pi. you can get a stereo audio system by mount it onto your Raspberry Pi. Only thing you have to do is connect your loudspeakers to our module. It's the ideal choice for small room audio system.
Features
Up to 25W output power.
Capable of driving 4 Ohm speakers or higher.
Fully controllable from the Raspberry Pi.
Support 44.1kHz and 48kHz sample rates.
Digital-analog conversion included—no need for external DACs or sound cards.
Fully digital sound path for optimal audio performance.
Connects directly to the Raspberry Pi no additional cables needed.
Wide Power input :12-20v external power input for both RPI and module.
HAT size.
Up to 90% Efficient.
Integrated EEPROM for automatic configuration (Option).
Hardware connection
Connect the RPI-HIFI-AMP module and RPI with 40 pin connector .While installing the module
attention to align the first leg of the raspberry pi and RPI-HIFI-AMP module.
Software Installation
RPI-HIFI-AMP module compatible with many Raspberry pi music playback system such as:
OSMC / Max2Play / RuneAudio / Volumio / Moode / PiCorePlayer / PiMusicBox / OpenELEC etc. The
user can choose a suitable for their own .
Match Power Supply
Please refer to DC 19V 2A Power Supply
Warning: The Raspberry pi will be powered by the AMP. It is not allowed to connect 5V to the Micro-USB port of the raspberry pi. Power supply is only one external 12-20V power supply that will be connected directly to the AMP.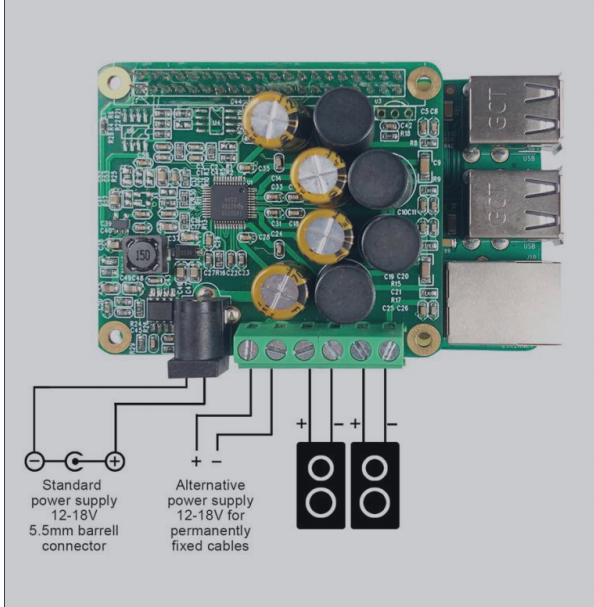 Download
Packing List
1 x HIFI AMP board for Raspberry pi
FAQ
1.How to set up the Volumio( Based on Volumio: 2.444 version)? Please refer to the picture: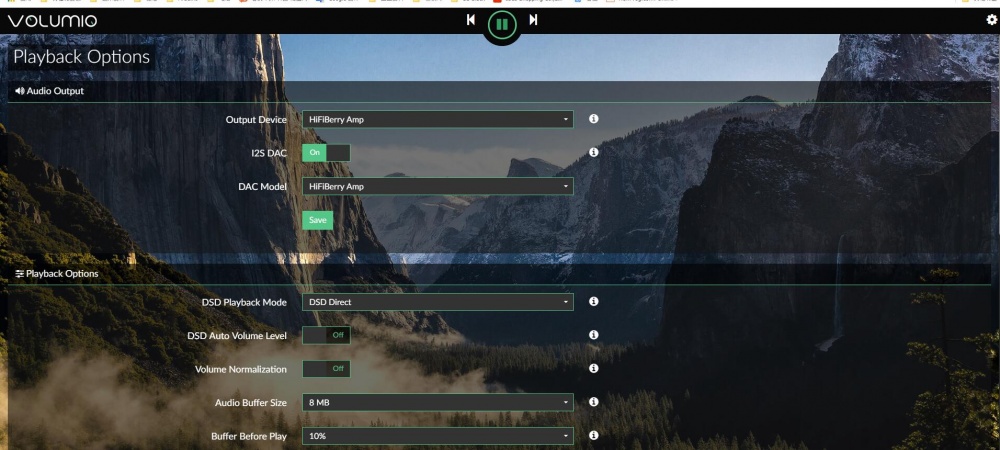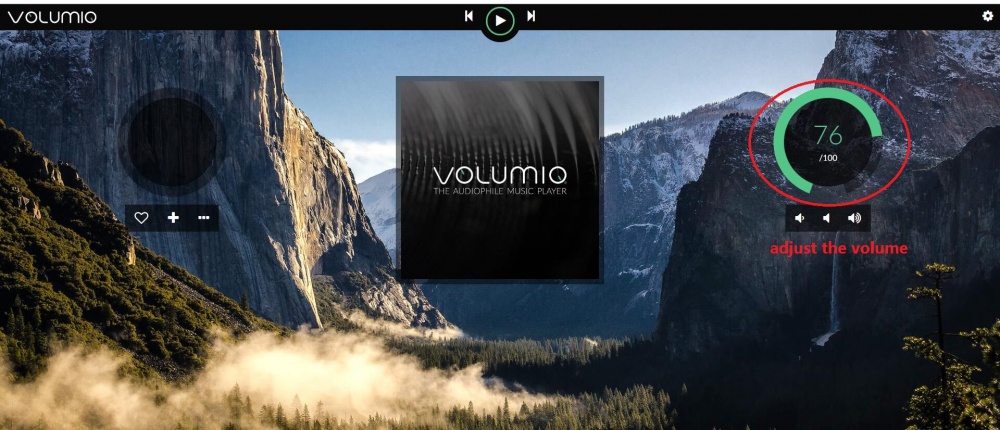 Customer feeback: Work on Volumio: 2.413 version