GPS Module SKU:384916
Jump to navigation
Jump to search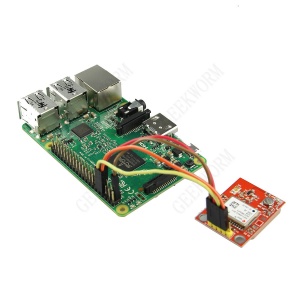 Instruction
GPS Module w/ Ceramic Passive Antenna for Raspberry Pi / Arduino 

Features
Use U-BLOX NEO-6M modules, high performance;
With ceramic antennas;
Set parameters via serial port, and can be saved into the EEPROM;
Compatible with 3.3V/5V level, easily connect to other single-chip microcomputer system;
With backup rechargeable battery, battery can last about half hour after the power is shut down. you can keep the calendar data.
Note: Because the TXD and RXD pin are be connected a 510ohm resistance to compatible with 3.3V/5V, so you need to use the low resistance cable to connect (example: some USB TTL cables will lead to error).
Packing List