GDC
Jump to navigation
Jump to search
Introduction
Please email to us: support@geekworm.com if you have some questions.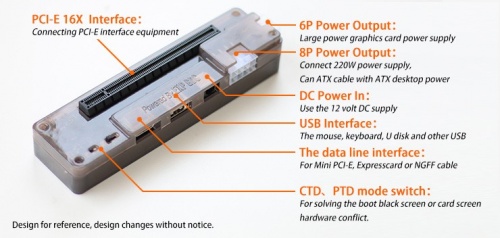 Note: We made a new user manual on March 13th 2017, please download it from here: File:EXP-GDC-User-Manual-EN-20170321.pdf;
EXP GDC is a notebook built-in PCI-E interface extended to the switching equipment outside, can be used to access any of the PCI-E interface equipment, used to enhance the performance of the notebook, the use of moreconnecting card to play the game.
PCI-E speed is the highest speed supported notebook using the PCI-E3.0 graphics cards the same use.
Product overview
Can be connected to any PCI-E interface device,including graphics, sound card, video card, array, data acquisition card etc..
The maximum provides the interface output 6PIN+ 8PIN, maximum support 12A, maximum support 18A output with the motherboard and the. If more than 220W using power card please with ATX cable, ATX power supply used for the graphics.
8P power supply interface:
The main board and the equipment of the power supply interface, support soft switch function (notebook starting power starting, notebook shut down power off). The power of this interface, you can use 1 special DELL 220W, 2, can be matched with ATX cable using the ATX power to support external graphics power, soft switching function.
DC power supply interface:
Support DC 12 volt power supply input interface type outer diameter 5.5MM, inner diameter 2.1MM, maximum power 150W, support the soft switch function.
Can be connected to the keyboard, mouse, U disk, mobile hard disk and a wireless network card and so on any USB device. Part of the use of MINI PCI-E transfer line computer cannot use this function.
For Mini PCI-E, Expresscard, NGFF connection or PCI-E X1 cable. This interface is non standard HDMI interface, connect other equipment damage caused by the need to pay.
For solving the conflict due to the soft hardware equipment can not be normal use, by default the switch is located on the left side of the OFF state. External graphics card cases such as notebook boot black screen or card screen PTD please switch to the right. More special function can support customer service and technical consulting.
Interface Introduction
EXP GDC Versions
EXP GDC version according to the difference of interface types:
How to distinguish interface types of your latpop
The EXP GDC has to be used with the built-in wireless card interface of the laptop.
The laptops without Expresscard interface have to be disassembled to confirm the Wireless card interface type.
Different versions, the interface is not the same, here is the interface introduction:
Expresscard interface in the left and right sides of the notebook, the width is 3.4CM or 5.4CM. The height is 5MM, the depth is about 7CM, the attention is screened. The Expresscard interface has a row 26 PIN contact, our adapter supports 54# and 34#.
Other notebook need to disassemble the installation, use the wireless network card interface, namely Mini PCI-E or NGFF.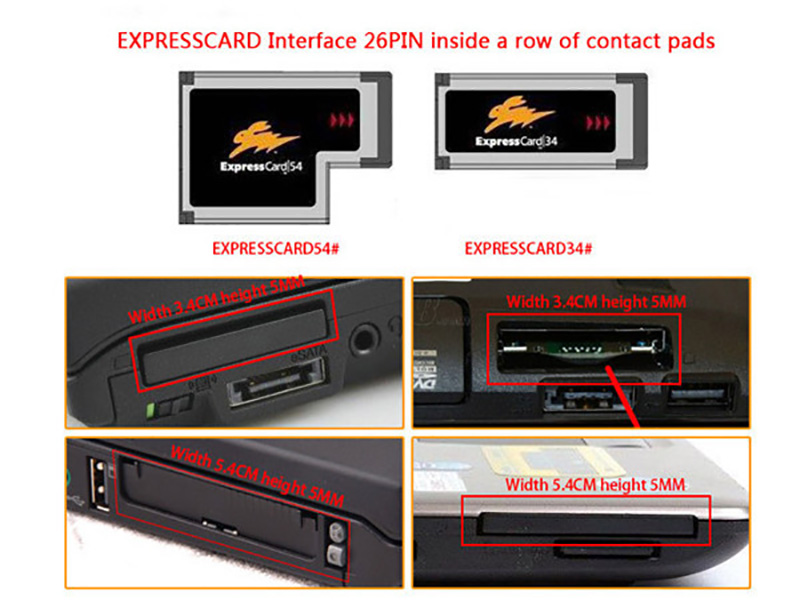 EXP GDC Feature
Support for PCI-E X16, the actual X1 mode (according to different notebook configuration can be upgraded to X2 mode)
Products: notebook PCI-E expansion device
Product positioning: notebook performance upgrade.
Operating system: Windows XP/7/8/8.1, MAC OS, Linux etc.
Mini PCI-E (WLAN\WWAN\DMC)
Expresscard (34#/54#)
NGFF (Slot A)
Thunderbolt
PCI-E X16:DMI GT/s (X1) 5
8P interface: 220W max.
DC interface: 150W max.
Note: the power limit without ATX cable.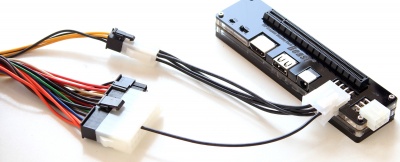 Support List
W530T520W520X220X220TZ570T420Y460Y560PT410E420X201X201sEdge 14T410sT400T510X201TX200W500T61pX61TT61T60T520T420Sy470T420IY480G480k580s E520Y580G500E46AY530G510Y400G500V460Y560Py480ny480E420K29B470Z470L421SL410 KE420SG470G450z465Y500V370G430Z370Y485Y410Pv1000s410py471as230uV570e420sZ500V470Y4070 G710AT-ISEy430pS400SR1000B5400405S A8Y50Z501Z480Z580U310K46Az380
E6520Vostro 3450XPS15.L502Studio 1557E6220M4500E6420E4300Studio 1557XPS 1645E4310M4600Insp.1545XPS 1340E4300XPS 1640E6500Insp 1420XPS 1340Vostro 15001440Vostro v130XPS M1530D830M1330Studio 1555Insp 1520Vostro 1310E15051545E6520E6520E6220E5410E4310E641014RM12104600MD630E64206320N4120N50103421N3010772014R4728152014rd658N411014RD658inspiron15-3521e632074205537xps164515r7520767015R 45265547773014R 5420M6600752055374050vostro3300n3420L702X3542155815 75484z-5423E6230
Sony Z21VPC-Z11VPC-Z13VPC-Z12VGN-FW45Z46GDVGN-NS110eEA27ECVPCCA36ECEA47ECCB36ECNw35eEA200CS138Vgn-nw71fbSVT11138CCSvpcs128ecFW17Z45vpcea25fgvpcea18ecVPCEB26FXVPCZ138GGsve14a28ccsPcg-71212tSVE 141
HP 4530s2560P8460P4330s2540P8440PDV4-20002530P2740P6930P6930P2730PHDX9000Pavilion DV4DV9690enCQ60DV71267CLHDX16HDX18TTX22510PDV7-3020EDDV2000dv2416US6910PNC640021334530sHp8440p14 beatsG42DV51220TXN51108570PCQ35-219TXDV2804TXCQ45CQ40CQ42 285TX8560P2730p4321sDV7HP44318470P2570Penvy17 j120usHP6450BHP8470Pcq15-102tx2570P8460P
Fujitsu AH531T731S6420T901T5010U9200AH56/Gnh532
Acer 5755G3820TG5920GEX5620Z5742G6930952556201810TZ5720G1410Ferrari One4752G4750GE1-471G5750G5951GE1-571GV3-571GV5-472G4315V5-471Gv3772g4738GAcer4745gE5-511G5552g
MSI CX623CR720A6200-021USCR630M610GX640GE60
Toshiba R840A665L305-S5921L300A505-6965L300L305-S5921M332M780L700L650-02BL800
Clevo M860TUM570RU
Sager NP2096NP8662NP5793
NEC Versa E6500
Asus F8SAX42JRX59SL1015PEMM60JY581CX81x55vX450VBX450JSx450cN61JVx402caU24Er400P53SJn75sln75sN61JQN56n55sfn53k56ck55vd K53SV K52DR k45vs K43SM a55vd K42JB K40IP K40INg73swF83se A73S A55VMA53a450j A43XA43sa42jk55vmk43SDG74SXN43sln55slk55vmA45K56CBK43DK42kv X55 XI237VD-SL X550VCN81VG X751LA53SA53SMa450jf
LG P300
Samsung R780NP300E4ANP270E5J-K01CNr428rv420
HASEE A460-I7K590CA560PK580PA430K470p460PA550k602cK590SK500DE400K500C-i7 D1k660EA460p-i7K480N
Tsinghua University u49fK41HA14RM0C
Blue sky p170em
Haier 7g-2X5P
Gigabyte p15f V2
Fangzhengyihe a600
Hardware installation
Set the power installation method (important: equipment installed, restart the notebook, don't live insertion device, otherwise it will burn a notebook or graphics)
The other end is connected to the data line interface board, corresponding to the "reference chart". The HDMI EXP GDC,board can not be connected with other HDMI data line, otherwise it will cause equipment damage.
Please ensure that the video card power supply interface fully connected, ATX Power supply installation method
Note: the use of ATX power supply, power supply directly from the power card.
System configuration and driver installation
The built-in sets + alone models: 1/ is set to UMA in BIOS Graphic Device (Graphic Mode set to Integrated), 2/ Boot to LAN (Network PXE Boot) is set to Disabled. Without this option, see driver unload and disable.
The built-in alone models: uninstall disable built-in alone.
The installation Video card driver
The built-in graphics card unloading and disable
If you encounter graphics conflict, need to disable the built-in alone please note the following specification (first step) DriverUnload and (second step) method of hardware disable.
Click "start" - click "control panel", open the "uninstall" to find the corresponding NVIDIA or AMD (ATI) drive, all you need to uninstall clean.
After the uninstall is complete, restart your computer.Right click on the "computer" to open the "properties", open the "display adapter", disable the built-in NVIDIA or AMD (ATI) card. (the system may have been identified as "standard VGA graphics adapter").
System optimization settings
The use of NV graphics card users please drive control panel in PhysX in the graphics settings to the GPU operation can significantly improve performance.
Turn off the power management system on the BIOS and PCI-E energy saving options, often cause the system to avoid the time not stagnation.
Do not use the system sleep and standby function, which causes the display part cannot restart, some models may not be affected.
Strictly in accordance with the instructions to install the use of equipment, not hot pluggable devices.
Advanced features, such as fire, inner double channel need to use DIY EGPU
(Note this software with powerful function, set the cumbersome, we provide tutorials and method of use for reference, according to each different models provided slightly different, if you need to use this software suggestions have the basic hardware and software knowledge, some of this software is unable to provide remote assistance, mainly rely on themselves, the installation and use of a very detailed description, pay attention to own more research research)
For the download link of the EGPU software, please refer to the link in the "Document & Download" as below.
Pay attention:The EGPU Software is a Third party software.
Recommended Graphics Card
The list of recommended graphics card:
GTX650 GTX660 GTX670 GTX750 GTX760 GTX950
GTX960 GTX970 GTX980 GTX1060 GTX1070 GTX1080
And for other graphics cards, may be they can also be used, but the compatibility and performance are not as good as the cards in list. So we do not recommend to buy.
They are compatible with EXP GDC, but you must install the Auguest 2016 driver(372.70 version). And GTX 1080 is the most powerful we recommend.
GTX1030 GTX1050 GTX1050Ti GTX1070Ti GTX1080Ti The technician tell us that these cards are new product and the drive is not perfectly to support this product. So, we do not recommend you to buy it.
Document & Download
Packing List
1 x EXP GDC PCI-E adapter
1 x cable (Expresscard/ Mini pci-e/ NGFF)
1 x ATX PSU power cable (11cm Length)
FAQ
Q1. My laptop model is xxx, I'd like to know whether it can use the mini pci-e version/ Expresscard/ NGFF version?
Answer: It depends on whether your laptop has the compatible mini pci-e/ Expresscard/ NGFF interface, the mini version needs to disassemble the laptop, then connect the mini cable with the internal wireless network card interface. We have limit technology so that can not test every kind of laptop model. May you could have a try.
Q2. I have bought the mini pci-e version, and my laptop model is Asus ux32vd and AMD GPU. Why it shows black screen after installation?
Answer: Here are several advice, may you could try and hope it can help you.
Try it like the sleep way.Do not connect the cable of graphic card, start up your laptop, go to sleep when you go in the system, then plug the cable to wake it up.
Please check the memory stick (no more than 2GB per slot)
Upgrade the BIOS, maybe is better.
Replug the two sides connection interface of Mini PCI-E
Change N card, Nvida video card is better in compacity
Q4. The mini pci-e can not work on my lenovo b590.
Answer: This is because your laptop model is in the list of "white list", you' d better change the BIOS without "white list".
The other "white list" laptop model, please refer to flowing list.
Some laptop models will have the compatibility of white list problem. They can find the suitable BIOS (those without white list) online, or some people know it well can fix the problem by themselves.
NOTE: DON'T BUY if you are not DIY GEEK although you have these laptops.
'White List:(NEED burn BIOS, But we don't provide BIOS)
Lenovo: E530, L430, E43, U410, E49, K49 , E545, E431, E531, K29, K27, E320, B590, k47, X1, X240, T440, T430,
Ready-known BIOS with white list: Lenovo Z480, Z580, v480C, e4430, M490, E440, V490u, M4400s, U310, K47A, K2450, B5400, E555, E330
HP: 5310M,hp probook 5220m
Asus : K45VM
Q5. I bought the mini pci-e version, and it can not work normally on my Lenovo z570(RAM 6GB). Please help.

Answer: Please try with these advice, because different laptop models may come with the compatibility problem.
Memory stick(RAM): 2GB per slot,latest version of BIOS.
Switch to only use integrated graphics in BIOS.
Disassemble the laptop to connect it with the internal wireless network card interface.
Q6. Will the mini pci-e version work with my laptop 8560w hp elitebook?
Answer: Generally it has EXPRSSCARD interface on HP station, actually we are not sure about the compatibility about HP station. May you could try with the EXPRSSCARD version.
Q7. I just want to buy the separately mini pci-e cable, could you test and ensure it work?
Ansewr: Our product has been strictly tested and checked from the manufacturer. The separate cable can be only suitable for V8.0 EXP GDC(BEAST), not compatible with the V6.0 or V7.0 adapter. Please check it clearly before purchasing.
Where to buy EXP GDC?
Get the EXP GDC Laptop Docking Stations here, contact to get $5 off discount for the first purchase.
Geekworm official Store is online now, click to get more latest product information.