EDP to HDMI Adapter
Jump to navigation
Jump to search
Overview
S.EDP-HDMI-4K2K.V1.2 is a signal adapter board, which is mainly used to convert EDP signal into HDMI signal, the resolution of this adapter supports up to 4K 30HZ resolution. The adapter can be used in set-top boxes, advertising machines, conference systems and other fields. EDP input needs to comply with EDP1.1, EDP1.2 standards;
Update History: Update to V1.3 version from V1.2 version in December 2022, and add the EDP SET switch to switch 2LANE and 4LANE.
Features
Features ( EPD/DP RX ):
Compliant with VESA EDP/DP1.2
Support 1.62/2.7/5.4Gbps
Support 1/2/4 lanes (Default with 2 lanes program)
Support SSC
1Mbps AUX channel
Compliant with HDCP1.3
Features ( HDMI TX):
Compliant with HDMI2.0, HDMI1.4 and DVI1.0
Compliant with HDCP2.2 and HDCP1.4
IData rate up to 6Gbps
Support UHD 4k@60Hz(RGB and YCbCr 4:4:4)
Support TMDS scrambling for EMI/RFI reduction
Support SCDC(Status and Control Data Channel)
Configuration & General Precautions
Relative humidity: ≤ 80%.
Storage temperature: -20~60°C.
Operation temperature: -20~60°C.
Protect the board from static electricity in case of damage to the IC.
Keep the board away from conductor when it is working.
Don't wire in the board to power supply before panel is correctly connected.
Operating:Less than 2000m
Power Supply
Support power supply voltage 5-12V
Packing List
1 x EDP to HDMI adapter board(2lanes program)
User Manual
Document: File:S.EDP-HDMI-4K2K.V1.2-Specifications.pdf
EDP cable to EDP adapter board Definition
EDP cable to Screen Definition
30pin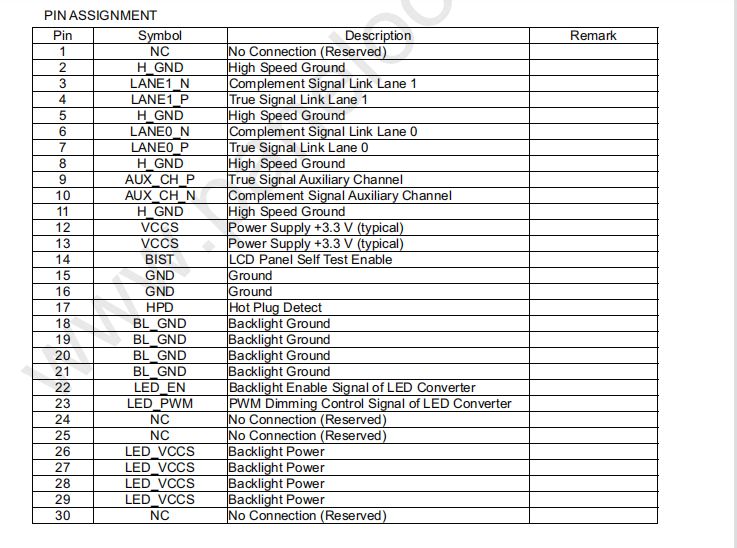 40pin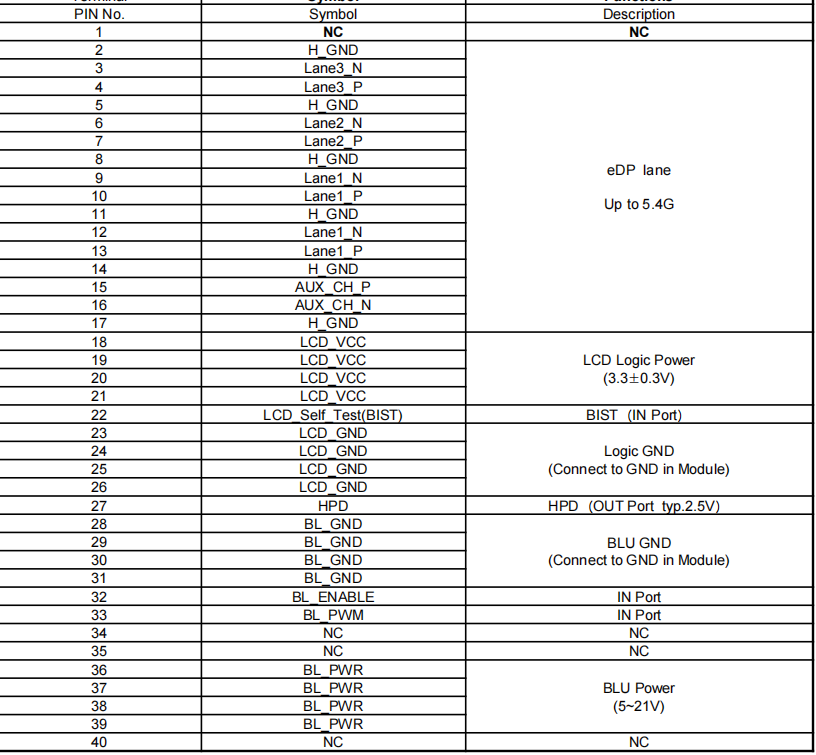 FAQ
Q1. The adapter board is connected to the EDP signal, but there is no HDMI output?
Answer:
Please check whether the EDP cable is connected correctly, differential signal and power supply.
The power supply voltage should be above 4.5V.
EDP output to distinguish VESA compliance, refer to point 6 of user manual.
Q2.The HDMI output picture is normal, but the color of the picture is abnormal?
Answer:
The data format of the EDP signal does not match the configuration of the adapter board, single 8 or double 8.
EDP signal board need to adjust program or enter the factory menu to set EDP MAP (VESA or JEIDA).
The adapter board upgrades the program and reconfigures the parameters.
Q3. The size of the HDMI output picture abnormal or the position shifted?
Answer: The EDP signal board should adjust the EDP parameters strictly according to the VESA standard configuration, refer to point 6 of user manual for common resolutions.

Q4. The HDMI output screen jittery, flickering and other unstable phenomena?
Answer: Focus on checking the EDP signal parameter configuration, turn off the spread spectrum (NOSSC) of EDP output, and turn on the FREERUN function.