DAC Pro
Jump to navigation
Jump to search
Overview
This DAC Pro HAT is a high quality HIFI DAC Module for Raspberry Pi player. It based on audio DAC chip ES9038Q2M, which handles up 32-bit/384kHz PCM, DSD256 and DSD512 data in master or slave timing modes. It use the critically acclaimed ESS patented 32-bit HyperStream II DAC architecture and Time Domain Jitter Eliminator and delivers a DNR of up to 129dB and THD+N of -120db, a performance level that will satisfy the most demanding audio enthusiasts.
On-board two low jitter oscillators(45.158M and 49.152M) to support ES9038Q2M master mode ,support more exact sample rate clocks of ES9038Q2M. Different from other DAC hat that forced user to use the IIS master clocks from Raspberry Pi which comes with a lot of jitter, just for save cost and design time.
On-board three Texas Instruments SoundPlus High-Fidelity Audio Operational Amplifier, afford 2.1vrms output. The best output level for most of device.
Features
For Use with
Compatible with all current models of the Raspberry Pi using a 40-pin header, such as Raspberry Pi 4 / 3B+ / 3B / 2B / B+,etc.
Operating System
Support Raspberry Pi music player system, such as LibreELEC OSMC, Raspbian, RuneAudio, Volumio, Moode, Ubuntu etc.
Support play music from a hard disk or over the network.
How to Power
Recommended to use Raspberry Pi 4 official power supply or other clean power source, otherwise EMI noise will caused.
There are 3 ways to power:
1. Short the jumper, power via Type-C connector or 2pins terminal. Don't connect extra power supply to Raspberry Pi.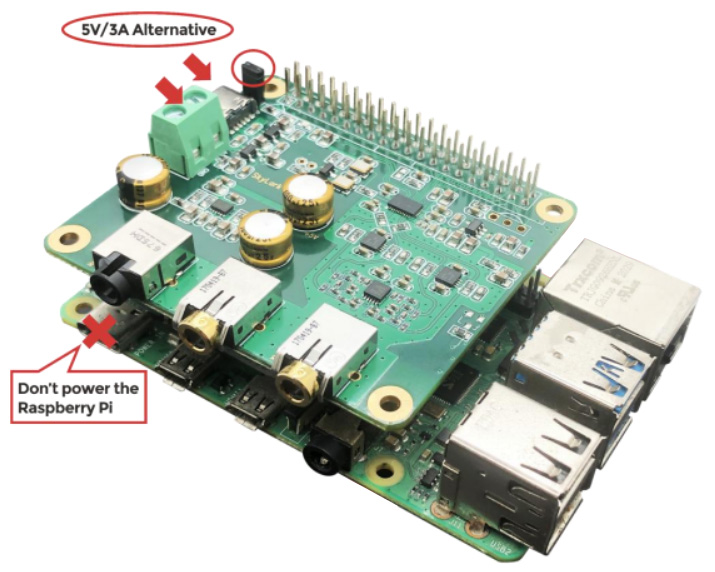 2. Short the jumper, power via Type-C connector OF Raspberry Pi. Don't connect extra power supply to DAC Pro.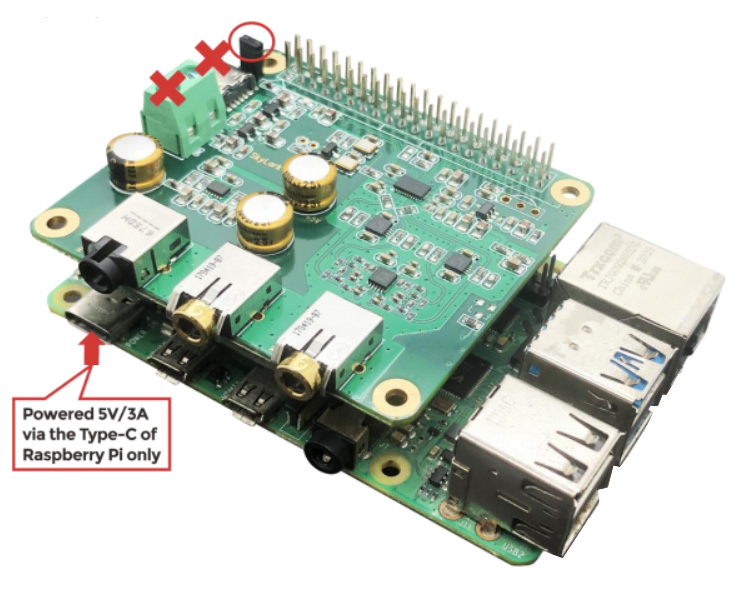 3. Remove the jumper, power the Raspberry Pi and DAC Pro separartely. This way can be properly isolated the Raspberry Pi and DAC hat. The dac have only need 5V/1A independent power supply. This is the best power supply way for music quality.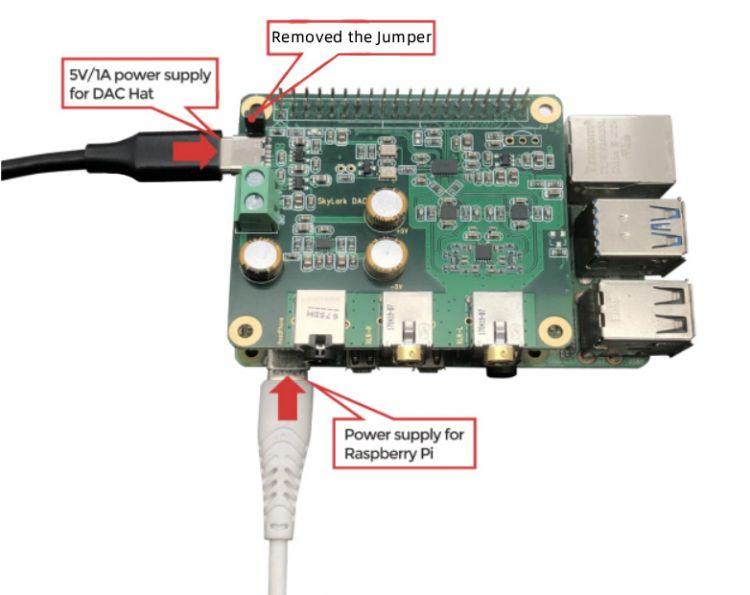 Packing List
1 x DAC Pro Expansion Board 1 x Screws Pack
User Manual