X832
Jump to navigation
Jump to search
Overview
The X832 is a 3.5" SATA HDD expansion board focused on providing a bigger storage solution for your Raspberry Pi 4. The board is a great way to give a desktop look, as you can connect multiple external hard drivers without having them "hanging" from the USB ports of your SBC.
If you are looking for building a Media Center or even a Network-attached storage (NAS), the X832 is the right board for it. You will be able to separate one hard disk only for operating system and the rest for media, games...etc.
If you need dual 3.5" sata board, please refer to X835(A longer USB 3.0 A Male to A-Male Data cable is needed).
Features
FOR USE WITH

Raspberry Pi 4 Model B

Operating System

All Raspberry Pi operating systems

KEY FEATURES

Ideal storage solution for Raspberry Pi - 3.5" SATA HDD Shield
Supports up to 14TB 3.5-inch SATA hard disk drives (HDD)
Allows booting OS from your HDD/SSD for faster app opens, web serving and file copying[1]
Function to power the RPI via XH2.54 only needing a single power supply
Integrated USB 3.1 Gen1 to SATA 6Gb/s bridge controller
USB3.1 Gen1 5Gb/s connectivity offers plug-and-play functionality on your Raspberry Pi 4
Quick file transfer with high-speed USB3.1 5Gb/s connectivity from a PC or a Mac
LED red indicator indicates powered status and blue indicator indicates drive status
LED blue indicator indicates drive status
Specially-made USB3.1 jumper to connect with Raspberry Pi - no additional cables needed
On-board XH2.54 power connectors allows to power other devices
On-board PH2.0 connector allows to use external latching power swtich
Mounting holes and standoffs provide mechanical stability of the Raspberry Pi and X825 assembly
Fully compatible with X735 for intelligent power management and cooling your Raspberry Pi
Fully compatible with X710 for intelligent power management and cooling your Raspberry Pi

SPECIFICATION

Power supply: 12Vdc +/-5% , ≥3A

Ports & Connectors:

DC jack - 5.5x2.5mm
USB socket - USB 3.0 type A
Power connector - XH2.54 2-pin
SATA socket - 7+15P Female

PCB Size 162.8mm x 101.6mm

NOTES

↑

A microSD card is required for forcing the Raspbian OS to use the HDD/SSD for its "root" partition

For use with original power supply unit only
Don't power your Raspberry Pi via the Pi's 40-pin header and Type-C power socket at the same time.
Power supply is very important to the hard disk, so please use a high quality power adapter, or you may encounter problems such as not recognizing the hard disk.
Packing List
X832 HDD expansion board x 1
USB3.1 jumper x 1
2-Pin Power Connection Wire x 1
Power daughter board x 1
Spacer F/F M2.5 x 12mm x 4
Spacer F/F M3 x 32mm x 4
Spacer M/F M2.5 x 11mm x 1
Screw M2.5 x5mm x 9
Screw M3 x 8mm x 8
Matching Metal Case
X835 Case can support Raspberry Pi 4B & X835/X832 3.5" SATA Board, please refer to X835-C1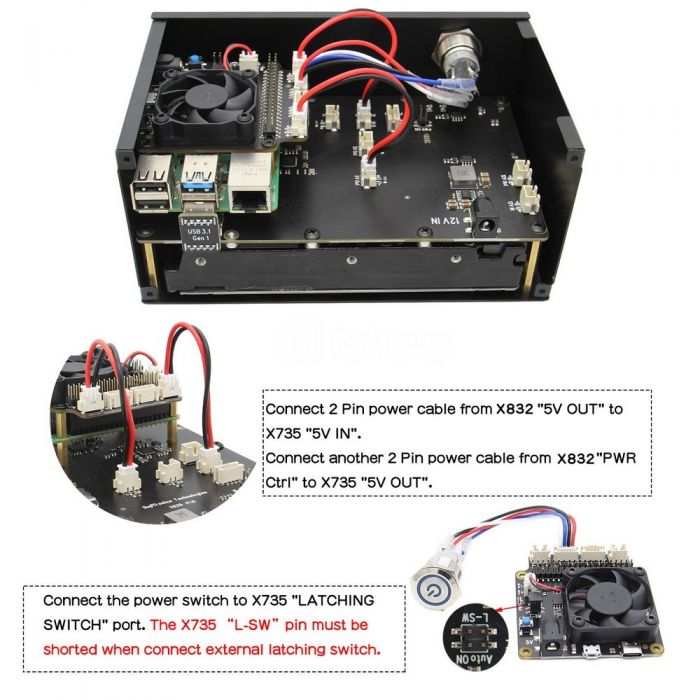 Installation video for Raspberry Pi 4 + X835/X832 + X735 + X835-C1: https://youtu.be/8jdNf4sYQkQ
User Manual
About USB boot please refer to Does the X825/X855 support USB boot