1 Channel 30A Relay Module
Jump to navigation
Jump to search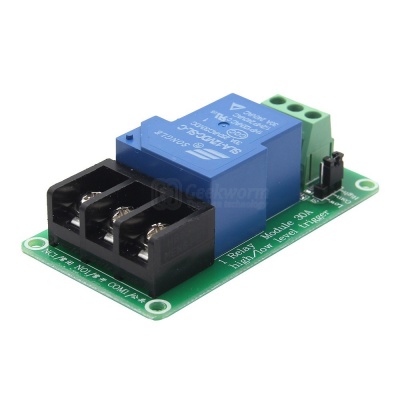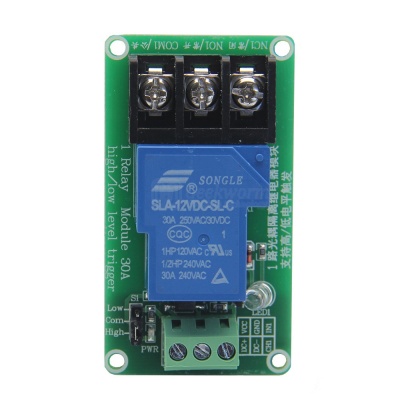 Overview
The module uses genuine high quality 30A relay, normally open interface maximum load: AC 250V / 30A, DC 30V / 30A.
The module uses SMD optocoupler isolation, strong drive capability, stable performance, 5mA trigger current.
There are 3 version: 5V, 12V, 24V as the difference of the working voltage.
The module can be set high or low trigger by jumper cable.
User-friendly interface design, all interfaces can be directly connected through the terminal leads, very convenient to install.
Module Size: 72mm x 40mm x 24mm (L x W x H)
Product weight: 46g
With 4 fixed bolt holes: hole diameter: 3.1mm, spacing: 44.5mm * 27.5mm.
Specification
Working voltage: 12V
Max working current: 80mAh
Quiescent current: 5mAh
Trigger current: 2-4mAh
Interface
DC +: DC power supply positive;
DC -: DC power supply module negative;
IN: Signal input terminal(support High/Low Level switch freely);
Normally open (NO): Relay normally open;
Common terminal (COM): Relay common;
Normally closed terminal (NC): relay normally closed terminal;