LVDS Adapter
Jump to navigation
Jump to search
Notice
The LVDS to HDMI Adapter Board has been updated to the latest V1.5 version at May 10th 2021, we are trying to solve part of the compatibility issue. But according to the feedback there are still compatibility issues.

Due to the wide variety of screens on the market, the EDID recognition of different screens may have compatibility issues, which may lead to incorrect screen colors or abnormal screens.
This board is limited to LVDS output, the resolution must be the VESA standard, and the driver board should be at least V59 grade, or the driver board is not available.
Pin Connection: 2 x 40Pin
Because it is the DIY product, so sometimes there may be the compatibility problem. When it shows no signal or no sound, it may be the compability problem.
It is not recommend to use with 4K TV as it may have some compability problem.
Packing List
1 x LVDS To HDMI Adapter Board
There are two kinds of LVDS input
Double 8, Support 1080P (1920*1080P)/1280*1024/1600*900/1400*900/1920*1200 etc.
Single 8, Support 480P/720p/768p/800P/960p etc.
Power Supply
Support power supply voltage 5-12V
Board Design
Latest V1.5 Version(Third Generation): Release at May 10th 2021.
Resolution switch: The default mode is Dual 8 mode, short Pin 3 and Pin 4 to Single 8 mode.
LVDS signal source: The default is VESA, short Pin 1 and Pin 2 to JEIDA.
Please note that you must re-power after all the mode change.
New Version(Second Generation):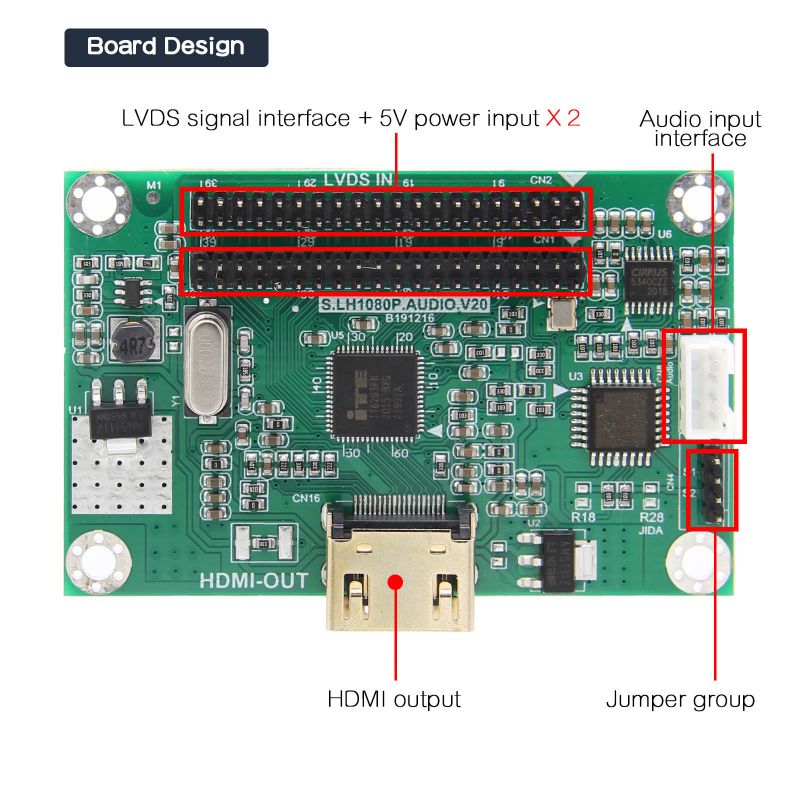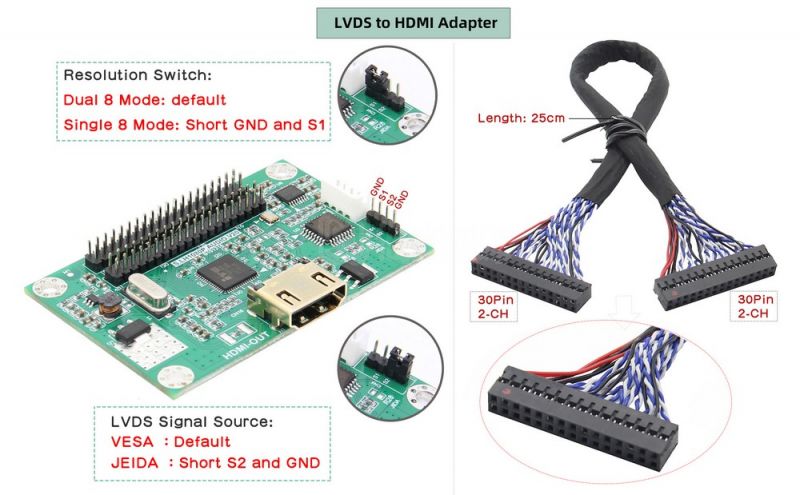 The default is Dual 8 mode, can switch to Single 8 mode by shorting GND and S1.
LVDS signal source: The default is VESA, please short S2 and GND if you need JEIDA.
Old Version(First Generation):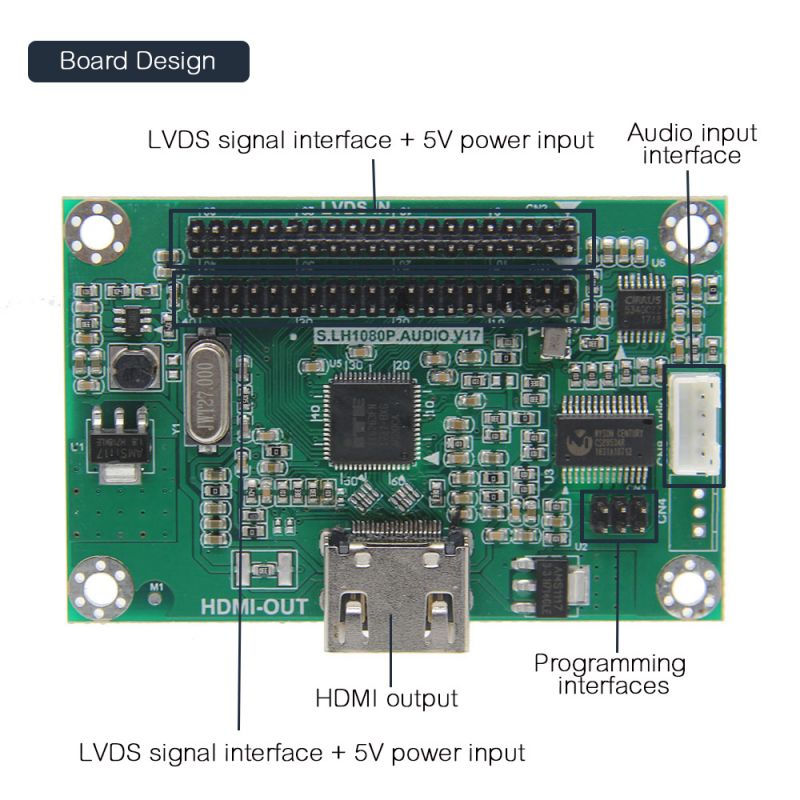 LVDS Application: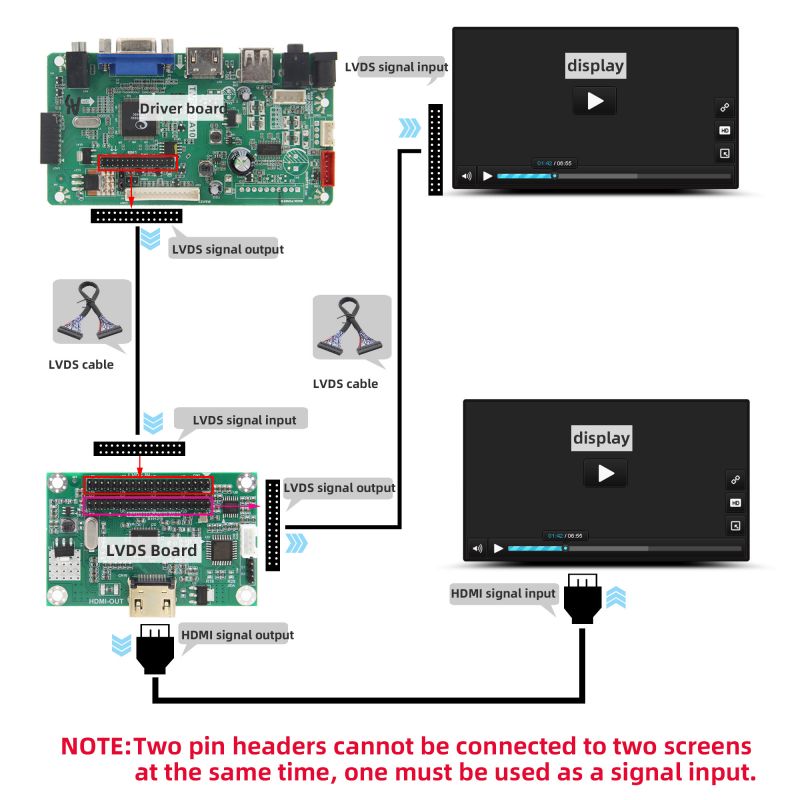 Document
File:S-LH1080PPRO-V15-Spec.pdf
File:S-LH1080P-AUDIO-V17-Spec-20180504-1.pdf
VESA Proposed Standard, please refer to: File:VESA-Timing-New.pdf
Video
The follow videos are just for reference, and we can not guarantee the compatibility, please understand.
Comptible Monitor
This data is tested by our customers, we will continue to sort out compatible models, pls kindly let us know if you have any updation, thanks!
V1.5 Model: NEC E242N
V20 Model: AOC I2276VW
FAQ
Q: Why the image cuts in and out? (screen flicker )
A: The mainboard LVDS output need to turn off NOSSC(Spread Spectrum function) and turn on the FREERUN function. The mainboard does not turn off the NOSSC, the frequency is unstable and the screen will flicker.
Note: If you use the ARCADE1UP machine, you may not able to turn off Spread Spectrum function, as it is NOSSC is a software function of the mainboard, the ARCADE1UP machine is a finished product, please understand.

Q: Why a yellow screen? (a yellow tint; yellow colors;Outputs yellow signal )
A: This is an EDID compatibility problem, because there are too many types of screens on the market, the EDID recognition of different monitors may be wrong, resulting in incorrect colors.(This issue maybe fixed by modify the program.)

Q: Is there a way to reflash the firmware on this board so it turns the Double 8 to a Single 8?
A: 1. Please confirm which version your board is.
2. If it is the version as picture shows;
you could weld a 0ohm-0603-±5%-1/10W resistance on R18 position.
R28 is used to switch the JEIDA signal, it is VESA signal when without the resistance.

3.
If your board is the newest version then you could switch to Single 8 mode by shorting GND and S1.

4.
Does the LVDS to HDMI Adapter supports non-standard resolutions, for example 800x800?
Sorry, we can not guarantee the compatibility, you can do the test and let us know the result, thanks!
5.
Is it possible to configure the ITE chip to support dual channel 6-bit inputs?
Yes, this is possible but need to configure Double 6 program, the program needs to be changed.
6
Q:I need to know if this board will accept without damage an LVDS 12Vdc input instead of 5Vdc input?
A:This LVDS compatible with 5V-12V,so you can try 12V.
7
Q: Why does the LVDS blank out for 1 to 2 seconds every once in a while?
A: The LVDS needs a Stable signal from the motherboard ,so please check your motherboard software,As the blank out issue is because the LVDS output signal of the motherboard is unstable and the frequency is not fixed, so please close the motherboard signal spreading function and turned on the FREERUN fixed frequency function.

8
Q; What CN4 is used for the LVDS V1.5?
A: CN4 interface definition: G-GND, D-SDA, C-SCL, G5-5V