Itead Sonoff (obsolete)
Jump to navigation
Jump to search
Introduction
This page is not be updated later.

Smart Home Wi-Fi Wireless Switch 422387
As home automation technology develops, everybody wants a smart home. But looking at your not-so-smart traditional manually operated home appliances, do they all need to be changed? Can they become smart? How to make that happen? The best solution is to connect them with smart APP switch (or called wireless switch) or WIFI socket. But there are hundreds of WIFI switch and WIFI socket products in the market. Which one is right for you? Of course, easy installation, easy operation, fair price, great functions, stable APP, all these are within our consideration scope while selecting. Then Itead latest smart WIFI wireless switch is just the one customized for you. WIFI switch is easy installed, simply connects it with the power and appliances in less than 1 minute. Then download and install the APP. Following the set up steps, and you are allowed to control and manage your appliances. All these processes cost you just a few minutes, and what you can build is a smart home! The most important things are that we own a research development team and production lines, which means we can control the quality and narrow the costs, thus providing you the best WIFI wireless switch.
How does it work?
First of all, let the WIFI wireless switch connects to power supply and home appliances. Download the free APP- Coolkit and install. By clicking the start switch to get the WIFI switch adapter work, it will automatically search WIFI around. Then, register and log in Coolkit. After access to WIFI and add your device successfully, you can control appliances freely, whether to remote turn on and off or to set timing schedules.


When did the project start?
Our team has devoted considerable manpower to this WIFI wireless switch since it starts. We started it from a simple WIFI single-channel module, then after a few months, our first test board came, we were very encouraging. We tested it repeatedly to ensure its functions work as expected. However, we are now still making effort for the perfect product. We will launch a fund raising activity in Indiegogo on November 15th. Keep an eye out for that!



=== What can the APP do? ===
The APP we use for our WIFI switch is called Coolkit, both Android and IOS version are available. Its functions including appliance remote controlling, timing schedules setting, status tracking and one key sharing.
Basically, you can track your appliances status through the APP. You can remote control your appliances any where any time. When you forgot whether you have turned the lights off, log in your account and check the status of your lights. When they are still on, just turn them off by press the OFF icon. If you manual turn your appliances on or off, the appliances status will synchronously show in the APP.
Another great function of this APP is that you can set timing schedules for your appliances, both one-off and recurring tasks supported. You can set several timing tasks to make your appliances start to work or stop at a given time. With this smart APP, you are able to maintain an easier, carefree lifestyle. Now you can let your air conditioner and water boiler work 5 minutes ahead before you step into your house. And you can let the watering system water your plants and flowers in the garden at a preset time.
It works so perfectly that you want to invite your family members to control your home appliances? Coolkit APP also supports one key sharing. Firstly, ask your family members to download and install it. Then add other members' account in the share field. By just one click, you can invite them to control the devices together.
Heading text
Global Server
The server is the most open intelligent hardware cloud platform which openly provides easy accessible SDK and admin interfaces. It not only supports the control through Wechat, Alibaba and other third-party platforms, but also supports the access of third-party device servers. ITEAD currently have cloud servers in United States, China, Europe, soon we will expand the server coverage to Australia, South America and Africa, building a global efficient IOT.
We currently have cloud servers in United States, China, Europe, soon we will expand the server coverage to Australia, South America and Africa. ITEAD have been committed to creating an inter-operable ecosystem so as to offer rich interfaces, one key network configuration, complete device auto-discovery mechanism, interconnecting cross-brand, cross- type devices and share the data. No matter where you are, you can control all home appliances in your palm.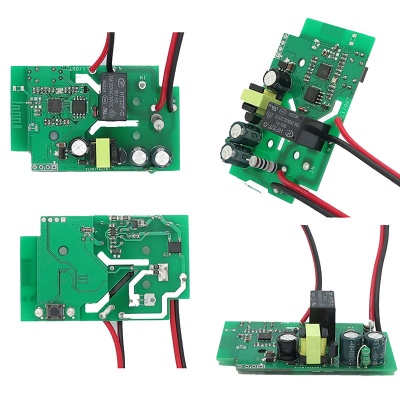 DIY examples
Design draftsThe final product will be crowdfunded on indiegogo on 15th,Nov,2015.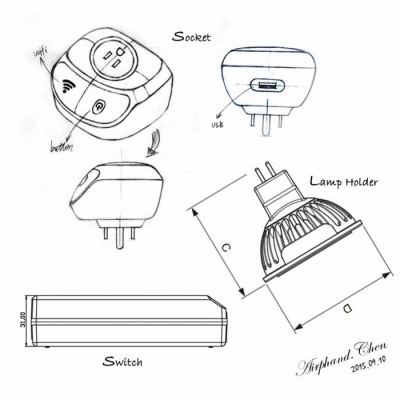 User Guide
APP Download
Support apple cellphone also, you can search "易微联" in App store to setup it;
Support apple cellphone also, you can search "e-welink" in App store to setup it for English version;
Packing List
1 x Remote switch module (10cm -15cm Cable)
2 x Terminals
Question & FAQ